Ku Wolności. Bydgoszcz 1914-1920 - wernisaż wystawy
Gdzie?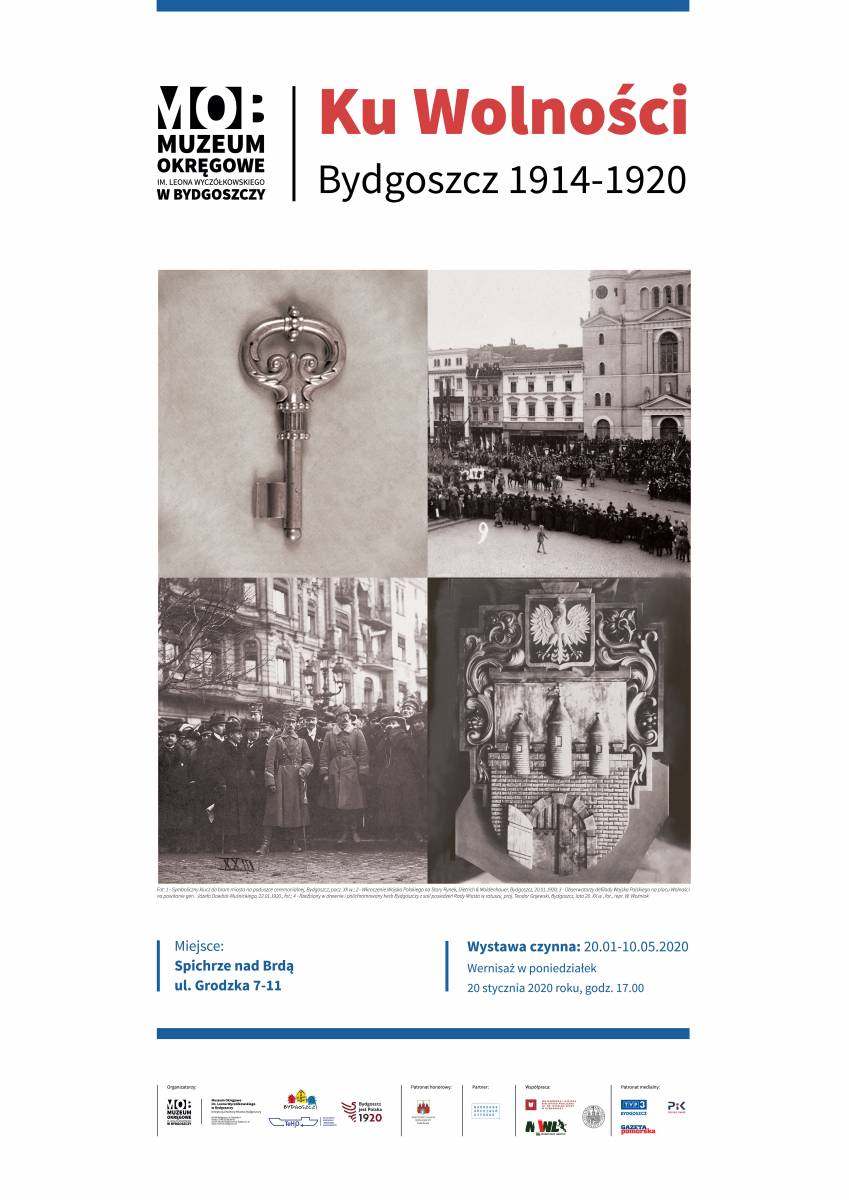 "Ku Wolności. Bydgoszcz 1914-1920" to tytuł najnowszej wystawy, którą będzie można oglądać w MOB już od 20 stycznia 2020 r. w Spichrzach nad Brdą, przy ul. Grodzkiej 7-11.
Sto lat temu Bydgoszcz wróciła do Macierzy i właśnie z okazji tego jubileuszu Muzeum przygotowuje wyjątkową wystawę. Przybliży ona życie bydgoszczan i wydarzenia, które doprowadziły do włączenia miasta nad Brdą w granice niepodległego państwa polskiego. Oprócz ważnych wątków historycznych zwrócimy również uwagę na losy ludzkie. Wystawa będzie stanowiła przekrój wydarzeń ukazujących dążenie do odzyskania ojczyzny już od 1914 roku w nawiązaniu do wątków z Kujaw i Pomorza. Obok prezentacji tych wydarzeń zostanie także ukazana sytuacja Polaków w mieście nad Brdą z końca 1918 roku, kiedy to wybuchło powstanie wielkopolskie. Ekspozycja przeniesie zwiedzających również do roku 1919. Był to czas, w którym doszło do podpisania traktatu pokojowego w Wersalu, określającego nowe granice państw europejskich i stanowiącego m.in. o włączeniu Bydgoszczy do odrodzonej Polski. Punktem kulminacyjnym ekspozycji stanie się ukazanie momentu powrotu miasta do Rzeczpospolitej.
20 stycznia 1920 ostatnie oddziały niemieckie opuściły miasto, a na Starym Rynku ludność entuzjastycznie powitała wkraczające oddziały Wojska Polskiego. Bydgoszcz ponownie stała się polska, Bydgoszcz była wolna.
Na ekspozycji będzie można obejrzeć różnorodne archiwalia, numizmaty i obiekty falerystyczne, w przestrzeni wystawienniczej ważne miejsce zajmie także fotoplastykon ze zdjęciami dokumentującymi życie miasta w latach 1914 – 1920. Zaprezentowane zostanie także słuchowisko, które odda klimat tamtych pełnych poświęceń, ale też radości czasów.
Wystawa została objęta honorowym patronatem Prezydenta Miasta Bydgoszczy.
______________________
Kalendarz wydarzeń odbywających się w Bydgoszczy miej zawsze pod ręką dzięki aplikacji mobilnej (Android i iOS).
______________________
Informacje o wydarzeniach przesyłajcie na adres wydarzenia@visitbydgoszcz.pl
______________________
Bydgoskie Centrum Informacji nie ponosi odpowiedzialności za jakiekolwiek zmiany miejsc, godzin i dat wydarzeń.