Spotkanie autorskie z Grzegorzem Kalinowskim pt. Ciemne wody oraz promocja książki
Gdzie?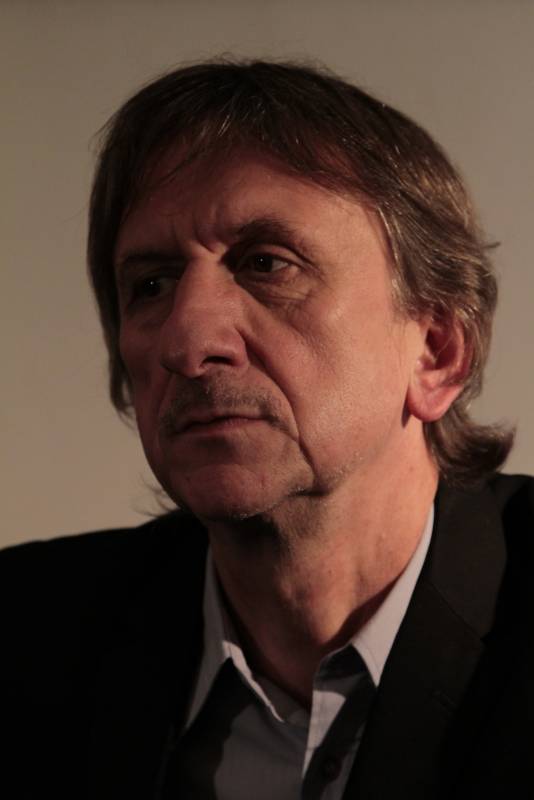 Czytanie tekstów – Roma Warmus.
Grzegorz Kalinowski (ur. 1955 w Inowrocławiu) – autor opowiadań, esejów, recenzji, rozmów z pisarzami (m.in. z Ryszardem Kapuścińskim, Zygmuntem Kubiakiem, Pawłem Hertzem, Stefanem Chwinem, Kazimierzem Hoffmanem); publikował w ogólnopolskich pismach literackich; wydał tomy opowiadań tylko biel (2010), ciemne wody (2018); obie książki zostały uhonorowane literacką bydgoską Nagrodą Łuczniczki; opracował i przygotował do druku "Dziennik…" Kazimierza Hoffmana (2017); w latach 1993 – 1997 współpracownik toruńskiego "Przeglądu Literacko-Artystycznego"; redaktor wydawnictwa "Pomorze"(1994 – 1995); od 1997 do 2012 roku redaktor, a później sekretarz redakcji "Kwartalnika Artystycznego. Kujawy i Pomorze"; współorganizator spotkań z pisarzami – m. in. w cyklu "Mistrzowie literatury w Filharmonii Pomorskiej". Zasłużony Działacz Kultury (1995); w 2007 roku "w uznaniu nieocenionych zasług dla kultury polskiej" otrzymał Nagrodę Ministra Kultury i Dziedzictwa Narodowego (2007), w roku 2000 i 2013 Nagrodę Centrum Edukacji Artystycznej; w 2013 roku Nagrodę Marszałka Województwa Kujawsko-Pomorskiego.
Sens tytułu tego tomu opowiadań – i odniesień do jego treści – pojmiemy po przeczytaniu pierwszej strony, którą wypełnia krótka prezentacja utworu pt. Tractatus de Morte II, kończąca się werdyktem: … po śmierci, wydanym przez Anioła Śmierci, po którym następuje pointa: … a ty śnij i płacz. Grzegorz Kalinowski, autor m.in. tomu opowiadań tylko biel, w zestawie swych nowych prozatorskich impresji szczęśliwie jednak bardziej "śni", niż "płacze". W otwierającym książkę, najlepszym w tomie, opowiadaniu Święta rzeka wyprawia się w oniryczną, choć osnutą zapewne wokół swoich dziecięcych przygód, podróż po pewnej rzece, która jako "święta" – po lekturze poprzedzającego ją wstępu o Śmierci – może wydawać się jakąś odnogą Styksu; ale szybko pojmiemy, że jest to także jakieś uświęcenie pamięci dzieciństwa samego autora. (…) Zaproszenie do łodzi na rejs staje się więc dla chłopca i jego rodziny wybawieniem, zwłaszcza że w opinii miejscowej ludności rzeka ma moc uzdrawiającą: Starcy już prawie ślepi, wegetujący niemal jak zwierzęta w omszałych i porośniętych zielonym bluszczem chatach blisko nabrzeża, wierzyli, że jej wody są święte – a tę wiarę przekazywali sobie z pokolenia na pokolenie. Ale cóż, starcy często zdawali się zwodzić snom i ta rzeka, na którą wypływa rodzina pod nadzorem wujka, tkwiła w zbiorowej pamięci nie tylko na jawie, ale także wtedy, gdy ludzie śnili. I to z nimi niejako uprawia swój literacki sen narrator tego opowiadania, jak i innych, podporządkowanych prawom nie tego widzialnego świata – opowiadań obmyślanych pod kuratelą Anioła z otwierającego tom Traktatu o Śmierci. (…)
Mieczysław Orski
"(…) moją uwagę jeszcze bardziej przykuwa proza Grzegorza Kalinowskiego pt. Talida. (…) to opowiadanie wydaje mi się prawdziwą perłą. Autor mistrzowsko odmalowuje scenerię, która jest nam znana, taka bardzo polska, idealna na letni wypoczynek, z lasem i skarpą porośniętą mchem, wpadającą wprost do płytkiego i mulistego jeziora. Rzadko spotykam się z tak kunsztownym opisem miejsca akcji, to takie spokojne, zwykłe miejsce, a w powietrzu wisi – niczym miecz Damoklesa – prawdziwy dramat. Używając terminologii szachowej, wydaje mi się, że autor tego mini-opowiadania jest arcymistrzem. I to naprawdę takim z wysokiej półki. Bo arcymistrzowie dzisiaj są różni, niektórzy obdarzeni genialną pamięcią, która gwarantuje im sukcesy, prawdziwi tytani pracy (…), ale o wyobraźni na stałym poziomie, brak oznak geniuszu spod znaku Roberta Fischera. A Talida to nie jest utwór spod znaku zagadki. Zagadkę można – poprzez trening pamięci – rozwiązać. Tutaj matematyczne równania muszą ponieść klęskę. To utwór spod znaku głębokiej tajemnicy o dziewczynce, która nad brzegiem mulistego i płytkiego jeziora przekazała swój sekret głównemu bohaterowi i potem zniknęła w otchłani. I nie będę dalej brnąć, powiem tylko, że na tej skarpie spadającej w stronę jeziora ktoś inny karty rozdaje, a "rozum" jest zdecydowanie w odwrocie. Talida to dziewczyna, która tajemnicę ma wplecioną we włosy i zabrała ją ze sobą, udając się w swoją ostatnią podróż. Tylko wrzosy smutno na nią patrzyły, a duże czarne ptaki fruwały nad jeziorem i jej grobem, głośno przy tym kracząc. Pewnego dnia płytkie i muliste jezioro zniknęło, tak jakby było w jakiś tajemny sposób powiązane z dzieckiem."
Bartłomiej Siwiec
… a na brzegu, gdzieś tam daleko, jakby w chmurach, zbierały się nie istoty ludzkie, ale ich cienie, cienie starców, dorosłych i dzieci. Był tam stół drewniany, wokół którego ustawiono krzesła z drewna i słomy. Z każdą chwilą cieni było coraz więcej. Trudno uwierzyć, że aż tyle ich zmieściło się na tak małej przestrzeni. Głowy miały owinięte białymi płóciennymi chustami, a powłóczyste szaty, koloru popiołu, okrywały ich cieniste ciała. Wchodziły do świętej rzeki, pochylały nad nią i po omacku, jak spragnione dzikie zwierzęta u wodopoju, dławiąc się, chłeptały jej ciemne wody. A z nurtem świętej rzeki płynęły inne cienie z obcej krainy i wołały do cieni na brzegu, przebaczcie nam, zaklinały i błagały, żeby pozwoliły im wyjść na brzeg i zechciały przyjąć do siebie. A one, zupełnie niewzruszone, nie chciały im przebaczyć i przyjąć do siebie, odwracały się od nich, a cienie w świętej rzece, porywała fala i niosła tam, skąd przypłynęły. I wtedy cienie starców, dorosłych i dzieci odchodziły, nie wiedząc dokąd, po omacku, jak ślepcy.
Grzegorz Kalinowski,
fragment opowiadania Święta rzeka
______________________
Kalendarz wydarzeń odbywających się w Bydgoszczy miej zawsze pod ręką dzięki aplikacji mobilnej (Android i iOS).
______________________
Informacje o wydarzeniach przesyłajcie na adres wydarzenia@visitbydgoszcz.pl
______________________
Bydgoskie Centrum Informacji nie ponosi odpowiedzialności za jakiekolwiek zmiany miejsc, godzin i dat wydarzeń.