Festiwal Książki Obrazkowej dla Dzieci "LiterObrazki"
Gdzie?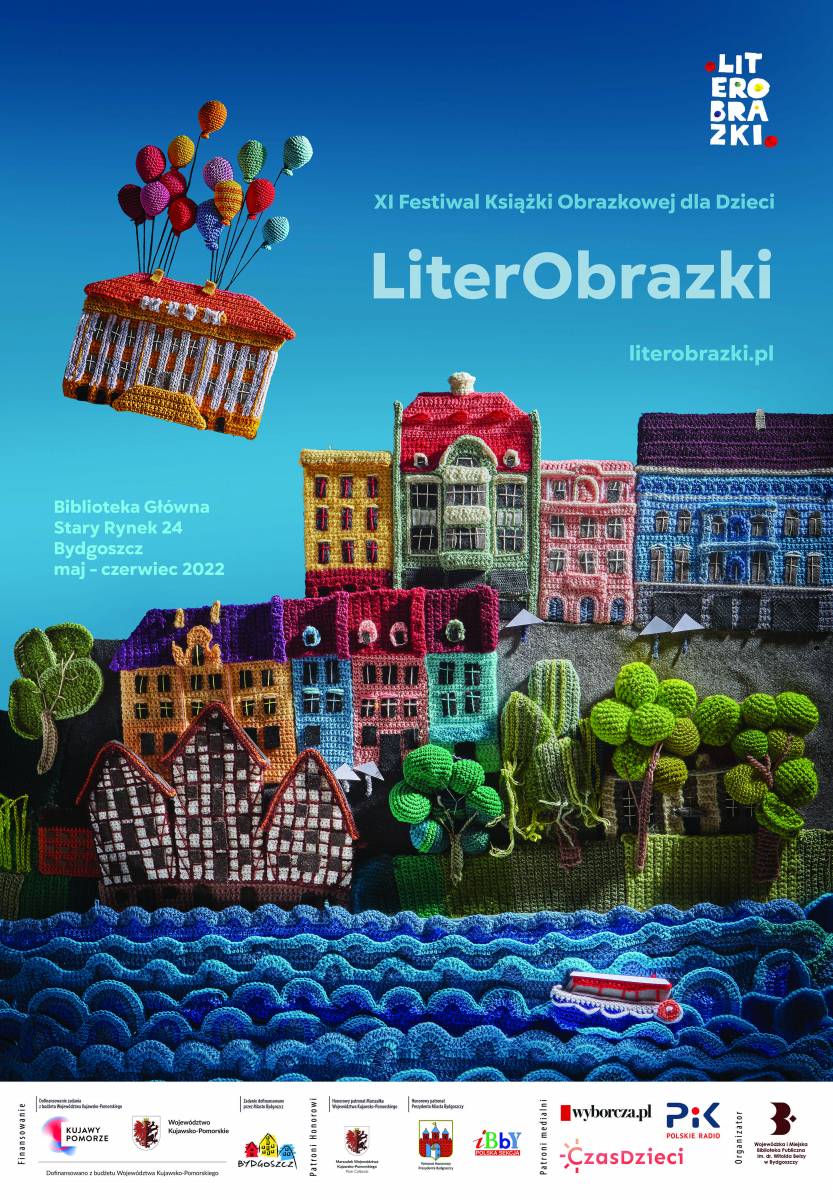 Informacje od Organizatora:
Festiwal Książki Obrazkowej dla Dzieci "LiterObrazki", który na stałe wpisał się w plan wydarzeń kulturalnych Bydgoszczy w tym roku odbędzie się po raz jedenasty. Po edycjach wirtualnych i hybrydowych – narzuconych przez sytuację epidemiologiczną – "LiterObrazki" wracają do swej naturalnej, ulubionej formy. Wojewódzka i Miejska Biblioteka Publiczna im. dr. Witolda Bełzy zamieni się w przestrzeń dla dzieci i na chwilę zmieni swoją nazwę na Wystrzałowa i Magiczna Bajka Publiczna im. dr. Dolittle'a.
Najnowsza odsłona Festiwalu to czas powrotu do spotkań, zabaw, zajęć warsztatowych, koncertów, spektakli i wszystkich tych radości, których nie da się zastąpić zdarzeniami online. To również dobry moment, aby rzucić okiem w przeszłość. Przeglądając zdjęcia i wspominając wczesne edycje, organizatorzy zatęsknili za festiwalem, który w całości odbywał się w gmachu Biblioteki Głównej. Wszystkie jej sale, pokoje i zakamarki zamieniały się wówczas w tajemnicze komnaty bajkowego zamku w królestwie dzieci. Zbliżająca się edycja zatem ponownie zabierze dzieci na spacer po przestrzeniach tajemniczego budynku na Starym Rynku.
Przygotowania do czerwcowego święta zaczną się już 30 maja, codziennie o stałej porze działania warsztatowe wprowadzą najmłodszych w literobrazkową przygodę.
4 i 5 czerwca Festiwal Książki Obrazkowej dla Dzieci "LiterObrazki" proponuje dzieciom i rodzicom mnóstwo nietuzinkowych atrakcji: warsztaty z doskonałymi artystami, którzy przyjadą w tym czasie do grodu nad Brdą, spotkania autorskie, zajęcia edukacyjne, gry, zabawy, muzykę, teatr i wiele innych zaskakujących zdarzeń. Od rana do popołudnia w samym sercu miasta dzieci i ich opiekunowie, którzy odwiedzą gmach Biblioteki Głównej odnajdą w jej murach inspirującą rozrywkę, niebanalną edukację, wielką dawkę radości i dobrej energii.
Zapraszamy serdecznie na Stary Rynek 24. Czekamy na Was z niecierpliwością.
Szczegółowy program:
www.literobrazki.pl
www.facebook.com/literobrazki
www.biblioteka.bydgoszcz.pl
Zadanie dofinansowano z budżetu Samorządu Województwa Kujawsko-Pomorskiego oraz przez Miasto Bydgoszcz.
______________________
Kalendarz wydarzeń odbywających się w Bydgoszczy miej zawsze pod ręką dzięki aplikacji mobilnej (Android i iOS).
______________________
Informacje o wydarzeniach przesyłajcie na adres wydarzenia@visitbydgoszcz.pl
______________________
Bydgoskie Centrum Informacji nie ponosi odpowiedzialności za jakiekolwiek zmiany miejsc, godzin i dat wydarzeń.