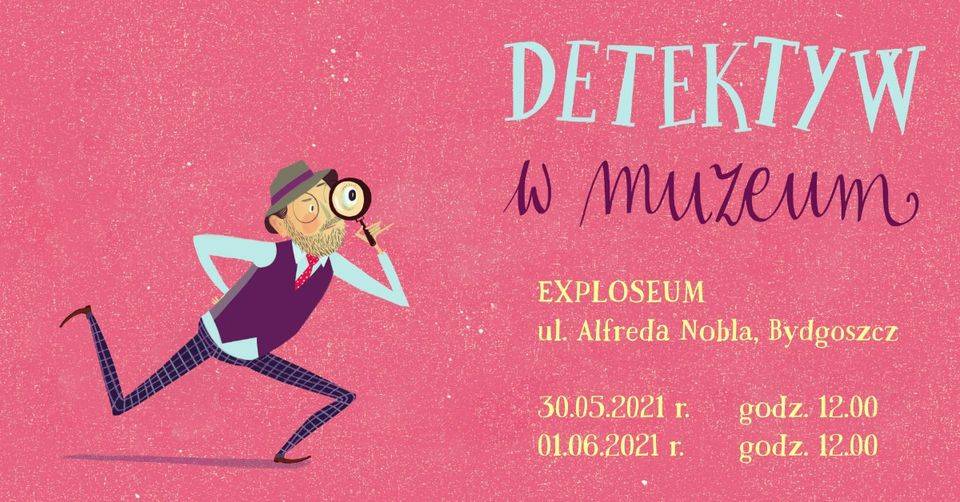 DZIEŃ DZIECKA Z DETEKTYWEM POZYTYWKĄ!
Detektyw Pozytywka powraca w naszym cyklu "Detektyw w muzeum". I to z zupełnie nową zagadką! Tym razem tajemnicza sprawa czeka na rozwiązanie w bydgoskim Exploseum. Zachęcamy, by w ten wyjątkowy sposób spędzić Dzień Dziecka - młodych detektywów zapraszamy 30 maja na 12:00 i 1 czerwca, również na 12:00. Wybierzcie dogodny dla Was termin i dołączcie do zespołu, którym pokieruje nie kto inny, jak słynny Detektyw.
Wydarzenie skierowane jest do dzieci w wieku 5-10 lat. By wziąć w nim udział, należy dokonać rezerwacji miejsca telefonicznie, dzwoniąc pod numer 887 467 102 (od poniedziałku do piątku w godzinach 8:00-16:00) lub mailowo, pisząc na adres bow2@teatrkameralny.com. Koszt biletu to 30 zł. Rezerwację będzie można opłacić w Exploseum (ul. Alfreda Nobla) w dniu zwiedzania. Liczba miejsc jest ograniczona, decyduje kolejność zgłoszeń!
Autorem scenariusza wydarzenia jest Grzegorz Kasdepke, którego cykl "Detektyw Pozytywka" znalazł się na pierwszym miejscu złotej dwudziestki książek na 20-lecie kampanii "Cała Polska czyta dzieciom". Wykreowana przez niego postać będzie się pojawiała na muzealnych korytarzach, wspierając młodych entuzjastów zagadek, wskazując ślady, dzieląc się posiadanym doświadczeniem. Dzieci będą miały możliwość wcielenia się w detektywów-amatorów. Będą tropić, węszyć i szukać poszlak.
Interaktywne zwiedzanie ma być okazją do nauki uważności i dedukcji, poznania bydgoskich muzeów oraz – oczywiście – zabawy poprzez teatr i z teatrem. Zwiedzanie z udziałem aktorów, wzbogacone o kryminalną intrygę, to szansa nie tylko na poznanie ekspozycji, ale również na dobrą zabawę oraz niepowtarzalne doświadczenie.
____________________
Kalendarz wydarzeń odbywających się w Bydgoszczy miej zawsze pod ręką dzięki aplikacji mobilnej (Android i iOS).
______________________
Informacje o wydarzeniach przesyłajcie na adres wydarzenia@visitbydgoszcz.pl
______________________
Bydgoskie Centrum Informacji nie ponosi odpowiedzialności za jakiekolwiek zmiany miejsc, godzin i dat wydarzeń.