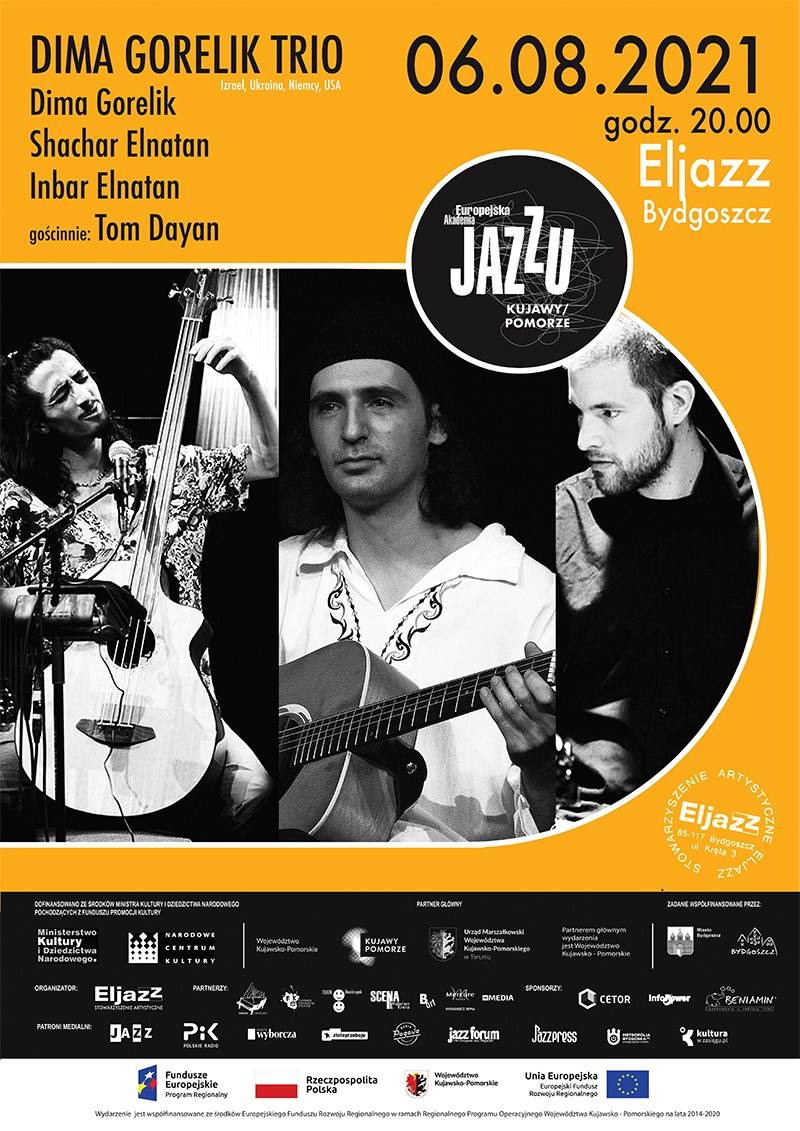 STOWARZYSZENIE ARTYSTYCZNE ELJAZZ zaprasza na koncert realizowany w ramach dziewiątej edycji Europejskiej Akademii Jazzu. Przed bydgoską publicznością wystąpi zespół:
Dima Gorelik Trio
Dima Gorelik
Shachar Elnatan
Inbar Elnatan
gościnnie: Tom Dayan
Bilety w cenie 30 zł do nabycia w klubie Eljazz
Proponują wyjątkowe sceniczne widowisko, łączące swobodną jazzową improwizację z elementami muzyki etnicznej nawiązującej do kultury wschodu i muzyki żydowskiej. Tęsknota za poszukiwaniem nowych środków wyrazu sprawia, że każdy koncert tria jest całkowicie odmienny i wyjątkowy.
Dima Gorelik - Urodził się w 1983 roku na Ukrainie. Wkrótce w rodzicami przenieśli się do Izraela. Jego pierwszym mistrzem był Shai Cohen, słynny edukator improwizacji i harmonizacji. Swój talent rozwijał w akademii muzycznej u Arnie'go Lawrence'a, Maxa Roacha, Jamesa Moody'ego, Avishai Cohena, Omera Avitala. Gorelik jest mistrzem w muzyce krain z nad Morza Śródziemnego. Jego twórczość harmonijnie łączy autentyczną pasję grania z doskonałą techniką. Nagrał kilka albumów, między innymi Anno Domini w ramach autorskiego projektu muzycznego, czy razem z przyjacielem Noamem Elronem płytę Fluctuation. Grywa również z Joachimem Menclem i Bradem Terrym. Z Vladiswarem Nadishaną nagrał entuzjastycznie przyjęty krążek Asymmetric Beauty. Obecnie mieszka w Warszawie, gdzie współpracuje m.in. z Marią Pomianowską czy Mohammadem Rassoulim.
Shachar Elnatan
Perkusista i gitarzysta, jeden z najoryginalniejszych artystów rozkwitającej sceny jazzowej w Izraelu. Mimo młodego wieku (23 lata) współpracował z wieloma muzykami światowego formatu, jak Avishai Cohen, Ravi Coltrane, Kellylee Evans, Eli Degibri. Coraz częściej można go usłyszeć w Nowym Yorku, gdzie nawiązał współpracę z młodą sceną jazzową.
Inbar Elnatan
Młody talent wyłaniający się z eklektycznej izraelskiej wielokulturowej sceny muzycznej, Inbar Elnatan toruje sobie drogę dzięki unikalnemu stylowi grania, komponowania, śpiewania i pisania piosenek. Dominujący na wielu instrumentach, kontrabas, gitara, fortepian i bycie wokalistą pozwala mu na szeroką paletę ekspresji poprzez różne gatunki: jazz, muzykę klasyczną i kameralną, folk, R&b i wiele innych. W 2018 roku Inbar zdobył pierwszą nagrodę w "Jerozolimskim Konkursie Gitarowym".
Tom Dayan - perkusista i kompozytor, urodzony w Izraelu, rocznik 1984. Od początku zafascynowany muzyką i perkusją, ukończył Akademię Muzyki i Tańca w Jerozolimie, na wydziale kompozycji klasycznej. Podczas studiów wielokrotnie brał udział w konkursach, a dwukrotnie zdobył 1-szą nagrodę w kategorii Kompozycje Nowa Muzyka (Bouzole Festival, Jerusalem 2007; Chana Yador Avni Composition, Jerusalem Academy of Music and Dance 2008). Tom otrzymał również stypendium Fundacji Amerykańsko-Izraelskiej na lata 2008-2009 jako perkusista jazzowy. W 2009 roku, po studiach, artysta przeniósł się do Berlina i od tego czasu angażuje się w różne muzyczne projekty, m.in. the Maria Baptist Trio, Damir Out Loud, KK Pearls z Krzysztofem Kobylińskim, a także jako perkusista i kompozytor przy the Composers' Orchestra Berlin. We wrześniu 2013 Tom wydał swój debiutancki album z grupą "Mifrás" zatytułowany "Set Sail". Album otrzymał dofinansowanie Berlińskiego Senatu d/s Kultury jako projekt studyjny w kategorii jazz.
Partnerem wydarzenia jest Województwo Kujawsko - Pomorskie
Dofinansowano ze środków Ministra Kultury i Dziedzictwa Narodowego pochodzących z Funduszu Promocji Kultury, uzyskanych z dopłat ustanowionych w grach objętych monopolem państwa, zgodnie z art. 80 ust. 1 ustawy z dnia 19 listopada 2009 r. o grach hazardowych"
Wydarzenie jest współfinansowane ze środków Europejskiego Funduszu Rozwoju Regionalnego w ramach Regionalnego programu Operacyjnego Województwa Kujawsko - Pomorskiego na lata 2014-2020.
Zadanie współfinansowane przez Miasto Bydgoszcz.
____________________
Kalendarz wydarzeń odbywających się w Bydgoszczy miej zawsze pod ręką dzięki aplikacji mobilnej (Android i iOS).
______________________
Informacje o wydarzeniach przesyłajcie na adres wydarzenia@visitbydgoszcz.pl
______________________
Bydgoskie Centrum Informacji nie ponosi odpowiedzialności za jakiekolwiek zmiany miejsc, godzin i dat wydarzeń.