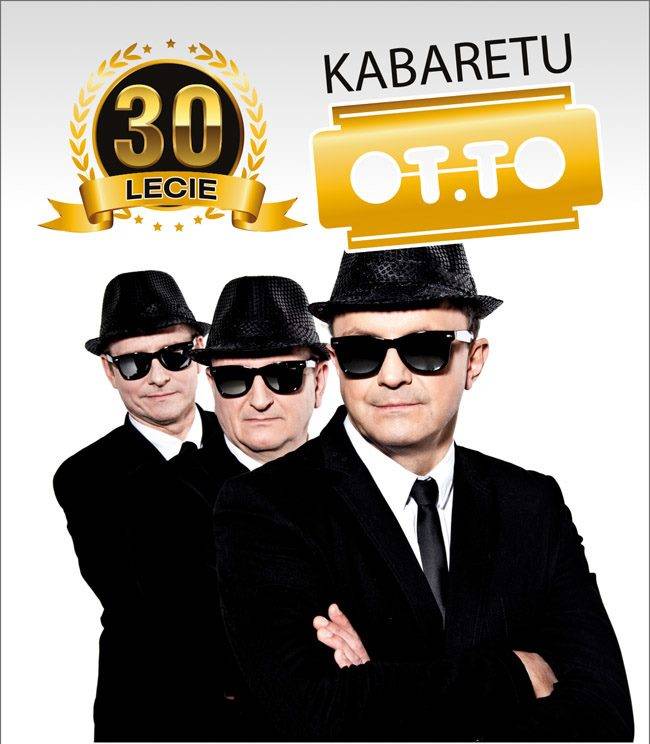 KABARET OT.TO ŚWIĘTUJE 30 URODZINY !!! Przez 30 lat istnienia Kabaret wystąpił na żywo dla ponad 2.7 mln widzów, nagrał 11 płyt, (w tym trzy złote), które rozeszły się w nakładzie ponad 1 mln. Ostatnie wydawnictwo to wydany w 2009 r. album DVD pt. "Od Akordeonu do Zasmażki", który jest humorystycznym podsumowaniem dokonań artystycznych zespołu. Kabaret OT.TO był gwiazdą wakacyjnych tras koncertowych Lata z Radiem, Radia RMF FM i Radia ZET. Zespół w swoim artystycznym CV ma m. in. kilkanaście autorskich programów w TVP2, ( 2016 ,,Żarty i Bardy" ) POLSACIE, satyryczny cykl "Ottoteka" w RMF FM, flirt z TVN-owskim "Szkłem Kontaktowym". Od 2011 przez długi czas komentował rzeczywistość w cotygodniowych felietonach w radio VOX w cyklu zatytułowanym "i OT.TO chodzi". 16.02.2015 w Teatrze Kwadrat w Warszawie odbyła się premiera najnowszego programu pt. "Seks, drags i alzhajmer".
Kabaret wystąpił dla Polaków na wszystkich kontynentach oprócz Antarktydy. Wszystkie te dokonania to nic z w porównaniu z najnowszym programem - pełnym świeżych pomysłów, zaskakujących skeczy, abstrakcyjnych parodii i tego, z czego od lat są znani – nowego Mini koncertu Życzeń i przebojowych piosenek.
Kto raz widział Kabaret OT.TO na żywo, wie, że taki rodzaj kontaktu jest zdecydowanie bogatszy i bardziej satysfakcjonujący niż relacja telewizyjna, która nie jest w stanie oddać temperatury i atmosfery występu. Co najciekawsze jest to pierwszy i chyba jedyny w Polsce interaktywny program estradowy – publiczność ma wpływ na przebieg wydarzeń na scenie - jaki? To już trzeba sprawdzić osobiście.
Kabaret od początku nowego wieku funkcjonuje jako tercet, w składzie : Andrzej Piekarczyk, Andrzej Tomanek i Wiesław Tupaczewski.
______________________
Kalendarz wydarzeń odbywających się w Bydgoszczy miej zawsze pod ręką dzięki aplikacji mobilnej (Android i iOS).
______________________
Informacje o wydarzeniach przesyłajcie na adres wydarzenia@visitbydgoszcz.pl
______________________
Bydgoskie Centrum Informacji nie ponosi odpowiedzialności za jakiekolwiek zmiany miejsc, godzin i dat wydarzeń.