Odczyt Mateusza Solińskiego: Patronka Niepodległości. Matka Boża w polskim malarstwie patriotycznym na przestrzeni wieków
Gdzie?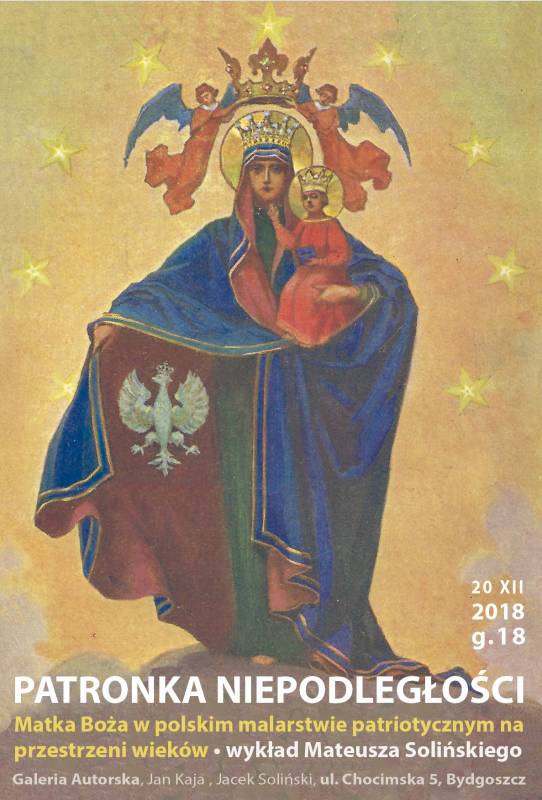 odczyt Mateusza Solińskiego pt. "Patronka Niepodległości.
Matka Boża w polskim malarstwie patriotycznym na przestrzeni wieków". Czytanie tekstów źródłowych – Mieczysław Franaszek.
Mateusz Soliński, ur. 1981 w Bydgoszczy. Absolwent V LO w Bydgoszczy. Ukończył filozofię na UMK w Toruniu oraz zarządzanie kulturą na UJ w Krakowie. W 2015 r. obronił doktorat z nauk o sztuce na Wydziale Sztuk Pięknych UMK w Toruniu. Zajmuje się krytyką literacką i plastyczną. W latach 2006 – 2010 współpracował z pismem artystycznym "Format" jako korespondent londyński. Publikuje w sopockim "Toposie". Od 2008 pełni funkcję prezesa Stowarzyszenia Galeria Autorska.
Truizmem zdaje się być stwierdzenie, że Matka Boża towarzyszyła i towarzyszy Polakom w przełomowych momentach ich historii. Obrona Jasnej Góry, śluby lwowskie Jana Kazimierza, Wiktoria wiedeńska, objawienia gietrzwałdzkie, Cud nad Wisłą, to tylko niektóre wydarzenia, które zmieniały bieg historii – i to w sposób bardzo namacalny i konkretny. Są to jednocześnie zdarzenia, których główną bohaterką, a czasem również inspiratorką była Boża Rodzicielka, nie od parady zwana również Custos Poloniae (Strażniczka Polski).
Wszyscy polscy królowie poczynając od Jadwigi i Władysława Jagiełły składali hołd Matce Bożej pielgrzymując na Jasną Górę (niechlubnym wyjątkiem był kochanek carycy Katarzyny, Stanisław August Poniatowski). Podobno Zygmunt I Stary oraz Stefan Batory wszelkie publiczne interesy rozpoczynali od odmówienia różańca. Wojsko Jana III Sobieskiego, praktycznie w całości złożone było z członków bractw różańcowych albo Sodalicji Rycerskiej. W ciągu blisko miesięcznej wędrówki pod Wiedeń w 1863 roku, codziennie uczestniczyło w Mszy świętej oraz Drodze Krzyżowej odprawianych na postojach.
Pomimo tych i wielu innych faktów świadczących o szczególnym umiłowaniu Niepokalanie Poczetej przez Polaków, temat jej obecności w dziejach naszego narodu, jak i znaczenia kultu maryjnego w duchowej formacji pokoleń, nawet w tym szczególnym roku 100-lecia odzyskania przez Polskę niepodległości, pozostaje niemalże całkowicie przemilczany i pominięty.
Wspomniane powyżej wydarzenia znajdowały swoje utrwalenie nie tylko w przekazach kronikarzy, ale również w postaci rozlicznych dzieł malarskich. Niektóre z tych ważnych momentów dziejowych uwieczniono w historyczno-batalistycznych przedstawieniach, inne pozostały w pamięci wiernych za sprawą cudownych obrazów czczonych w sanktuariach. Celem niniejszej prelekcji będzie przypomnienie wybranych maryjnych motywów ikonograficznych w polskiej sztuce, o charakterze narodowo-patriotycznym, uwzględniając szerszy historyczno-polityczny kontekst.
Mateusz Soliński
______________________
Kalendarz wydarzeń odbywających się w Bydgoszczy miej zawsze pod ręką dzięki aplikacji mobilnej (Android i iOS).
______________________
Informacje o wydarzeniach przesyłajcie na adres wydarzenia@visitbydgoszcz.pl
______________________
Bydgoskie Centrum Informacji nie ponosi odpowiedzialności za jakiekolwiek zmiany miejsc, godzin i dat wydarzeń.