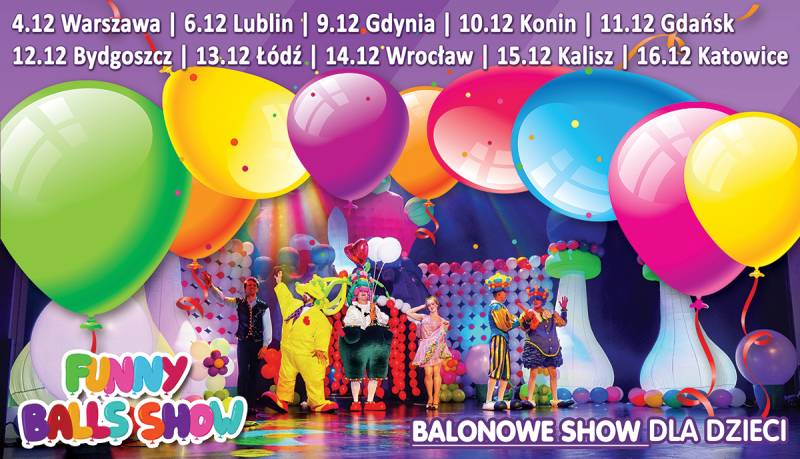 Interaktywne widowisko balonowe dla całej rodziny, czyli FUNNY BALLS SHOW
Rodzice doskonale wiedzą, że dmuchany balonik wywoła uśmiech na buzi każdego dziecka! A jaka będzie reakcja maluchów, gdy w jednej chwili zobaczą setki, a nawet tysiące balonów we wszystkich kolorach tęczy? Balonolandia to zaczarowana kraina, w której wszystko może się zdarzyć! Balonowe kostiumy, balonowa scenografia, balonowe dekoracje – tego w Polsce jeszcze nie było!
W bajecznym świecie czekają na Was przygody króla Szarla, księżniczki Szarlotty, latającego smoka i jego niezwykłych przyjaciół. Olbrzymi balonowy zamek, a za nim wodospad wykonany z kilkudziesięciu błękitnych baloników i gigantyczne balony z niespodzianką w środku, które w towarzystwie zabawnych mimów i szalonych klaunów, wirują w rytm muzyki na scenie. Oryginalne postaci, cyrkowe triki i sztuczki, akrobaci na piłkach, interaktywne zabawy, w które angażowana jest widownia, a wszystko to zamknięte w 70 minutach doskonałej historii z balonami w roli głównej!
Funny Balls Show – bajeczne widowisko teatralne,
w którym zobaczycie ponad 3 000 balonów
w wyjątkowych kolorach i niespotykanych dotąd kształtach!
Agencja koncertowa "Pan Koncert" zaprasza na międzynarodowe widowisko dla dużych i małych "Funny Balls Show", w którym spełniają się najpiękniejsze sny, a marzenia najmłodszych stają się rzeczywistością! Tu dzieją się rzeczy niezwykłe, tu radość nie schodzi z dziecięcych twarzy! Przybywajcie więc do magicznej Balonolandii i bawcie się z nami!
Więcej na: https://pankoncert.pl/event/balonowe-show-czyli-funny-balls-show/
______________________
Kalendarz wydarzeń odbywających się w Bydgoszczy miej zawsze pod ręką dzięki aplikacji mobilnej (Android i iOS).
______________________
Informacje o wydarzeniach przesyłajcie na adres wydarzenia@visitbydgoszcz.pl
______________________
Bydgoskie Centrum Informacji nie ponosi odpowiedzialności za jakiekolwiek zmiany miejsc, godzin i dat wydarzeń.