Święto Województwa Kujawsko-Pomorskiego: Bajkowa Bydgoszcz
Gdzie?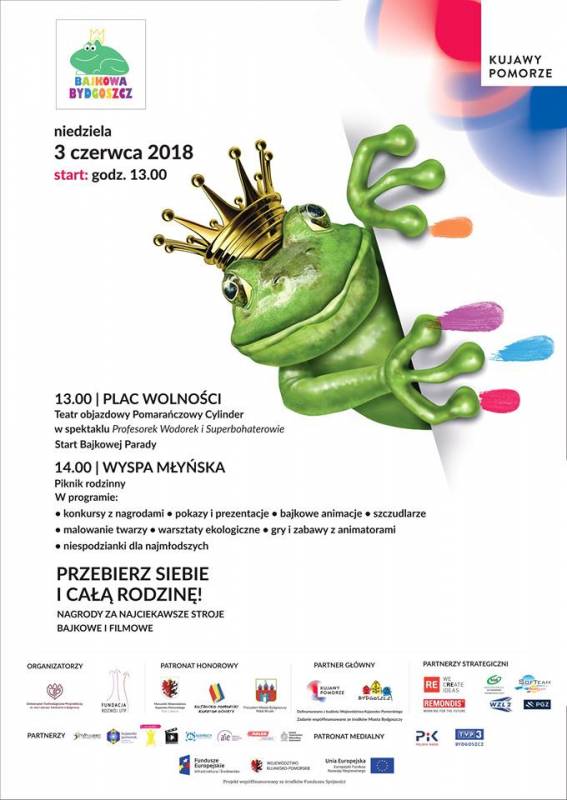 W dniu 3 czerwca 2018 roku, już po raz szósty w naszym mieście odbędzie się impreza plenerowa "Bajkowa Bydgoszcz". Impreza organizowana jest przez Uniwersytet Technologiczno – Przyrodniczy im. Jana i Jędrzeja Śniadeckich oraz Fundację "Rozwój UTP". Wydarzenie to skierowane jest do wszystkich mieszkańców naszego miasta i okolic, a ze względu na wyjątkowy charakter imprezy szczególnie zależy nam na zainteresowaniu ze strony rodzin z dziećmi oraz młodzieży.
Impreza rozpocznie się o godzinie 13.00 na Planu Wolności spektaklem wystawionym przez Teatr objazdowy "Pomarańczowy Cylinder". Następnie parada uczestników, wzorem poprzednich edycji poprzebieranych w bajkowe, kolorowe stroje, tradycyjnie poprowadzona przez orkiestrę z Technikum Mechanicznego nr 1, przejdzie na Wyspę Młyńską. To właśnie tam będą miały miejsce liczne zabawy, konkursy, malowanie twarzy, warsztaty naukowe oraz liczne występy artystyczne.
Celem projektu jest dobra zabawa w miłej, rodzinnej atmosferze, która z całą pewnością sprzyja budowaniu poczucia lokalnej tożsamości. Nie zabraknie różnych form promocji aktywności fizycznej oraz wspólnego spędzania czasu w gronie rodzinnym. Nacisk położony zostanie również na upowszechnienie idei wolontariatu wśród młodzieży i studentów.
Ponadto, celem organizowanych wydarzeń będzie promocja patronów Uniwersytetu Technologiczno-Przyrodniczego – braci Jana i Jędrzeja Śniadeckich. Miasto Bydgoszcz oraz Uniwersytet wiele zawdzięczają tym wybitnym postaciom, których dorobek w zakresie nauk ścisłych, filozofii czy satyry społecznej jest trudny do przecenienia.
Szczegółowe informacje na: http://www.bajkowabydgoszcz.pl/
Pozostałe wydarzenia w Bydgoszczy w ramach Święta Województwa Kujawsko-Pomorskiego:
-3 czerwca (niedziela)
Nazwa wydarzenia: Koncert "Wyspa kina". Muzyka Filmowa Regionu
Miejsce: Wyspa Młyńska w Bydgoszczy
Godzina: od 20:30 do 23:00
- 6 czerwca (środa)
Nazwa wydarzenia: Operowe rendez-vous
Miejsce: Amfiteatr przy Opera Nova w Bydgoszczy
Godzina: od 19:00 do 21:00
- 7 czerwca (czwartek)
Nazwa wydarzenia: Uroczysta Sesja Sejmiku Województwa Kujawsko-Pomorskiego
Miejsce: Aula Copernicanum UKW
Godzina: od 13:00
Transmisja on-line na www.kujawsko-pomorskie.pl
- 7 czerwca (czwartek)
Nazwa wydarzenia: Uroczysta Msza Święta w intencji regionu i mieszkańców
Miejsce: Bazylika św. Wincentego à Paulo w Bydgoszczy
Godzina: od 16:30 do 18:00
- 7 czerwca (czwartek)
Nazwa wydarzenia: "QUO VADIS DOMINE"
Najpopularniejsze pieśni z oratoriów i innych dzieł Piotra Rubika
Miejsce: Bazylika św. Wincentego à Paulo w Bydgoszczy
Godzina: od 18:00 do 20:00
_________
Kalendarz wydarzeń odbywających się w Bydgoszczy miej zawsze pod ręką dzięki aplikacji mobilnej (Android i iOS).
______________________
Informacje o wydarzeniach przesyłajcie na adres wydarzenia@visitbydgoszcz.pl
______________________
Bydgoskie Centrum Informacji nie ponosi odpowiedzialności za jakiekolwiek zmiany miejsc, godzin i dat wydarzeń.