Ogórek zaparkuje w Myślęcinku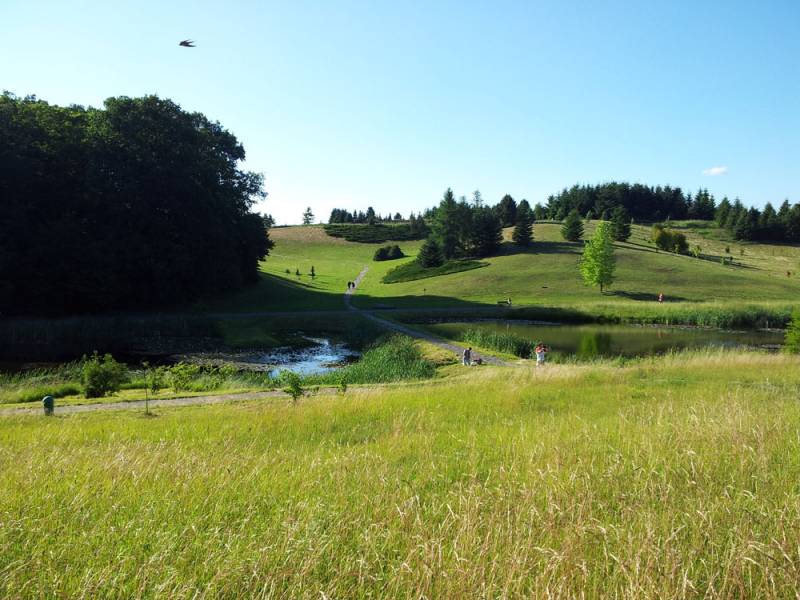 W niedzielę (11 czerwca) w Myślęcinku będzie można spotkać z właścicielem Muzeum Komunikacji z Paterka, który kolekcjonuje zabytkowe pojazdy. Część z nich będzie od 24 czerwca obsługiwać bydgoskie linie turystyczne nr 100 i 102.
Linie turystyczne w tym roku rozpoczynają regularne kursowanie od 24 czerwca i będą wozić pasażerów do ostatniego weekendu wakacji letnich, tj. 27 sierpnia. Do obsługi wykorzystywane będą pojazdy Jelcz 043, Jelcz 706 RTO . Autobusy te kursowały na regularnych liniach autobusowych od lat 60. XX wieku. Zostały wycofane z obsługi w latach 80. Ze względu na charakterystyczny kształt nadwozia nazywane były "ogórkami". W sytuacjach awaryjnych pojawiać się może również Jelcz MEX 272.
W pojazdach funkcjonować będzie obsługa konduktorska pojazdu, umundurowana zgodnie ze standardami historycznymi obowiązującymi w komunikacji miejskiej w Polsce w latach 50 i 60-tych XX wieku. Będzie odpowiadać za prowadzenie w pojazdach sprzedaży biletów jednorazowych, ich kontrolę, umieszczanie broszur informacyjnych oraz udzielanie pasażerom dodatkowych informacji.
Autobusy kursować będą na dwóch trasach. Linia turystyczna nr 100 pojedzie na trasie Stary Rynek – Myślęcinek, natomiast linia turystyczna nr 102 na trasie Stary Rynek – Exploseum. Przebieg tras skonstruowany został w taki sposób, aby umożliwić pasażerom dotarcie do najciekawszych miejsc w Bydgoszczy, takich jak Stare Miasto, Wyspa Młyńska, Myślęcinek, Muzeum Wodociągów, ulica Gdańska, Exploseum. Atutem tych linii jest umiejscowienie początkowego przystanku w samym sercu miasta – na Starym Rynku, co pozwala podziwiać zabytkowe autobusy nie tylko korzystającym z nich pasażerom, ale także odwiedzającym Starówkę turystom i mieszkańcom.
Koszt funkcjonowania zabytkowej komunikacji autobusowej przez najbliższe 3 lata wyniesie blisko pół miliona złotych. Będzie ona uzupełniana również przez turystyczne linie tramwajowe.
Tymczasem już w niedzielę 11 czerwca na pętli w Myślęcinku w godzinach od 12 do 18 będzie można spotkać się z właścicielem Muzeum Komunikacji z Paterka, który kolekcjonuje zabytkowe pojazdy. To właśnie autobusy z kolekcji Artura Lemańskiego obsługiwać będą przez najbliższe 3-lata bydgoskie linie turystyczne. To dobra okazja do poznania historii komunikacji w Bydgoszczy oraz wygrania w konkursach okolicznościowych upominków.
Warto wiedzieć
Muzeum Komunikacji w Paterku powstało w marcu 2011 roku na bazie kolekcji zabytkowych autobusów Artura Lemańskiego. Znajduje się w nim 30 autobusów kursujących w latach 70- 90 w Polsce m. in. z Bydgoszczy, stare fotografie, historie bydgoskiej, nakielskiej komunikacji, stroje kierowców, stare bilety. Muzeum jest obecnie w fazie organizacji, dlatego nie wszystkie eksponaty mogą być udostępnione zwiedzającym - takie jak np. prospekty autobusów, zdjęcia, książki techniczne. Więcej informacji o muzeum znajduje się na stronie www.zabytkowe-autobusy.pl/