Powrót Bydgoszczy do Macierzy: "Po bydgosku..."
Gdzie?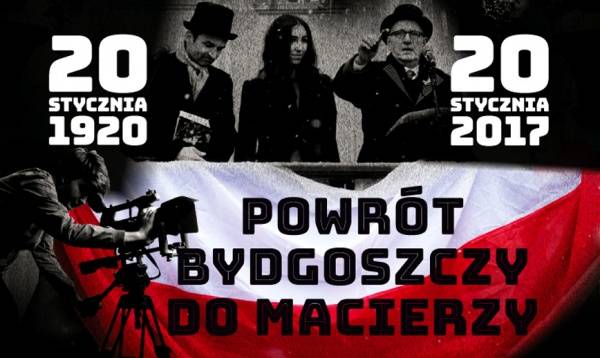 Po Bydgosku... - koncert z okazji 97. rocznicy powrotu Bydgoszczy do Macierzy
W programie najpopularniejsze melodie dwudziestolecia międzywojennego w wykonaniu Chóru City Singers Miejskiego Centrum Kultury w Bydgoszczy oraz Vio-dion Duo. Jest to niecodzienna okazja do zagłębienia się w niezapomniane melodie lat 20. i 30. ubiegłego stulecia, których oryginalne wykonania tkwią tak głęboko w pamięci wielu z nas. Szlagiery takie jak: "Złociste chryzantemy", "Ach, śpij, kochanie", "Umówiłem się z nią na dziewiątą" czy "Miłość ci wszystko wybaczy" to tylko niektóre z utworów, które pojawią się w repertuarze styczniowego koncertu. Wszystkie usłyszymy za to w nowym wydaniu w wykonaniu chóralnym z towarzyszeniem formacji Vio-dion Duo (Malwina Mikołajczak-Lutrzykowska - skrzypce, Krzysztof Lutrzykowski - akordeon).
WstępWolny