Narodowy Balet Gruzji "Sukhishvili"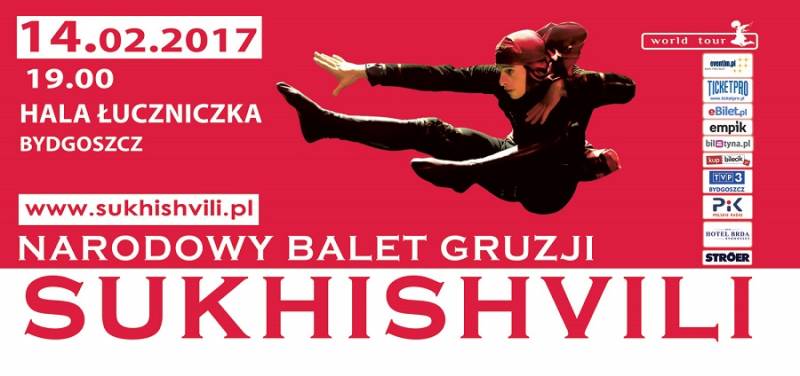 Unikalne show taneczne - 100 tancerzy i orkiestra na scenie.
Gruziński balet narodowy "Sukhishvili" składa się z ponad 100 tancerzy
i własnej orkiestry. W swojej historii wyruszył na ponad 250 tournée, członkowie zespołu 11 razy objechali 5 kontynentów i 90 krajów, odbyli 12 500 koncertów, które łącznie widziało ponad 10 mln widzów na całym świecie!
Występ zespołu nazwano "najlepszym show na Broadwayu", w Australii uznany był on za "ósmy cud świata", a po koncercie na najsłynniejszej scenie w Lа Scala, kurtynę podnoszono aż 14 razy, pobijając tym samym rekord Caruso (podniesienie kurtyny 11 razy).
Gruziński Balet Narodowy "Sukhishvili" powstał 70 lat temu i bazuje na tradycyjnych tańcach narodowych, ale żeby występy były jeszcze bardziej spektakularne, powstały nowe układy, będące doskonałym połączeniem urokliwego folku i kroków współczesnych.
Elementy sztuki walki i akrobacje, bajecznie kolorowe kostiumy oraz dynamiczna, opowiedziana z niebywałą pasją historia sprawiają, że "Sukhishvili" stanowi doskonałe show dla całej rodziny: od dzieci aż po seniorów.
NIEBEZPIECZNE TAŃCE GRUZIŃSKICH MĘŻCZYZN
"Spróbujcie skoczyć w powietrzu, podginając kolana pod siebie. Potem upadnijcie na klęczki na podłogę i skoczcie ponownie, żeby znów upaść i kontynuować! A potem kręćcie się na palcach w miękkich butach z taką szybkością, żeby nikt nie rozpoznał waszego własnego oblicza. A potem zróbcie okrążenie wokół sceny na klęczkach. Urzeknijcie przepiękne damy, które obserwują spokojnie i figlarnie wasz śmiały taniec, który stara się wywalczyć ich przychylność".
The Washington Post (USA)
SZTORM NA SCENIE
"Gruzińscy artyści - sama doskonałość. To nawet nie taniec, to - lot. Sztorm na scenie".
Daily Mirror (Great Britain)
CZAR Z GRUZJI
"Dwie i pół godziny przelatują jak sekundy, nim zdążysz spostrzec, patrzysz z ogromną uwagą i zastanawiasz, czym zachwycasz się bardziej - muzyką, pięknymi kostiumami, sztuką czy niewiarygodną techniką tancerzy, bogatymi w tradycje Gruzji".
New York Post (USA)
Oficjalna strona http://www.sukhishvili.pl
Oficjalny film promocyjny: https://www.youtube.com/watch?v=iXqTsHFDj6w
Zródło: http://pankoncert.pl/event/narodowy-balet-gruzji-sukhishvili-luty-marzec-2017/
Bilety na: www.sukhishvili.pl, Eventim, Biletyna