Białas & White 2115 / Diamentowy Las - concert
Gdzie?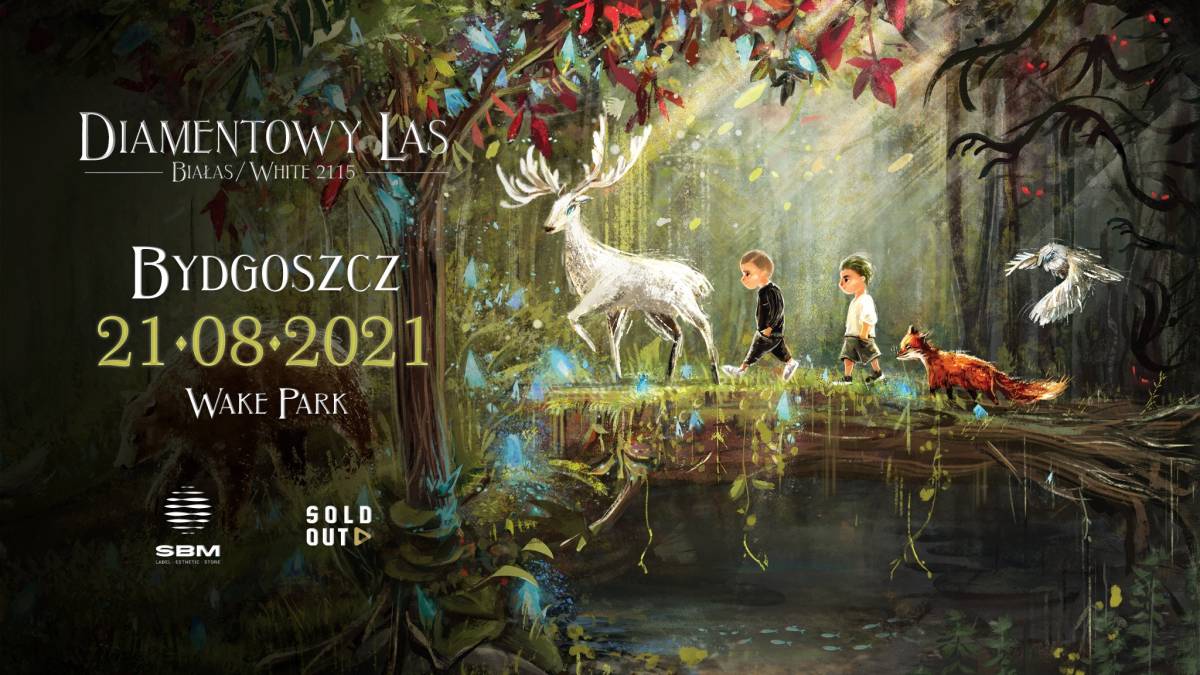 Białas i White łączą siły! Zapraszamy na koncert Białasa & White'a 2115 promujący najnowszy album "Diamentowy Las".
Trasa "Diamnetowy Las" to specjalne wydarzenie, na którym każdy z artystów zagra swój solowy materiał + wspólny premierowy album "Diamentowy Las". Połączenie tras to wyraz podziękowania dla wszystkich naszych słuchaczy, którzy postanowili zachować bilety na wcześniejsze koncerty artystów.
Bilety są dostępne w sprzedaży na stronie diamentowylas.pl, sbmstore.pl, w aplikacji oraz stronie Going, a także w salonach Empik w całej Polsce.
I pula - 80 zł
II pula - 90 zł
III pula - 100 zł
Bilety kolekcjonerskie - 135 zł / specjalny bilet w wersji fizycznej do odebrania w dniu koncertu
Bilety VIP - 199 zł / spotkanie z artystami + specjalny bilet w wersji fizycznej + sadzonka drzewka
Wszystkie osoby, które zdecydowały się zachować bilet z trasy Białas "H8M5" oraz White 2115 "Do zachodu Słońća" i chcą uczestniczyć we wspólnym koncercie, mogą dokupić bilet cegiełkę w wysokości 25 zł w odpowiedniej puli:
- Bilety zwykłe z puli "Dopłata za bilet zwykły"
- Bilety kolekcjonerskie z puli "Dopłata za bilet kolekcjonerski"
Aby pobrać nowy bilet z jednej z powyższych pul należy wpisać kod wcześniejszego biletu i przejść do płatności.
Bilety można wymieniać tylko do 10.05, po tym czasie wszystkie bilety z trasy "Do zachodu słońca" oraz "H8M5" będą podlegały tylko i wyłącznie zwrotom. Po tym terminie nie będzie możliwości ich wykorzystania przy zakupie biletu na trasę "Diamentowy Las".
Osoby, które nie posiadają biletów z solowych tras White 2115 lub Białasa mogą zakupić bilet zwykły, kolekcjonerski oraz VIP w odpowiedniej puli. UWAGA! Liczba biletów jest bardzo ograniczona.
UWAGA! Bilety z trasy "Do zachodu słońca" oraz "H8M5" nie podlegają wymianie na bilety VIP. Jeśli posiadasz bilet zwykły lub kolekcjonerski z trasy, a chcesz zakupić bilet VIP - zgłoś się przez formularz https://goingapp.pl/form/zwrot-biletu i wymień swój bilet na voucher Going. a następnie dokonaj zakupu biletu VIP przy użyciu vouchera.
Jeśli ktokolwiek przewidział to, czego właśnie teraz jesteśmy świadkami, zdecydowanie powinien spróbować swojego szczęścia w grach losowych. Choć Białas i White mają na swoim koncie kilka wspólnych utworów, nic nie wskazywało na to, by w najbliższej przyszłości mieli stworzyć duet i wydać pełnoprawny album. W związku z tym trudno również powiedzieć, żeby wyszli naprzeciw jakimkolwiek oczekiwaniom fanów, bo te nigdy nie zostały wobec nich postawione. W ciągu kilkunastu studyjnych sesji udało się stworzyć projekt całkowicie inny od tych, jakie do tej pory raperzy zaprezentowali swoim słuchaczom.
Liczący dwanaście utworów krążek kipi trapem i błyszczy odmienionymi przez wszystkie przypadki tytułowymi diamentami rosnącymi na drzewach tajemniczego lasu, w którym znaleźli się obaj artyści.
Wśród autorów muzyki znajdziemy postaci doskonale znane z poprzednich, solowych projektów Białasa i White'a, ale na trackliście nie zabrakło też miejsca dla producentów, z którymi obaj artyści nigdy wcześniej nie współpracowali. Za brzmienie odpowiadają Lanek, Chivas, Kinny Zimmer i debiutujący Krzysiek808. Warto odnotować, że na "Diamentowym Lesie" nie usłyszymy żadnych gościnnych wokali - jedynymi wykonawcami albumu są jego autorzy.
UWAGA!
Osoby poniżej 16 roku życia mogą wziąć udział w koncercie tylko pod opieką osoby dorosłej i na wyłączną odpowiedzialność osoby dorosłej, pod której pieczą pozostaje, po nabyciu biletów wstępu zarówno dla osoby małoletniej jak i dorosłej.
Osoby niepełnoletnie, które ukończyły 16 lat, mogą uczestniczyć w koncercie pod warunkiem posiadania ważnego biletu oraz podpisanej zgody opiekunów prawnych na uczestnictwo w imprezie.
____________________
Kalendarz wydarzeń odbywających się w Bydgoszczy miej zawsze pod ręką dzięki aplikacji mobilnej (Android i iOS).
______________________
Informacje o wydarzeniach przesyłajcie na adres wydarzenia@visitbydgoszcz.pl
______________________
Bydgoskie Centrum Informacji nie ponosi odpowiedzialności za jakiekolwiek zmiany miejsc, godzin i dat wydarzeń.