Wernisaż: Kaziemierz Drejas - "Sytuacje"
Gdzie?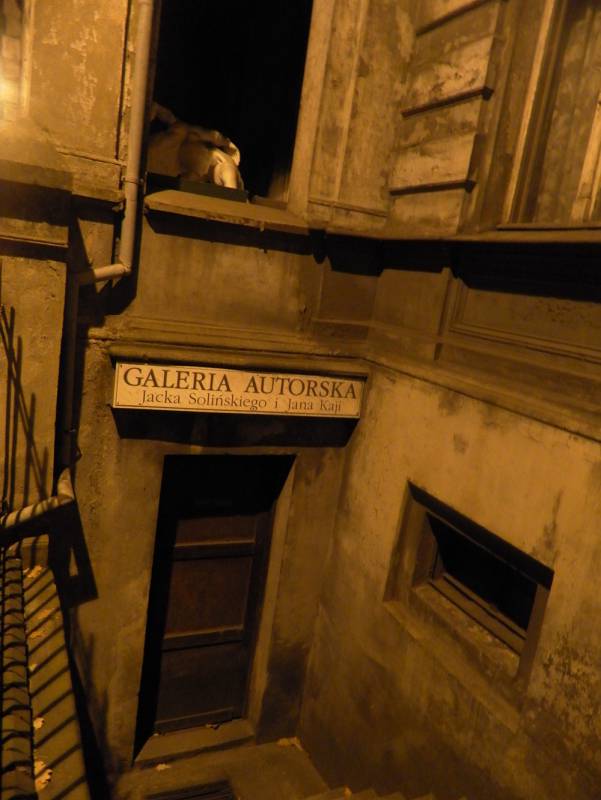 Kazimierz Drejas, ur. 1937 w Bydgoszczy. Studia odbył w latach 1957-1961 na Wydziale Sztuk Pięknych UMK w Toruniu i ASP w Krakowie w pracowniach prof. Jerzego Fedkowicza, Emila Kruchy i Wacława Taranczewskiego. Członek ZPAP od 1965. Jest autorem 29 wystaw indywidualnych. Uczestniczył w 89 wystawach plastyki bydgoskiej, 72 wystawach ogólnopolskich i międzynarodowych i w 24 wystawach zagranicznych. .Jego prace znajdują się w zbiorach publicznych (70 obrazów) oraz prywatnych w kraju i zagranicą (230 obrazów). Otrzymał szereg nagród i wyróżnień, w tym Nagrodę Prezydenta Miasta Bydgoszczy w 2008 roku.
(...) Mistrzowskie opanowanie warsztatu pozwoliło artyście stworzyć własny malarski świat - jakby teatr, w którym pojawiają się na scenie wystylizowane postacie. Życie wewnętrzne autora zdaje się być rozpisane na role. Najpierw uwagę widza skupiała tylko jedna aktorka, by w kolejnej dekadzie wystąpić w towarzystwie swojego sobowtóra. W latach 80. Kazimierz Drejas stworzył swój charakterystyczny "dwupostaciowy monodram" z kobietą w roli medium.(...)
Z upływem czasu sensualistyczne podejście do życia stanie się dla malarza podstawą badania i rejestrowania rzeczywistości. (...) Umiejętne operowanie oświetleniem i wybranymi rekwizytami (o mocnym nasyconym kolorze) w monochromatycznym otoczeniu określiło sceniczny rodzaj skupienia. Oto widz ma możliwość uczestniczenia w różnych jednoaktowych scenach mówiących o melancholii, skupieniu i samotności.
(...) Malarz stał się narratorem stanów ducha. Wyraźnie określił swoją obecność jako introwertyk. (...) Psychologiczne napięcie zdominowało aurę obrazów. Dwoistość postaci stała się wiodącą cechą twórczych rozważań. Scena - w której ta sama kobieta, przedstawiona w dwóch ujęciach, spotyka się ze sobą - intryguje i budzi niepokój. Przestrzeń dzieląca dwie sylwetki tej samej osoby, określa jej duchowe wnętrze - niewidoczne, a jednak "zobrazowane" przez realną odległość i uchwyconą sytuację. Czytelnie zbudowane plany kompozycji, z oszczędne zarysowanym kolorem, akcentują wrażenie zwątpienia i rezygnacji. Równocześnie obecna w tej atmosferze zdaje się być silna wola trwania. Dwoistość portretu staje się wyrazem dwubiegunowości i duchowego konfliktu. Wszystko to dzieje się w jestestwie jednej osoby. Na scenie trwa wewnętrzny dialog - a może spór? Dwie siły przenikają się w poszukiwaniu równowagi. (...)
Kazimierz Drejas zgodnie ze swoimi założeniami określił "bezpieczny" dystans do sfery ponadrealnej i do wszystkiego, co niesprawdzalne. Pozostał malarzem - poetą, empirykiem, dla którego metaforę istnienia stanowi kobieta. Jej podwójny portret zdaje się być personifikacją tej tajemnicy, wobec której artysta jest tak wstrzemięźliwy i ostrożny.
Jacek Soliński
(?) Zainteresowanie człowiekiem ma u Drejasa przynajmniej dwa aspekty: jest to po pierwsze fascynacja ciałem, jako formą przestrzenną i jest to zainteresowanie bardzo chłodne, racjonalne, analityczne, skupiające się na wyzyskaniu wszelkich plastycznych możliwości, jakie zawarte są w kształcie, wielkości i proporcjach ludzkiej formy i sprowadzające się do ukazania jej w najróżniejszych ujęciach, najróżniejszych gestach w rozmaitych tonacjach barwnych i po drugie zainteresowanie człowiekiem jako nośnikiem treści emocjonalnych, sugerowanych zarówno wzajemnymi relacjami figur, ich kinetyką, gestami, ciepłą lub chłodną kolorystyką. Malarz bardzo często dubluje modelkę, przedstawia tę sama postać w dwóch różnych pozycjach, czasami odgradzając poszczególne ujęcia linią pionową lub poziomą, co przynosi dodatkowy efekt w postaci kontrastów, napięć, czasem swego rodzaju symetrii kształtów i kolorów. Te tak często kreowane przez artystę powtórzenia, powtórzenia twarzy, kolorów, układów rąk, mają tu znaczenie i formalne, i ideowe, są realizacją określonej strategii artystycznej, przywodzą na myśl zarówno tradycję renesansowego dwu czy trójportretu, koncepcję lustrzanych odbić, ujawniających symbolicznie alter-ego, mieszczą też w sobie refleksje na temat sobowtórowości i sprzeczności ludzkiej natury. Malowane przez Drejasa kobiety, mimo że posiadają bardzo konkretną, mocną fakturową substancjalność, zdają się istnieniami niezwykle kruchymi, subtelnymi, o wrażliwej kontemplatywno-melancholijnej osobowości, wyalienowanymi z rzeczywistości, zamkniętymi w swym wewnętrznym, skupionym, intymnym życiu, pogrążonymi w samotności i ciszy.
Piotr Siemaszko