Otwarcie wystawy fotografii Jerzego Riegla
Gdzie?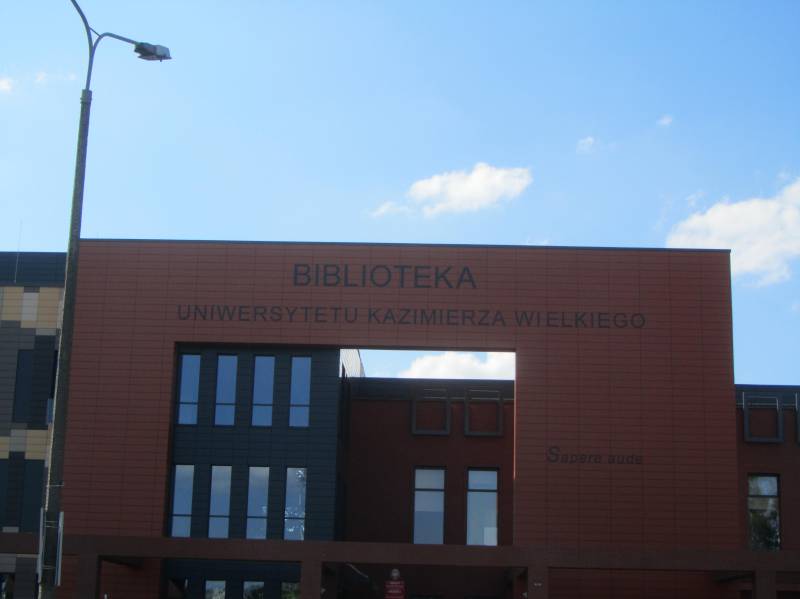 1 października 2015 r. o godz. 18.00 zapraszamy do Biblioteki UKW na otwarcie wystawy fotografii Jerzego Riegla pt."W kolorze sepii". Wprowadzenie do wystawy: Hanna Strychalska.
Wystawę można oglądać do 4 listopada 2015 r.
Jerzy Riegel urodził się 10 stycznia 1931 roku w Bydgoszczy. Jest poligrafem i artystą fotografikiem. W roku 1948 rozpoczął naukę w Publicznej Średniej Szkole Zawodowej nr 1 w Bydgoszczy. Jednocześnie, w latach 1948-1950, podjął naukę i pracę w Zakładach Graficznych przy ul. Jagiellońskiej 2 w Bydgoszczy. Należał do Sekcji Litochemigrafii. W 1950 roku uzyskał specjalizację zawodową fotochemigrafa (reprodukcja czarno-biała), a w roku 1965 zdobył dyplom mistrza z zakresu fotografii reprodukcyjnej offsetowej (reprodukcja barwna). W tym samym 1948 roku, Jerzy Riegel wykonał swoje pierwsze zdjęcie aparatem skrzynkowym Box firmy Agfa. Od tego momentu do dnia dzisiejszego zajmuje się fotografią. Od 1967 roku należy do Związku Polskich Artystów Fotografików i bierze udział w licznych plenerach i wystawach. Jako poligraf związany był przede wszystkim z Zakładami Graficznymi w Bydgoszczy, gdzie pracował w latach 1948-1962. W okresie 1962-1972 poszerzał umiejętności zawodowe w Drukarni Kartograficznej Pomorskiego Okręgu Wojskowego w Bydgoszczy. W 1972 roku wrócił do Zakładów Graficznych
i pracował tam aż do emerytury w 1988 roku. Artysta zorganizował ponad 80 wystaw indywidualnych w Polsce (m. in. Bydgoszcz, Gniezno, Toruń, Żnin, Piła, Kołobrzeg, Elbląg, Warszawa, Łódź, Zielona Góra, Lublin, Katowice, Kielce) i za granicą (Czechosłowacja - Czeski Cieszyn i Hawierzów, Rumunia - Pite?ti, Bułgaria - Sofia, NRD - Magdeburg). Wziął udział w ponad 150 wystawach zbiorowych: środowiskowych, ogólnopolskich, międzynarodowych
i zagranicznych. Jego prace znajdują się mi. in. w zbiorach Muzeum Okręgowego im. Leona Wyczółkowskiego w Bydgoszczy, Muzeum Okręgowego w Toruniu, w urzędach i instytucjach kulturalnych oraz zbiorach prywatnych: Austrii, Bułgarii, Anglii, Niemczech, Francji, Szwecji, Włoszech, Kanadzie i Nowej Zelandii. W roku 1980 Jerzy Riegel otrzymał Złotą Odznakę Związku Zawodowego Pracowników Przemysłu Poligraficznego, w 1985 - Złotą Odznakę Zasłużonego Działacza "W służbie oświaty". Od 1987 roku artysta posiada uprawnienia rzeczoznawcy dzieł sztuki współczesnej w zakresie fotografii, nadane przez Ministerstwo Kultury i Sztuki.
(?) Jerzy Riegel od pół wieku realizuje autorski program artystyczny. W pełni świadomie nawiązuje do najpiękniejszych wzorów polskiej fotografii artystycznej. Odrzuca pośpiech i pogoń za nowoczesnością, obce mu są wszelkie awangardowe "wyczyny artystyczne". Ceni perfekcję techniczną i doskonałość warsztatową. Tworzy dzieło ponadczasowe. Kontakt z jego pracami fotograficznymi przynosi widzowi radość, spokój i ukojenie, obrazy zatrzymują wzrok widza
i pozwalają kontemplować odwieczne wartości prawdy i piękna, tkwiące w najbliższym otoczeniu człowieka. Artysta fotografuje krajobraz, architekturę i portret, czyni to w sposób naturalnie prosty, niekiedy z dominacją cech monumentalnych, zawsze z ładunkiem uczucia, przejawiającego się w zanotowaniu nastroju. (?)
Żyjemy w czasach znakomitego postępu cywilizacyjnego, zdawać by się mogło, że jesteśmy skazani na doskonałość obrazu. Wystarczy nacisnąć klawisz komputera, aby na ekranie pojawiła się izohelia, a drugi przycisk spowoduje wydrukowanie tak spreparowanego obrazka, doskonałego w każdej cząstce składowej. (?) Jerzy Riegel rzucił wyzwanie bezdusznym maszynom. Don Kichot izohelii, w jej klasycznej formie, przeciwstawia komputerowi pracę wykonaną "ręcznie". Korzysta z błędów technologii i niedoskonałości tworzywa. Tworzy dzieło nasycone humanizmem i ludzkim przeżywaniem. (?)
Paweł Pierściński
Paweł Pierściński, [w:] "Jerzy Riegel, Brom, izohelia, solaryzacja", redakcja: Olga Brysiak, opracowanie graf.: Łukasz Płotkowski, Wydawnictwo "Margrafsen", Bydgoszcz 2002.
(?) Autor znajduje klucz do tajemnicy świata nie tylko realnego, ale i poetyckiego. Realizuje norwidowski postulat "odpowiednie dać rzeczy słowo". Tworzy jakby szczególny rodzaj rzeczywistości skondensowanej. Przemienia to co konkretne, w to co symboliczne. Umie łączyć w spójną całość przeciwieństwa i asymilować sprzeczności.
1 października 2015 r. o godz. 18.00, Biblioteka UKW , otwarcie wystawy fotografii Jerzego Riegla pt."W kolorze sepii".
Wprowadzenie do wystawy: Hanna Strychalska.Wystawę można oglądać do 4 listopada 2015 r.
Fotografuje bryłę, poszczególne detale, a nawet drobne wyimki wyselekcjonowane z całości. Wszystko to poddaje oglądowi z różnych stron, widzi w różnych wymiarach, odcieniach i tonacjach. Artysta, opisując swoimi fotografiami świat, opisuje równocześnie siebie, własne rozterki i przemyślenia, chociaż wie, że świat "jest nie do opisania". Adoruje materię rejestrowanego świata, mieszczącego w sobie światło i mrok. Riegel ofiarowuje nam fotogramy niezwykle oszczędne: można by rzec - niezbędne minimum, aby zaistniał obraz. Sięga po granice syntezy. Swoje artystyczne dociekania zamknął w kilku kręgach tematycznych. Preferuje architekturę. Fotografując architekturę stara się ocalić historię ludzkiej myśli, ludzkiego wysiłku. Utrwala tą współczesną, ale szczególnie umiłował tą ginącą, odchodzącą w przeszłość, w zapomnienie. Najwięcej prac poświęcił swojemu miastu, Bydgoszczy. Kocha ten świat odmieniany upływającym czasem, porami roku, nocą i dniem, zmieniającym się światłem. Przez wszystkie realizacje przelewa się czas, jedyny niezależny podmiot tego świata. Pożera i unicestwia. Jerzy Riegel próbuje to ocalić. Lubi utrwalać nastrój, aurę przemijania. (?)
Sensualistyczna wrażliwość twórcy utwierdza nas, że nie ma piękna poza materią świata. Świata, którego zamęt potrafi ogarnąć, scalić i zapisać jako przejrzyste struktury fotograficznego kadru. (?)
Łukasz Płotkowski
Łukasz Płotkowski, "Bydgoska fara w impresjach Jerzego Riegla", [w:] "Fara - Konkatedra bydgoska w fotografii Jerzego Riegla", Biuro Wystaw Artystycznych w Bydgoszczy, Bydgoszcz 2002. Katalog do wystawy indywidualnej.