Monika Pyrek Tour - zawody tyczkarskie i rodzinna strefa pomiarów i zabawy
Gdzie?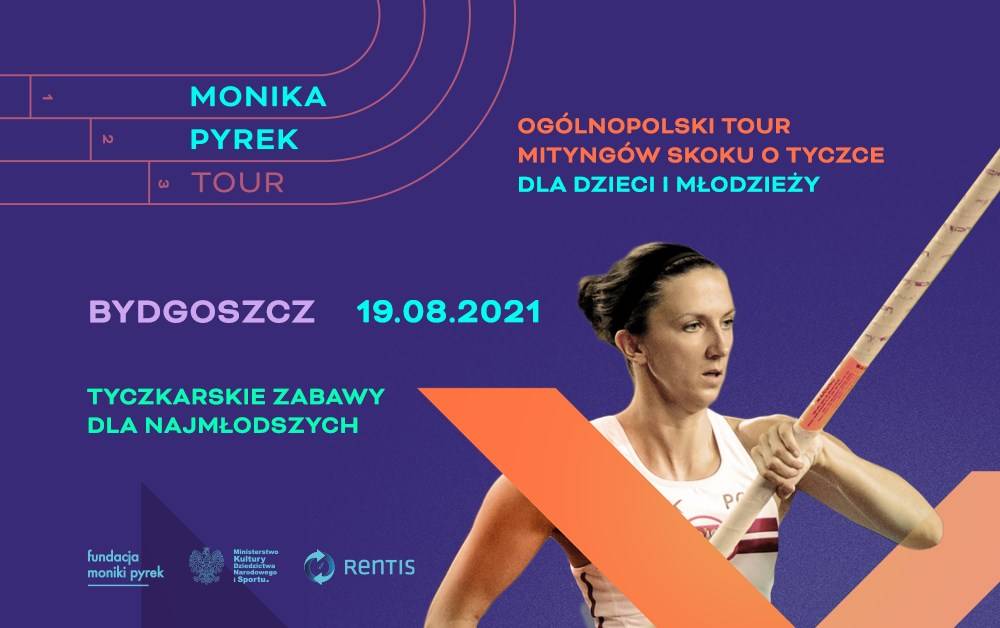 Informacje od Organizatora:
Monika Pyrek od lat jest związana z lekką atletyką, najpierw jako zawodowa skoczkini o tyczce, a teraz jako ekspertka w telewizyjnych studiach. Jednak to lato jest wyjątkowe – Monika Pyrek podjęła się kolejnego wyzwania i rusza z projektem #MonikaPyrekTour.
Cel wydarzenia:
- wyłonić najlepszych młodych tyczkarzy w Polsce,
- doskonale się bawić.
Głównym elementem projektu są zawody tyczkarskie organizowane w formie Touru, który odbędzie się w czterech polskich miastach.
- Monika Pyrek Tour to projekt jakiego jeszcze w Polsce nie było! Będziemy skakać, doskonale się bawić i wybierzemy najlepszych tyczkarzy sezonu. – mówi Monika Pyrek.
Atrakcje dla małych i dużych!
Konkurs skoku o tyczce będzie połączony z piknikiem rodzinnym, gdzie poza zawodami sportowymi w programie imprezy jest również specjalna strefa sportowo-pomiarowa przygotowana nie tylko dla zawodników, ale także kibiców i rodzin obecnych podczas imprezy.
Na najmłodszych czekać będą takie atrakcje jak:
- skok o tyczce na zeskok dmuchany,
- skok o tyczce do basenu z kulkami,
- skoki pomiędzy piankowymi kamykami.
Udział w wydarzeniu jest bezpłatny, a na najlepszych zawodników zawodów tyczkarskich czekają nagrody.
Wydarzenie odbędzie się 19.08 w godzinach 10-16, w Bydgoszczy na Stadionie Zawiszy (stadion rozgrzewkowy).
Projekt finansowany ze środków Ministerstwa Kultury, Dziedzictwa Narodowego i Sportu.
____________________
Kalendarz wydarzeń odbywających się w Bydgoszczy miej zawsze pod ręką dzięki aplikacji mobilnej (Android i iOS).
______________________
Informacje o wydarzeniach przesyłajcie na adres wydarzenia@visitbydgoszcz.pl
______________________
Bydgoskie Centrum Informacji nie ponosi odpowiedzialności za jakiekolwiek zmiany miejsc, godzin i dat wydarzeń.