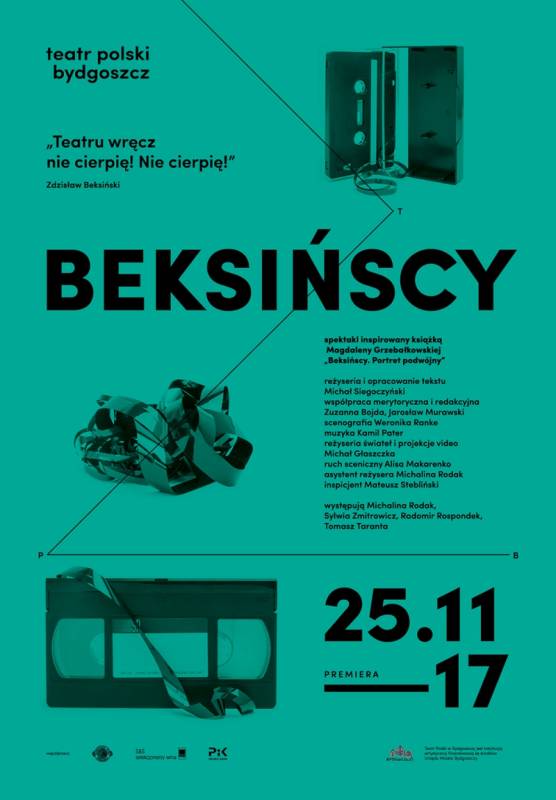 Beksińscy
SPEKTAKL
mała scena
reżyseria Michał Siegoczyński
dramat Jarosław Murawski
scenografia Weronika Ranke
muzyka Kamil Pater
reżyseria świateł/projekcje video Michał Głaszczka
ruch sceniczny Alisa Makarenko
występują Michalina Rodak, Sylwia Zmitrowicz, Radomir Rospondek, Tomasz Taranta
Na motywach książki Magdaleny Grzebałkowskiej "Beksińscy. Portret podwójny".
W nocy z 21 na 22 lutego 2005 roku znany malarz, Zdzisław Beksiński, został zamordowany w swoim mieszkaniu. Na ciele zabitego stwierdzono kilkanaście ran kłutych. Do dziś wiele osób bliskich artyście pamięta ten chłodno brzmiący, lakoniczny komunikat dobiegający z radia. W tamtej chwili nastał koniec i zarazem początek rodziny Beksińskich.
Wspomnienia o dwóch zamkniętych w sobie ekscentrykach i kobiecie, która starała się zbudować dla nich azyl, ukazują mechanizm pracy pamięci. Równolegle pojawiające się narracje o każdej z tych postaci, tworzą barwne alternatywne scenariusze. Czasem pozostają wobec siebie w sprzeczności, czasem zaskakują nadinterpretacją faktów, jednak oczywistym jest, że pamięć nigdy nie umiera. Nawet, jeśli historia ta wydaje nam się niekompletna, podzielona, czy nadbudowana o nieprawdziwe zdarzenia, obok portretów Beksińskich trudno przejść obojętnie.
Beksińscy to spektakl przedstawiający w nielinearny sposób historię o ogromnej samotności i niemożności okazywania uczuć, ale też o miłości, która jest źródłem akceptacji i zrozumienia nawet najbardziej irracjonalnych zachowań i postaw. To opowieść o sztuce, która jest nie tylko eksploracją własnej podświadomości, ale również ucieczką od samego siebie.
______________________
Kalendarz wydarzeń odbywających się w Bydgoszczy miej zawsze pod ręką dzięki aplikacji mobilnej (Android i iOS).
______________________
Informacje o wydarzeniach przesyłajcie na adres wydarzenia@visitbydgoszcz.pl
______________________
Bydgoskie Centrum Informacji nie ponosi odpowiedzialności za jakiekolwiek zmiany miejsc, godzin i dat wydarzeń.