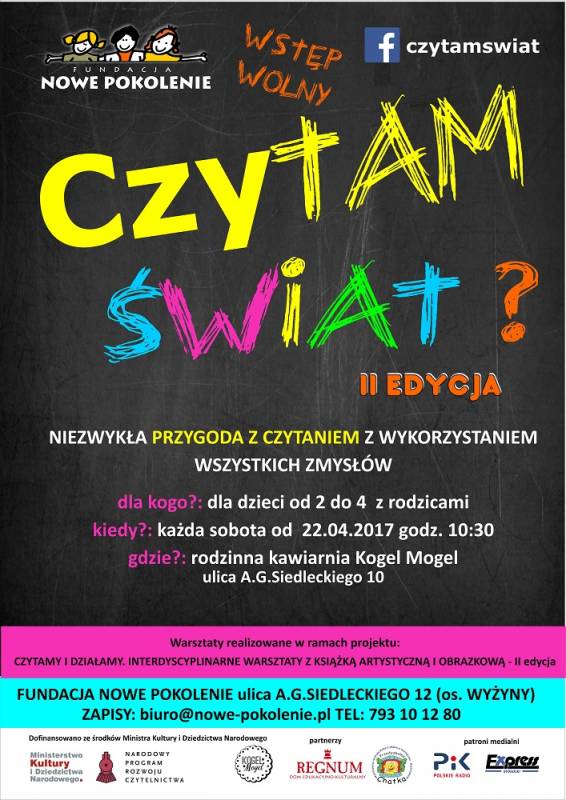 Fundacja Nowe Pokolenie oraz Rodzinna Kawiarnia Kogel Mogel zapraszają na kolejne spotkanie w ramach projektu: Czytamy i działamy. Interdyscyplinarne warsztaty z książką artystyczną i obrazkową II edycja. CzyTam ŚWIAT? to nowy sposób na rozkochanie najmłodszych w świecie książek. Poprzez ten projekt chcemy zachęcić do czytania i rodzinnego spędzania czasu wolnego. Tym razem tematem naszego spotkania będą Kolory jesieni.
CO JESIEŃ NIESIE, jaki TO ma kolor. Czy TO jest ciepłe, czy zimne...? Tyle pytań. OPOWIEDZI POSZUKAMY W KSIĄŻKACH.
Zapraszamy do wspólnego czytania świata z Najmłodszymi.
W II cyklu CzyTAM ŚWIAT? już liczyliśmy, cieszyliśmy się wiosną, witaliśmy krasnoludki, listonosza, piknikowaliśmy, bawiliśmy się w teatr z chmur... Teraz przyglądać się będziemy jesiennej przyrodzie. Poza patrzeniem będziemy słuchać, smakować...
Na zajęciach w ramach tego cyklu współfinansowanego przez Ministra Kultury i Dziedzictwa Narodowego w ramach Narodowo Programu Rozwoju Czytelnictwa, poza poznawaniem najlepszych książek z Lucyną Brzezinską-Eluszkiewicz, POZNAJEMY ŚWIAT, DOTYKAJĄC RÓŻNYCH POWIERZCHNI I FAKTUR, SŁUCHAMY MUZYKI, RUSZAMY SIĘ, SMAKUJEMY, TWORZYMY WIELKIE DZIEŁA (bez przenośni ;)
Zapraszamy Rodziców z Dziećmi od 2 r. ż do 4. r.ż.
Zobaczcie, jak dobierać książki dla dzieci, jak łączyć je z innymi dyscyplinami sztuki i życia oraz jak pobudzać zmysły dziecka w celu rozmiłowania w lekturze i pobudzenia integracji sensorycznej.
PAMIĘTAJCIE O STROJU NA ZMIANĘ :) Nie oszczędzamy się, szczęśliwie się brudzimy...
WSTĘP WOLNY!
liczba miejsc ograniczona, zapisy: biuro@nowe-pokolenie.pl w tytule wiadomości prosimy podać hasło: Kolory jesieni.
Zajęcia są organizowane przez Fundację Nowe Pokolenie Bydgoszcz dofinansowane ze środków Ministra Kultury i Dziedzictwa Narodowego w ramach Narodowego Programu Rozwoju Czytelnictwa,
Honorowy patronat sprawuje Kujawsko- Pomorski Kurator Oświaty.