NutkoSfera - CeZik dzieciom
Gdzie?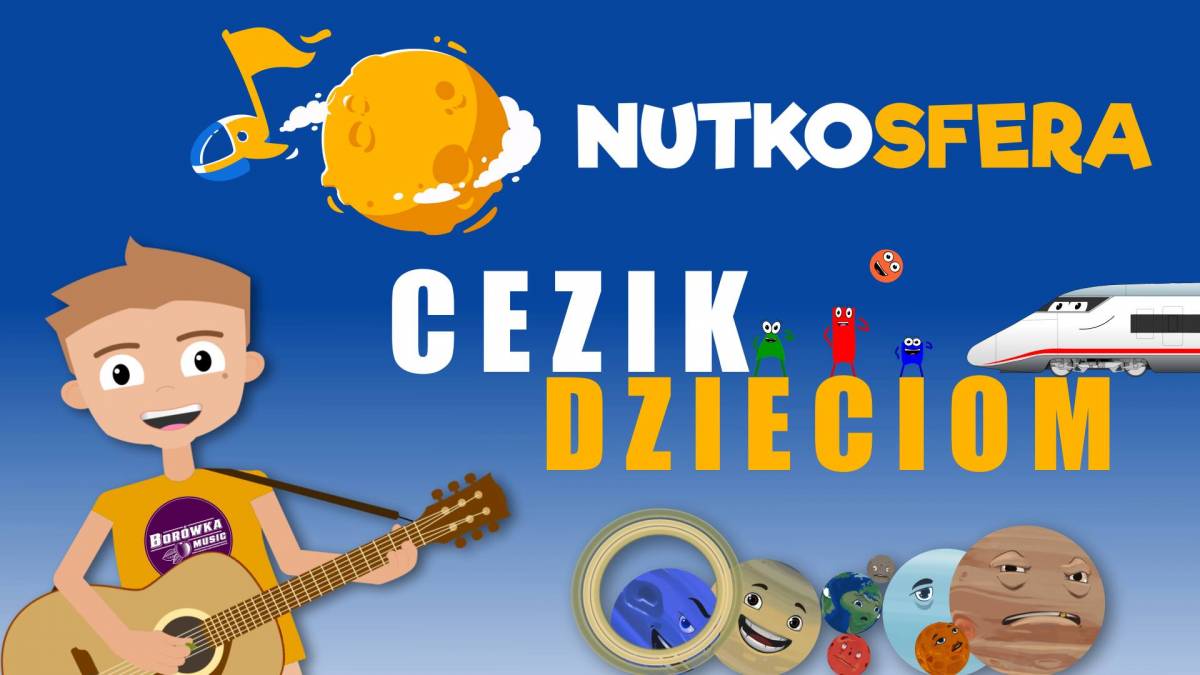 Ceny biletów:
30 zł – dzieci (od 0 do 16 lat)
50 zł - dorośli
Tu je można kupić:
https://www.biletomat.pl/.../nutkosfera-i-drobnutki.../
NutkoSfera i DrobNutki – CeZik dzieciom akustycznie
"Joł, joł Jowisz!" – tymi słowami wita się z Wami jedna z planet naszego Układu Słonecznego...
Aby poznać lepiej duże i "Małe ciała niebieskie" oraz dowiedzieć się, czemu samolot lata, statek pływa, a głowa myśli, spotkaj się z nami podczas wyjątkowego koncertu. Zabierz ze sobą uśmiech i dołącz do wspólnej zabawy!
Nutkosfera i DrobNutki to projekty pod kierownictwem CeZika. Za tym pseudonimem kryje się Cezary Nowak. Artysta od dziecka (z małymi przerwami) brzdąka, stuka, buczy, huczy i wyje! Od 2009 roku swoją twórczość publikuje w Internecie. Do tej pory na kanałach You Tube "CeZik" oraz "KlejNuty" (sprawdź tutaj: www.youtube.pl/ascezik i tutaj: www.youtube.pl/klejnuty) opublikował kilkadziesiąt filmów. Najpopularniejsze zostały wyświetlone kilkanaście milionów razy. Łącznie materiały CeZika doczekały się ponad 140 000 000 odsłon, co sprawia, że jest jednym z najpopularniejszych polskich twórców działających w Sieci.
Cztery lata temu CeZik zmienił obrany kurs. Od tego czasu tworzy kanał internetowy dla dzieci NutkoSfera, gdzie najpopularniejszy jego klip "W układzie słonecznym" ma ponad 60 milionów wyświetleń… i wiosną 2021 roku otrzymał status Platynowej Płyty!!! NutkoSfera i DrobNutki to piosenki dla najmłodszych, które mają za zadanie bawić i uczyć.
Celem CeZika jest wyrabianie w dzieciach wrażliwości muzycznej, dlatego unika aranżacji biesiadnych czy dyskotekowych. Stara się, aby melodie wpadały w ucho, były proste, ale nie obciachowe. Dba o gust muzyczny dzieci od najmłodszych lat. Jego piosenki zachęcają najmłodszych do wspólnej zabawy, jednocześnie przekazując konkretną wiedzę oraz rozmaite ciekawostki. Kanał NutkoSfera ma już ponad 180 milionów wyświetleń i nadal pędzi niczym "Pociąg Elektryczny".
Artystą opiekuje się Agencja Koncertowa Borówka Music
______________________
Kalendarz wydarzeń odbywających się w Bydgoszczy miej zawsze pod ręką dzięki aplikacji mobilnej (Android i iOS).
______________________
Informacje o wydarzeniach przesyłajcie na adres wydarzenia@visitbydgoszcz.pl
______________________
Bydgoskie Centrum Informacji nie ponosi odpowiedzialności za jakiekolwiek zmiany miejsc, godzin i dat wydarzeń.