Ptaki nitką malowane. WARSZTATY HAFTU
Gdzie?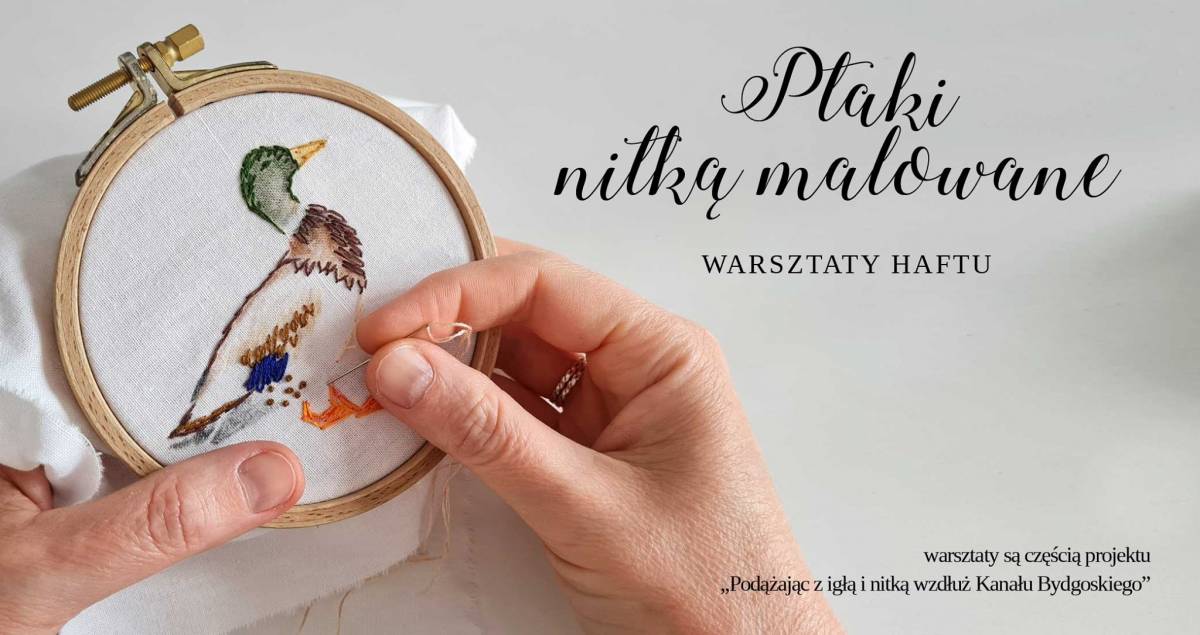 Informacje od Organizatora:
Zapraszamy na warsztaty, podczas których, korzystając z prostych ściegów hafciarskich, stworzysz artystyczną tkaninę przedstawiającą malowanego ptaka. Wykorzystamy potencjał drzemiącego w każdym z nas artysty. Trzymając w dłoniach igłę z nitką, dodając odrobinę plam dzięki kolorowym kredkom, czeka nas interesujące spotkanie z ptakami mieszkającymi nad Kanałem Bydgoskim. Nie potrzebujesz żadnych artystycznych i rzemieślniczych umiejętności. Wystarczy dobre nastawienie i chęci.
MIEJSCE
Warsztaty odbywają się w budynku Muzeum Kanały Bydgoskiego przy ulicy Nowogrodzkiej 3 w Bydgoszczy
CZAS TRWANIA
Czas trwania naszego spotkania to 2 godziny.
KOSZTY
Warsztaty są bezpłatne.
ZAPISY
Ze względów na ograniczoną ilość osób obowiązują zapisy. kontakt@nitkomaniacy.pl
ZASADY
Spotykamy się w małej grupie z zachowaniem wszelkich zasad bezpieczeństwa.
DODATKOWE INFORMACJE
Kilka słów o osobie prowadzącej warsztaty :
Joanna Michalska - z wykształcenia plastyk i projektant odzieży. Propagatorka "szycia ręcznego". Podkreśla, że szycie ręczne to fantastyczny sposób na wyciszenie i relaks. Pretekst, by na chwilę zatrzymać się "tu i teraz". Warsztaty szycia ręcznego, haftu i cerowania prowadzi od kilku lat. Ubiegłoroczna stypendyskta Ministerstwa Kultury i Dziedzictwa Narodowego #kulturawsieci. Od 12 lat projektuje i szyje akcesoria, zabawki i rozmaite miniaturowe postacie – m.in. w ramach autorskiego projektu @szmacianemisie Swoją pasją do szycia ręcznego dzieli się na stronie www.nitkomaniacy.pl
WARSZTATY SĄ CZĘŚCIĄ PROJEKTU "Podążając z igłą i nitką wzdłuż Kanału Bydgoskiego" Wyszywana mapa Kanału Bydgoskiego.
To projekt, który polega na stworzeniu artystycznej tkaniny. Założeniem jest, by na płaszczyźnie pokazać wyjątkowy charakter tej części miasta. Tradycyjne szycie ręczne, nowoczesny druk na tkaninie, a także inne techniki własne - pozwalają na tworzenie pracy na wielu płaszczyznach. Udokumentowany proces powstawania mapy pozwala na stopniowe odkrywanie jej uroków.
ZOBACZ PROJEKT : https://www.facebook.com/WyszywanaMapa
Projekt jest realizowany dzięki wsparciu finansowym miasta Bydgoszczy.
____________________
Kalendarz wydarzeń odbywających się w Bydgoszczy miej zawsze pod ręką dzięki aplikacji mobilnej (Android i iOS).
______________________
Informacje o wydarzeniach przesyłajcie na adres wydarzenia@visitbydgoszcz.pl
______________________
Bydgoskie Centrum Informacji nie ponosi odpowiedzialności za jakiekolwiek zmiany miejsc, godzin i dat wydarzeń.