Preludium Słowiańskie na DRUMS FUSION 2021
Gdzie?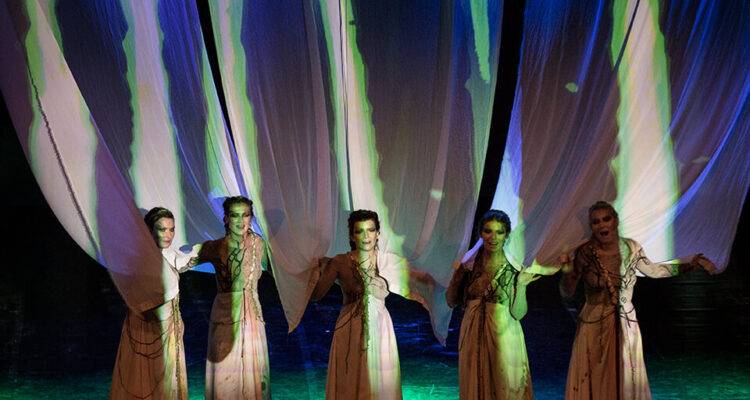 Inspiracją do powstania scenariusza do spektaklu "Preludium Słowiańskie" był Kalendarz Słowiański oraz symbolika przyrody zaklęta w czterech porach roku. Twórcy widowiska – Marek Smok Rajss i Agnieszka Glińska za pomocą różnorodnych form ekspresji twórczej – muzyki, rytmu, tańca, rdzennych pieśni i bodypaintingu wykreowali współczesną, a jednak sięgającą głęboko do rdzennego ducha interpretację świata prasłowiańskiego, z bogactwem wierzeń i obrzędów, wyznaczonych rytmem przyrody.
Dynamika żywej muzyki oraz pieśni słowiańskich, zilustrowana tańcem i plastyką przenosi widza na głęboki poziom doznań i pierwotnych znaczeń. Spektakl w wykonaniu zespołu ART COLOR BALLET, grupy WATAHA DRUMS oraz grupy wokalnej STROJONE, przybliża współczesnemu widzowi barwny świat archetypu kultury słowiańskiej, pełnej magii i osobliwości. Bilety dostępne na TUTAJ.
"Preludium Słowiańskie"
reżyseria i choreografia: Agnieszka Glińska
muzyka: Marek Smok Rajss
scenariusz: Agnieszka Glińska, Ewa Szawul, Marek Smok Rajss
pieśni tradycyjne: Strojone
współpraca przy choreografii: Małgorzata Popławska-Warelis , Barbara Gwóźdź, Michał Adamowicz
zdjęcia, montaż projekcji: Piotr Słodkowicz
WYKONAWCY:
WATAHA DRUMS
Formacja założona w 2012 roku przez Marka Smoka Rajssa to grupa muzyków poszukujących pierwotnych, etnicznych brzmień i eksperymentująca z różnego typu instrumentami perkusyjnymi. Pomimo bogactwa inspiracji rdzennych, interpretacje Watahy są na wskroś nowoczesne i bliskie percepcji współczesnego odbiorcy.
Muzycy: Marek Smok Rajss, Ewa Olszowska, Patrycja Wojkowska, Andrij Vołynko, Mateusz Jurczyk, Marcel Zambrzycki, Mateusz Sarapata, Tomek Marzec, Tomek Kinecki, Marcin Wolski.
STROJONE pieśni tradycyjne
Śpiew to ich pomost pomiędzy tradycją, ludowością, a tym, co dotyka nas współcześnie. Szukają, eksperymentują, badają. A świat rodzimej Słowiańszczyzny jest początkiem ich podróży.
Wokalistki: Agnieszka Banaś, Katarzyna Chodoń , Monika Gigier, Agnieszka Nastalska, Agnieszka Szeptalin
ART COLOR BALLET
W 1998 roku Agnieszka Glińska, zafascynowana tańcem, muzyką i malarstwem, założyła w Krakowie zespół Art Color Ballet. Pierwszy spektakl był formą eksperymentu performance łączącego malarstwo na ciele, żywą muzykę oraz taniec. Ogromne zainteresowanie tą nową formą sztuki doprowadziło do stworzenia pierwszego w Polsce zespołu tańca wykorzystującego w spektaklach bodypainting. Autorskie kompozycje choreografii, scenografii, muzyki oraz makijażu ciała, tworzą spektakl malarstwa ożywionego. Zespół współtworzą profesjonalni tancerze, pasjonaci sztuki tańca i malarstwa, performerzy, akrobaci, muzycy, plastycy i charakteryzatorzy. Dzięki połączeniu tak wielu środków ekspresji artystycznej zespół wypracował nowy sposób wyrazu. Na doświadczenie zespołu składają się setki spektakli, etiud choreograficznych i pokazów.
Tancerze:
Agata Kamykowska, Anna Turzańska, Katarzyna Kleszcz, Stanisław Iwanicki, Marta Mietelska – Topór, Joanna Czarnecka, Piotr Słodkowicz, Małgorzata Popławska – Warelis, Katarzyna Walendowska – Gosek, Joanna Juraszek, Michał Adamowicz, Michał Frosik
Bodypainting:
Agnieszka Glińska, Kinga Wójtowicz, Anna Seręga, Karolina Sobońska, Violetta Sporny, Joanna Łaksa, Olga Pidgorna
____________________
Kalendarz wydarzeń odbywających się w Bydgoszczy miej zawsze pod ręką dzięki aplikacji mobilnej (Android i iOS).
______________________
Informacje o wydarzeniach przesyłajcie na adres wydarzenia@visitbydgoszcz.pl
______________________
Bydgoskie Centrum Informacji nie ponosi odpowiedzialności za jakiekolwiek zmiany miejsc, godzin i dat wydarzeń.