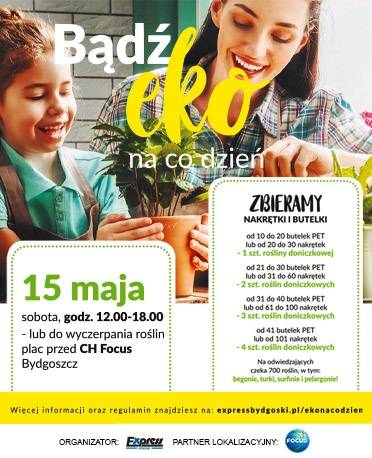 Mniej plastikowych śmieci na co dzień i segregacja odpadów to jeden ze sposobów na bycie eko. Jak robią to inni, okaże się już 15 maja w jednym z najbardziej ekologicznych miast Polski – w Bydgoszczy. W sobotę przed CH Focus odbędzie się kolejna odsłona akcji "Bądź eko na co dzień!" zachęcająca mieszkańców do selektywnej zbiórki. Każda osoba, która przyniesie w tym dniu do centrum handlowego niepotrzebne opakowania PET w zamian otrzyma ozdobne rośliny doniczkowe.
Człowiek jest ważną cząstką przyrody i ma ogromny wpływ na przyszłość otaczającego nas środowiska. Troska o naturę wymaga jednak zaangażowania nas wszystkich. Aby być eko na co dzień, warto zacząć od małych kroków. Dobrym przykładem działań na rzecz ochrony środowiska jest lokalna inicjatywa "Bądź eko na co dzień!", której partneruje bydgoskie centrum handlowe Focus.
W zaplanowanej na sobotę akcji mogą wziąć udział wszyscy mieszkańcy Bydgoszczy i okolic. Każda osoba, która w godzinach 12.00-18.00 przyniesie do bydgoskiego centrum zużyte plastiki będzie mogła wymienić je na ozdobną roślinkę, gotową do posadzenia w ogródku lub na balkonie. Na uczestników czekają m.in. begonie, aksamitki (turki), surfinie i pelargonie. Do rozdania jest aż 700 roślin doniczkowych.
Zasady przyznawania sadzonek za odpady:
za 10-20 butelek lub 20-30 nakrętek – 1 roślina doniczkowa
za 21-30 butelek lub 31-60 nakrętek – 2 rośliny doniczkowe
za 31-40 butelek lub 61-100 nakrętek – 3 rośliny doniczkowe
za 41 butelek lub 101 nakrętek – 4 rośliny doniczkowe.
- "Bądź eko na co dzień!" to pożyteczna, lokalna inicjatywa proekologiczna, zachęcająca naszych mieszkańców do segregowania odpadów, a w pewnym stopniu również do ich ograniczania w codziennym życiu. W najbliższą sobotę wszyscy chętni będą mogli włączyć się w działania na rzecz środowiska, tym bardziej, że uczestnicząc w projekcie zostaną nagrodzeni sadzonkami dekoracyjnych roślin, które sprawią, że Bydgoszcz jeszcze bardziej się zazieleni. Z przyjemnością uczestniczymy w tej oraz podobnych inicjatywach, które na stałe zagościły w kalendarzu naszego centrum. Cieszymy się, że kolejny raz możemy realizować "zieloną akcję" wspólnie z Polska Press– mówi Gregory Pertus, dyrektor CH Focus w Bydgoszczy.
Akcja "Bądź eko na co dzień" odbędzie się 15 maja w godzinach 12.00-18.00 na placu przed centrum handlowym od strony ul. Jagiellońskiej. Wydarzenie przebiegać będzie z uwzględnieniem wszelkich zasad epidemiologicznych.
Organizatorem wydarzenia jest Express Bydgoski, natomiast partnerem lokalizacyjnym CH Focus w Bydgoszczy. Tegoroczną inicjatywę wspierają również lokalni partnerzy: NITRO-CHEM S.A., Am Group, Trainer, Kujawskie Centrum Kultury, MWiK Woda Bydgoska.
Zaangażowanie CH Focus w akcję to część działań prowadzonych przez bydgoskie centrum handlowe w ramach wdrażanego sukcesywnie programu ESG (ENVIRONMENTAL, SOCIAL, GOVERNANCE) i strategii grupy Atrium Poland, która jest realizowana w latach 2020-2025.
____________________
Kalendarz wydarzeń odbywających się w Bydgoszczy miej zawsze pod ręką dzięki aplikacji mobilnej (Android i iOS).
______________________
Informacje o wydarzeniach przesyłajcie na adres wydarzenia@visitbydgoszcz.pl
______________________
Bydgoskie Centrum Informacji nie ponosi odpowiedzialności za jakiekolwiek zmiany miejsc, godzin i dat wydarzeń.