Stand-up: Paulina Potocka i Ewa Stasiewicz
Gdzie?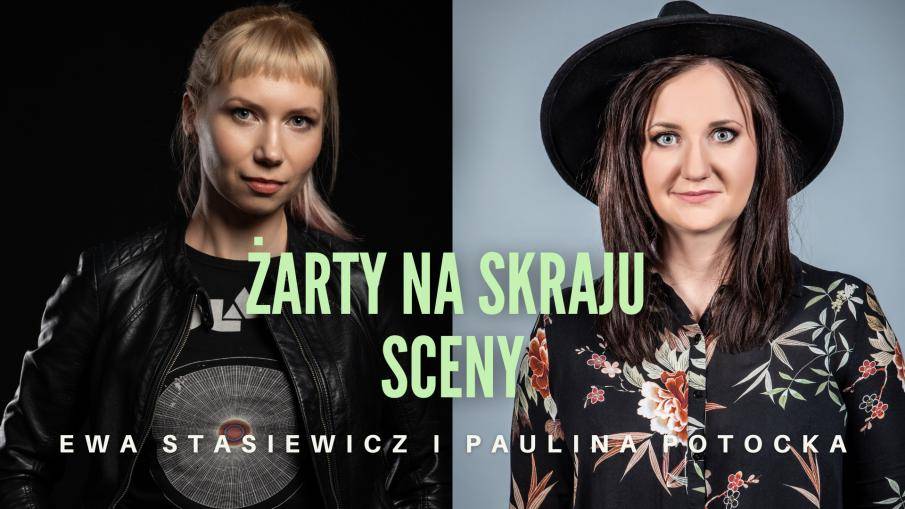 Zapraszamy na "Żarty na skraju sceny" w wykonaniu dwóch polskich komiczek Ewy Stasiewicz i Pauliny Potockiej. Zaprezentują najnowszy autorski stand-up. Warto sprawdzić ten kobiecy punkt widzenia i oryginalne podejście do sztuki komediowej. Ewa Stasiewicz - od wielu lat związana ze sceną rozrywkową. Komiczka o wielu twarzach. Jej najbardziej znane alter ego to Paulina Macutkiewicz - właścicielka hurtowni farb i polityk w jednym, której znakiem rozpoznawczym jest piękny kołnierz obecny w każdym spocie wyborczym. Na Youtube ma swój kanał, na którym umieszcza własne, krótkie produkcje. W Zielonej Górze organizuje cykliczną imprezę "Stand up ON". W swoim programie porusza się w bliskiej sobie codzienności. Ma intrygujące poczucie humoru. Występowała przed ludźmi i Internetem. I nie wyszli. Paulina Potocka - została nagrodzona na licznych festiwalach komediowych. Przemieszcza się po Polsce coraz sprawniej. Nie myli stacji kolejowych ze stacjami paliw. Ani oleju napędowego z benzyną. Przestała mówić, że coś jest niemożliwe odkąd zobaczyła, że ludzie biją się o świeżaki w Biedronce. W najnowszym programie "Czym gorzej, tym lepiej" sceptycznie podchodzi do nadmiernego optymizmu, bo zdaje sobie sprawę, że jesteśmy na tej planecie na chwilę i zaraz to wszystko się skończy. Zanim jednak wizja końca się ziści Paulina opowie kilka nowych żartów i siedem refleksji.
______________________
Kalendarz wydarzeń odbywających się w Bydgoszczy miej zawsze pod ręką dzięki aplikacji mobilnej (Android i iOS).
______________________
Informacje o wydarzeniach przesyłajcie na adres wydarzenia@visitbydgoszcz.pl
______________________
Bydgoskie Centrum Informacji nie ponosi odpowiedzialności za jakiekolwiek zmiany miejsc, godzin i dat wydarzeń.