Czarnoksiężnik z Krainy OZ
Gdzie?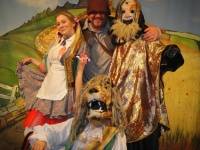 Bilety:
- Kasa Kina pok. 3 (parter) tel. 52 371 27 39 pon-piąt 9.00-17.00
- https://www.kupbilecik.pl/imprezy/46021/Bydgoszcz/Czarnoksi%C4%99%C5%BCnik+z+Krainy+OZ/
Rezerwacje pod numerem Tel: 52 371 27 29
Czarnoksiężnik z Krainy OZ" to bajka dla dzieci z piękną oprawą plastyczno - muzyczną.
Adaptacja powszechnie znanej baśni o ponadczasowych wartościach: mądrości, miłości, odwadze i tolerancji. Opowiada ona o perypetiach dziewczynki imieniem Dorota, która dziwnym trafem znalazła się bardzo daleko od domu w zaczarowanej krainie pełnej kolorowych kwiatów i bajkowych łakoci.
Spotyka tam wielu nowych przyjaciół: Stracha na wróble, który zamiast rozumu ma w głowie kapsle, cyberrobota bez serca oraz tchórzliwego lwa.
Z magiczną pomocą gospodarza tej krainy Czarnoksiężnika OZ oraz dzięki mądrości, miłości i odwadze dzieci uczestniczących w spektaklu wspólnymi siłami dają Strachowi rozum, Robotowi prawdziwe ludzkie serce a strachliwemu Lwu iście królewską odwagę.
W scenie finałowej padają jednak słowa, że "wszędzie może być pięknie, jeśli się nie tęskni za bliskimi, ale tak na prawdę, to najpiękniej jest tam gdzie jest nasz dom!"
Spektakl przygotowany przez Teatr Muza z Łodzi oprawiony jest w piękną scenografię, wzbogacają go bogate efekty sceniczne oraz wspaniała muzyka .
Na scenie zobaczycie Państwo czworo aktorów scen łódzkich.
______________________
Kalendarz wydarzeń odbywających się w Bydgoszczy miej zawsze pod ręką dzięki aplikacji mobilnej (Android i iOS).
______________________
Informacje o wydarzeniach przesyłajcie na adres wydarzenia@visitbydgoszcz.pl
______________________
Bydgoskie Centrum Informacji nie ponosi odpowiedzialności za jakiekolwiek zmiany miejsc, godzin i dat wydarzeń.