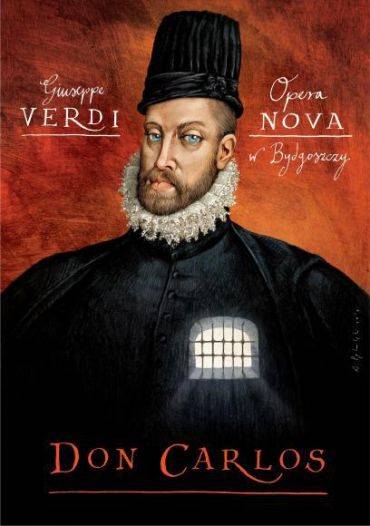 Grand opéra w czterech aktach (wersja włoska)
Kompozytor: Giuseppe Verdi (1813-1901)
Autor libretta: Joseph Mery i Camille du Locle wg Friedricha Schillera
Data premiery: Paryż, 11-03-1867, premiera w Operze Nova w Bydgoszczy: 2016-23-04
Czas trwania: 3 godz.,w tym jedna przerwa
Wykonawcy: Soliści.Orkiestra, Chór i Balet Opery Nova oraz statyści.
Po paryskiej prapremierze "Don Carlosa" Verdi nie był w pełni zadowolony z pierwotnej wersji swego dzieła i kilkanaście lat później, zabrał się do powtórnego opracowania opery; w 1884 zostało opracowane nowe libretto w języku włoskim - dla mediolańskiej La Scali. Dzieło z biegiem czasu zdobyło sobie zasłużone powodzenie i po dziś dzień zaliczane jest do kanonu największych arcydzieł włoskiej muzyki operowej.
Zarys akcji:
Hiszpania, ok. 1560 r. Ze względów politycznych Filip II Habsburg zawarł małżeństwo z francuską księżniczką Elżbietą de Valois, nie bacząc, że doprowadził tym samym do zerwania jej zaręczyn ze swym synem Carlosem. Hiszpański infant - Don Carlos - jest zrozpaczony utratą ukochanej. Chroni się w klasztorze,który był także miejscem ukrycia się jego dziada, Karola V.Nadchodzi Markiz Posa - grand hiszpański. Infant zwierza się markizowi ze swojego uczucia do królowej; Posa pragnie nakłonić Don Carlosa do stanięcia na czele ruchu mającego wyzwolić Flandrię, a następnie i samą Hiszpanię spod tyranii króla i Inkwizycji. Don Carlos i markiz Posa zapewniają się wzajemnie o wielkiej przyjaźni. Elżbieta także kocha Carlosa, ale mimo targających nią uczuć, jest wierna królowi Filipowi. Spotyka się z Carlosem na jego prośbę o wstawiennictwo w sprawie wyjazdu do Flandrii. Infant jednak nie może ukryć żywych uczuć do swej dawnej narzeczonej ...Carlosa kocha również księżniczka Eboli, która w szale zazdrości przynosi królowi szkatułkę Elżbiety, a w niej - portret Carlosa. To przekonuje Filipa o niewierności małżonki i syna ... Carlos prosi króla o pełnomocnictwo nad Flandrią, ale spotyka się z odmową...
Fakty...
* Francuska księżniczka Elżbieta de Valois pierwotnie miała poślubić swego rówieśnika ,hiszpańskiego następcę tronu,Don Carlosa. Jednak poślubiła w 1599 r. jego ojca, owdowiałego Filipa II Habsburga, króla Hiszpanii. Małżeństwo to było konsekwencją pokoju w Cateau-Cambresis. Ślub zawarto per procura w paryskiej katedrze Notre-Dame , a Filipa II zastępował książę Alba . Ceremonię powtórzono w hiszpańskiej Guadalajarze. Elżbieta została trzecią żoną Filipa II.
* Carlos, książę Asturii.W 1560 r. Carlos został następcą tronu Kastylii, a w 1563- Aragonii. W 1562 r. infant przeszedł szereg chorób; kiedy wyzdrowiał stał się okrutny i nieprzewidywalny Nie lubił księcia Alby, ponieważ chciał zostać gubernatorem Niderlandów w jego miejsce. Carlos planował uciec z Hiszpanii i spod władzy swojego ojca, ale został zatrzymany jeszcze zanim zdążył zrealizować swój plan. Został aresztowany na rozkaz ojca i prawdopodobnie zagłodzony na śmierć. W 1567 r. zmarł w więzieniu, w tym samym roku zmarła Elżbieta. Wytworzyła się romantyczna legenda, w myśl której nieszczęśliwy Carlos był głęboko zakochany w swej macosze i byłej narzeczonej.Na podstawie tej historii Friedrich Schiller napisał dramat pt. Don Carlos, na kanwie którego powstała z kolei opera Giuseppe Verdiego.
______________________
Kalendarz wydarzeń odbywających się w Bydgoszczy miej zawsze pod ręką dzięki aplikacji mobilnej (Android i iOS).
______________________
Informacje o wydarzeniach przesyłajcie na adres wydarzenia@visitbydgoszcz.pl
______________________
Bydgoskie Centrum Informacji nie ponosi odpowiedzialności za jakiekolwiek zmiany miejsc, godzin i dat wydarzeń.