Kabaret Moralnego Niepokoju - Tego jeszcze nie grali
Gdzie?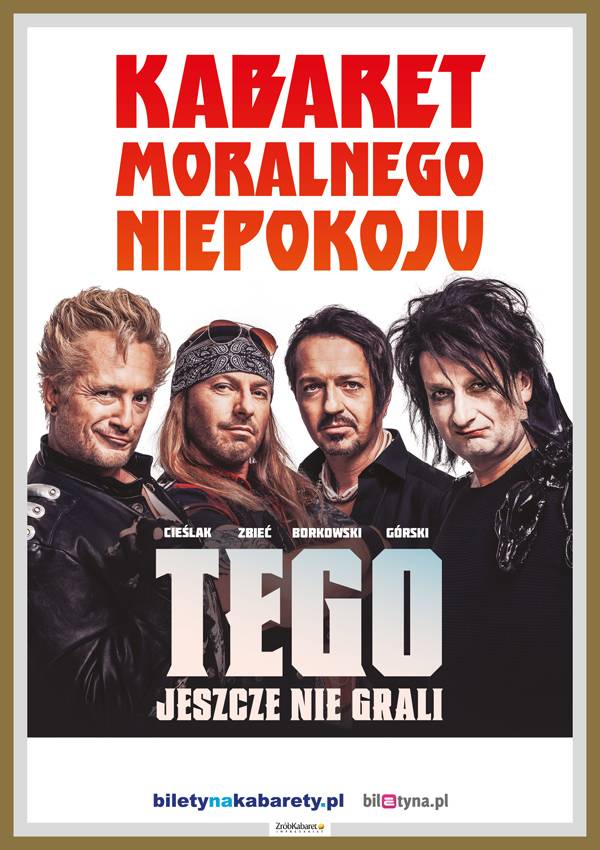 "Tego jeszcze nie grali" - to najnowszy program Kabaretu Moralnego Niepokoju, twórców serialu "Ucho prezesa". Ale akurat polityki nie ma tu zbyt wiele, bo na świecie dzieje się zbyt dużo, żeby zajmować się tylko nią, zresztą ile można?
Zgodnie z tytułem wszystkie skecze są premierowe, nieznane z internetu czy telewizji, a nawet ciut więcej - eksploatujące nowe formy, z których KMN wcześniej nie korzystał. Widz spotka się z tematami, które dręczą nas wszystkich - jak wyjechać z rodziną na zagraniczne wakacje i nie zwariować próbując wybrać restaurację na obiad, jak za pomocą sąsiada ratować syna przed niechybną pałą z matematyki, co zrobić z panią, która tylko przychodzi sprzątać, ale z czasem przejmuje we władanie cały dom razem z domownikami. Fajnie jest sobie uświadomić, że inni mają tak samo. To naprawdę pomaga, czasem bardziej niż śmiech.
Jest dowcipnie, nastrojowo, czasem lirycznie, aktorzy na scenie są trzeźwi, nie profanują krzyży, nie śmieją się z ludzi tylko dlatego że ci mają inny kolor skóry, nie wciągają na scenę widzów żeby ich ośmieszyć, przeciwnie - dbają o ich komfort starając się mówić do nich wyraźnie, a mimo to na nich nie pluć (pierwszy rząd).
______________________
Kalendarz wydarzeń odbywających się w Bydgoszczy miej zawsze pod ręką dzięki aplikacji mobilnej (Android i iOS).
______________________
Informacje o wydarzeniach przesyłajcie na adres wydarzenia@visitbydgoszcz.pl
______________________
Bydgoskie Centrum Informacji nie ponosi odpowiedzialności za jakiekolwiek zmiany miejsc, godzin i dat wydarzeń.