Ritual Slavica - gra terenowa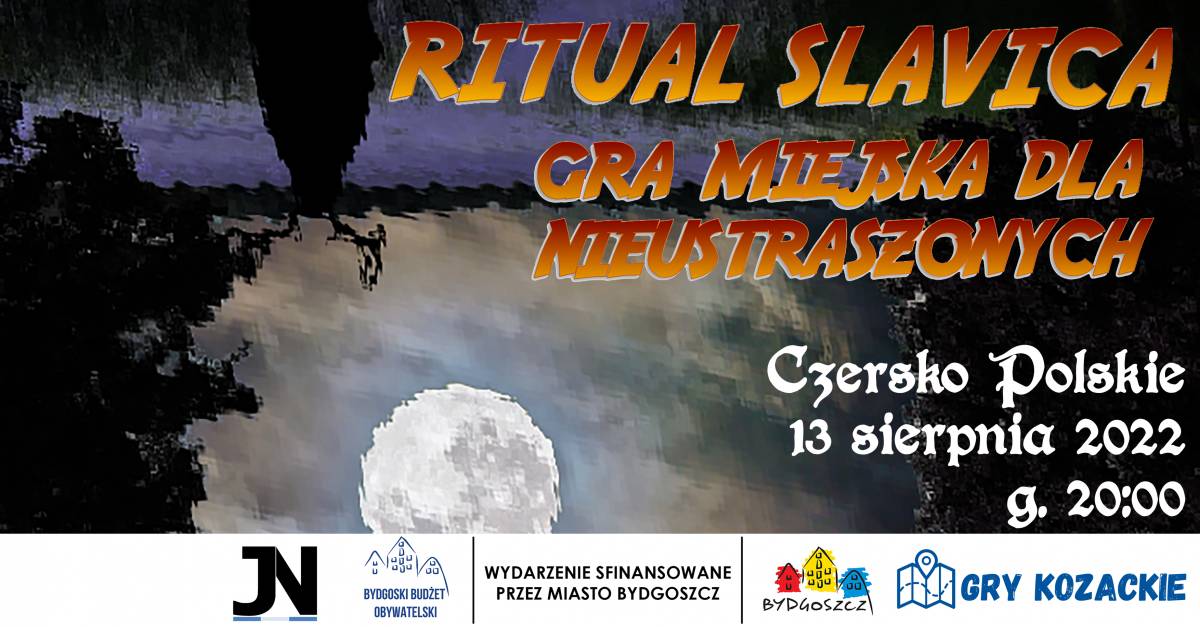 Informacje od Organizatora:
Dawno temu, kiedy władzę nad ziemią sprawował sam potężny Perun, święte gaje pełne były magicznych stworzeń, a ludzie żyli w zgodzie z naturą, nikt nie pomyślałby, że wkrótce coś zaburzy harmonię świata. A kres był coraz bliżej. Wraz z nastaniem religii Chrystusowej, dotychczasowe bóstwa i stworzenia coraz bardziej traciły siły, a witalność w nich zawarta ulatywała z każdym porzucającym starą wiarę. Stworzenia te, ostatkiem sił spełzły do jezior, jaskiń, niedostępnych puszczy, gdzie ukryły się przed nastającymi zmianami. Wraz z nimi w czeluści zstąpili najdzielniejsi wojowie, by strzec świętego przybytku i bronić wejść w razie gdyby otwarte z zewnątrz zostały. Ostatni kapłani, zwani wołchwami, na ofiarę składając swe życia, zapieczętowali wejścia do owych kryjówek. Z biegiem czasu zapomniano o dawnych wierzeniach i tylko nieliczne z nich w dawnych podaniach i legendach do czasów dzisiejszych przetrwały. Tylko mała grupa ludzi, potomków tych, którzy w obronie dawnej magii życie oddali, wie gdzie i jak ukryte są wejścia. Stoją na straży, by nic wyjść, ani co gorsza wejść do magicznego świata nie mogło. Lecz wszystko ma swój kres, a starożytna magia coraz bardziej słabnie i pieczęci na wrotach zaczynają się łamać. Jedne z tychże wrót właśnie się otwarły. Jezioro Dempel w lesie, gdzie Czerskiem Polskim ziemie nazwano, otwarło swe podwoje i wypuściło na powierzchnię stwory przeróżne. Grozi to ogromnymi konsekwencjami, bo chociaż niezwyczajne współczesnego powietrza byty owe rozpełzły się niedaleko jeziora i trwają w zawieszeniu zdezorientowane, to gdy przywykną, nieumyślnie mogą światu ale i przede wszystkim sobie krzywdę wyrządzić. Czas nagli. By odesłać demony i ich strażników tam, skąd przyszły należy odprawić rytuał. Odprawi go jeden ze Współczesnych- zwany prawdziwym swym imieniem – Bogowied. Wy musicie mu pomóc. Rytuał już się rozpoczął – waszym pierwszym zadaniem jest odnaleźć Kapłana, on udzieli Wam dalszych wskazówek.
Realizacja wydarzenia jest możliwa dzięki finansowaniu przez Urząd Miasta Bydgoszczy w ramach Bydgoskiego Budżetu Obywatelskiego. Koszt nagród zostanie pokryty z opłaty za udział w grze.
______________________
Kalendarz wydarzeń odbywających się w Bydgoszczy miej zawsze pod ręką dzięki aplikacji mobilnej (Android i iOS).
______________________
Informacje o wydarzeniach przesyłajcie na adres wydarzenia@visitbydgoszcz.pl
______________________
Bydgoskie Centrum Informacji nie ponosi odpowiedzialności za jakiekolwiek zmiany miejsc, godzin i dat wydarzeń.