KRZYSZTOF HERDZIN QUARTET
Gdzie?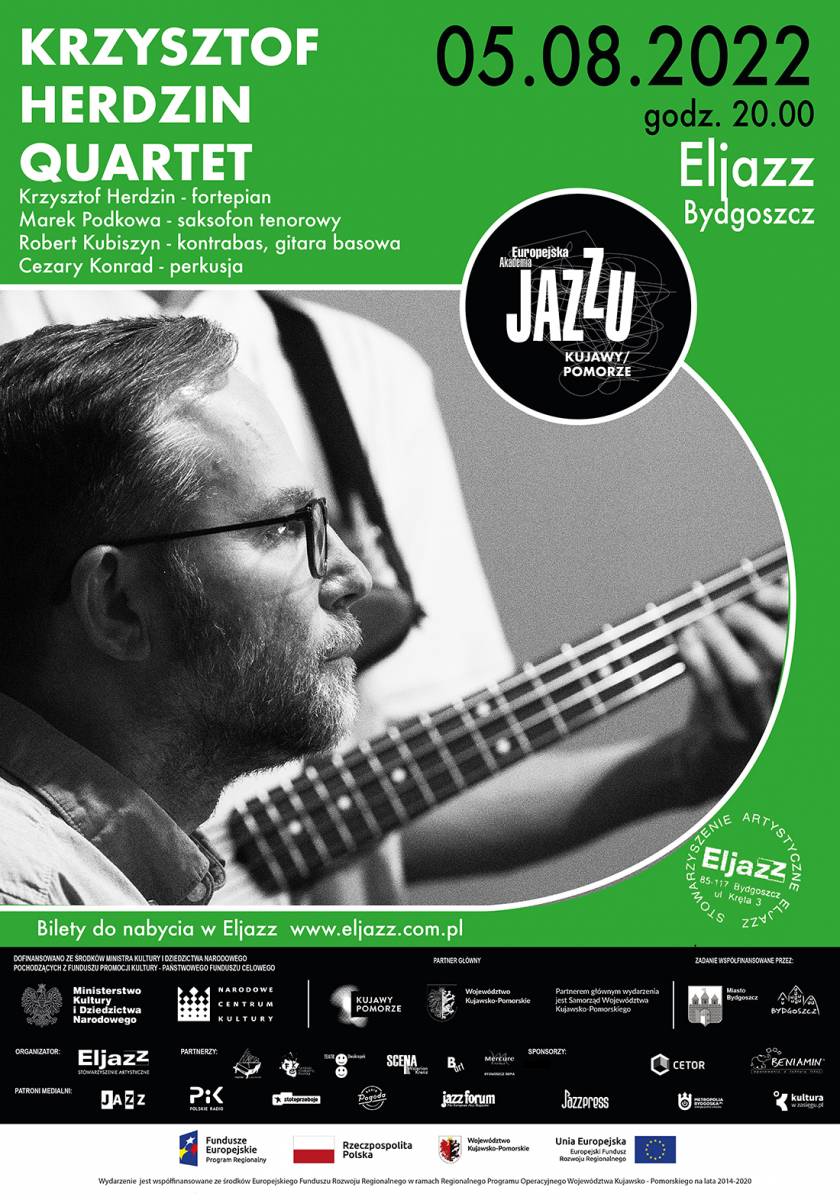 Informacje od Organizatora:
Stowarzyszenie Artystyczne Eljazz zaprasza na koncert realizowany w ramach Europejskiej Akademii Jazzu, który odbędzie się 5 sierpnia 2022 o godz. 20.00.
Wystąpią:
Krzysztof Herdzin - fortepian
Marek Podkowa - saksofon tenorowy
Robert Kubiszyn - kontrabas, gitara basowa
Cezary Konrad - perkusja
Niewielu jest w Polsce artystów muzyków, mogących poszczycić się tak imponującym dorobkiem, jak Krzysztof Herdzin. Profesor doktor sztuk muzycznych, pianista, kompozytor, aranżer, lider, dyrygent, producent i animator wydarzeń, obejmujących bez mała wszystkie gatunki muzyki, działalność rozpoczynał w rodzinnej Bydgoszczy. Tu w 1993 roku ukończył Akademię Muzyczna w klasie prof. Katarzyny Popowej-Zydroń (przewodnicząca jury XV Konkursu Chopinowskiego w 2015 roku, jej uczniem był m.in. Rafał Blechacz). Już w latach 90-tych ujawnił się nieprzeciętny talent kompozytorski Krzysztofa Herdzina, piszącego na składy kameralne i orkiestrę, często z własnym udziałem, choć równolegle coraz śmielej wkraczał w świat jazzu, zdobywając uznanie jako świetny improwizator. Działał i działa nadal w różnych segmentach rynku muzycznego i w każdym z nich jest postacią niezwykle cenioną. Dyrygował ponad 40 orkiestrami w kraju i zagranicą. Spośród kompozycji kameralnych i symfonicznych warto wymienić Bajkowe Opowieści na saksofon i fortepian (1995), Concertino na fortepian i orkiestrę (1999) Fantazję na tematy z IV Kwartetu smyczkowego Grażyny Bacewicz (2005, na kwartet smyczkowy i kwartet jazzowy), Poemat symfoniczny "Szkice Zimowe" (2006), Suitę na tematy polskie (2016, w wykonaniu orkiestry Academy of St Martin In The Fields pod dyrekcja kompozytora!), Koncert podwójny na altówkę, saksofon altowy i orkiestrę (2015), Requiem na solistów, chór i orkiestrę symfoniczną (2018), Koncert na harmonijkę ustną i smyczki (2019). Prawdziwie imponujący jest dorobek jazzowy znaczony współpracą m.in. ze Zbigniewem Namysłowskim, Januszem Muniakiem, Janem Ptaszynem Wróblewskim a także z muzykami zagranicznymi tej miary co Branford Marsalis, Maria Schneider, Richard Bona, Gil Goldstein, Gregoire Maret czy Vinnie Colaiuta. Gdy chodzi o świat muzyki pop, lista jest jeszcze dłuższa i obejmuje niemal całą polską czołówkę w szerokim przekroju od Ireny Santor poprzez Ryszarda Rynkowskiego, Zbigniewa Wodeckiego i Seweryna Krajewskiego po Marylę Rodowicz i Annę Marię Jopek. Ma na swoim koncie ponad 200 nagranych płyt CD.
Krzysztof Herdzin jest laureatem wielu nagród i wyróżnień (Srebrny Medal "Gloria Artis", "Grand Prix" Jazz Juniors 1990, Fryderyk 2012, 19 Złotych Płyt, dziewięciokrotny Aranżer Roku w ankiecie Jazz Top), jurorem na konkursach, a także cenionym pedagogiem z tytułem profesora doktora sztuk muzycznych. Jest więc personą, bez której trudno wyobrazić sobie współczesny rynek muzyczny w Polsce.
______________________
Kalendarz wydarzeń odbywających się w Bydgoszczy miej zawsze pod ręką dzięki aplikacji mobilnej (Android i iOS).
______________________
Informacje o wydarzeniach przesyłajcie na adres wydarzenia@visitbydgoszcz.pl
______________________
Bydgoskie Centrum Informacji nie ponosi odpowiedzialności za jakiekolwiek zmiany miejsc, godzin i dat wydarzeń.