DRUMS FUSION 2021: Jazz Band Młynarski/Masecki - Podwieczorek taneczny
Gdzie?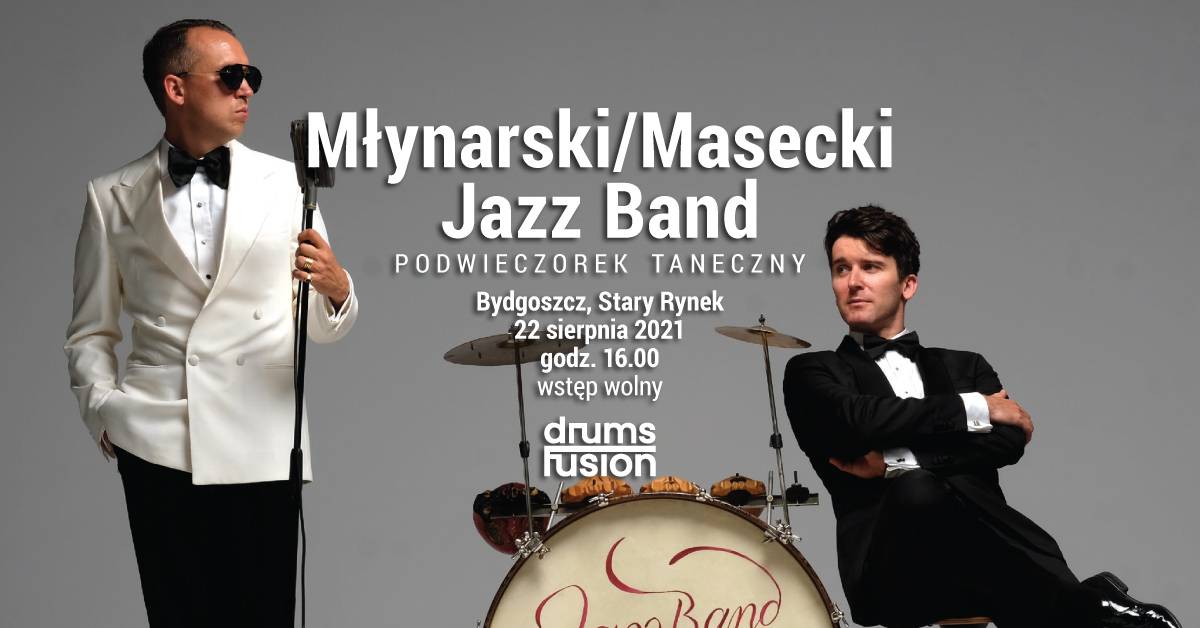 Zapraszamy na wyjątkowe wydarzenie kulturalne w ramach tegorocznej odsłony Międzynarodowego Festiwalu Sztuki Perkusyjnej DRUMS FUSION. W niedzielę 22 sierpnia o godz. 16.00 na bydgoskim Startym Rynku odbędzie koncert, podczas którego postaramy się odtworzyć dla Państwa klimat przedwojennej, bydgoskiej kawiarni. Zagra Jazz Band Młynarski/Masecki W pobliżu sceny staną kawiarniane stoliki, przy których będziecie mogli rozsiąść się wygodnie i delektować muzyką oraz skromnym poczęstunkiem. Za miejsce przy stoliku wraz z rzeczonym poczęstunkiem zapłacicie symboliczną "dyszkę" (10 zł) wejściówki w tej cenie czekają już na Was w kasie MCK zalecamy pośpiech, bowiem ich liczba jest ograniczona. Jeśli jednak nie zdążycie ich kupić, lub zwyczajnie nie macie ochoty na miejsca siedzące - nie przejmujcie się, dla osób poza stolikami koncert dostępny będzie zupełnie za darmo!
Oczywiście na samej muzyce poprzestać nie zamierzamy. Poza nią bydgoski rynek wypełni się zabytkowymi pojazdami straganami i parasolkami. Specjalnie na tę okazję wydrukujemy okolicznościowego "Kuriera" na starym papierze. Zrobimy co się da, by jak najwierniej odtworzyć atmosferę przedwojennej Bydgoszczy. Liczymy również na Waszą pomoc - przywdziejcie stroje z epoki i wybierzcie się z nami na "Podwieczorek taneczny"!
Jazz Band Młynarski/Masecki to zespół grający przedwojenny polski jazz. Do życia powołał go wybitny pianista Marcin Masecki wraz z Janem Emilem Młynarskim, odwołując się do starej tradycji polskich orkiestr jazzowych międzywojnia. Artyści niejako rekompensują stracone szanse całego pokolenia polskich artystów rozrywkowych, którzy w rozkwicie "prosperity" musieli uciekać, walczyć, ginąć i emigrować, osierocając polską muzykę rozrywkową w niepowetowany sposób. Aranżacje Marcina i głos Janka nadają całości zupełnie nowy oddech, czyniąc tę muzykę aktualną i użytkową - do tańca i wzruszeń.
Podczas niedzielnego koncertu usłyszymy materiał z ich drugiego krążka zatytułowanego "Płyta z zadrą sercu". To tytuł jednej z piosenek jednego z największych polskich tekściarzy XX wieku - Mariana Hemara. Tym razem Marcin i Janek postanowili pójść o krok dalej i spełnić swoje wielkie marzenie o prawdziwej jazzowej orkiestrze. Do podstawowego składu, który liczył 7 osób, dodali sekcję skrzypiec oraz trąbki i puzony. W ten sposób powstał zespół o dużo szerszej brzmieniowej palecie. Na "Płytę z zadrą w sercu" składają się utwory głównie z przełomu lat 30. i 40. ubiegłego wieku - polskie szlagiery, dobrze znane w dawnych czasach, dziś nieco zapomniane. Muzycy zapatrzeni w stare fotografie i zasłuchani w orkiestry polskie i amerykańskie, postanowili stworzyć świat, w którym II Wojna Światowa nie miała miejsca, a jazzbandy taneczne w Polsce nie przestają istnieć i wciąż grają, czerpiąc ze wszelkich dobrodziejstw nowoczesności…
Miejsca przy stolikach (z poczęstunkiem w cenie): 10 zł - bilety dostępne w kasie MCK
Miejsca poza stolikami - WSTĘP WOLNY!
____________________
Kalendarz wydarzeń odbywających się w Bydgoszczy miej zawsze pod ręką dzięki aplikacji mobilnej (Android i iOS).
______________________
Informacje o wydarzeniach przesyłajcie na adres wydarzenia@visitbydgoszcz.pl
______________________
Bydgoskie Centrum Informacji nie ponosi odpowiedzialności za jakiekolwiek zmiany miejsc, godzin i dat wydarzeń.