Możdżer Danielsson Fresco & Holland Baroque - "Just ignore it"
Gdzie?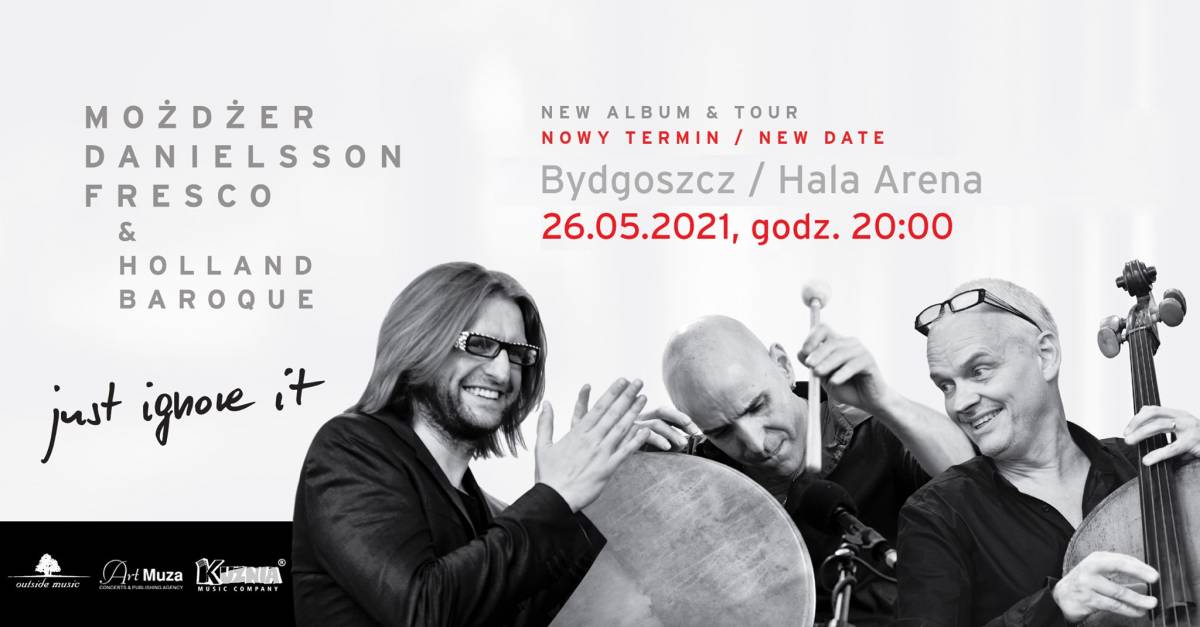 Możdżer Danielsson Fresco & Holland Baroque New Album & Tour
Zapraszamy na koncert promujący nową płytę tria Możdżer Danielsson Fresco!
Współpraca Tria Możdżer Danielsson Fresco i Holland Baroque przyniosła nieznany dotąd efekt. Dzięki połączeniu różnych kultur i stylów uwolniono ogromną siłę. Taką, która należy do esencji muzyki. Która jest tak stara jak świat i dzięki temu rodzajowi współpracy otrzymuje życie wieczne.
RINUS VAN DER HEIDEN
Dream Team został doceniony za subtelne i wyrafinowane brzmienie. Trio osiągnęło harmonię między kluczową dla natury jazzu improwizacją a melodyjną przystępnością. W projektach tworzonych przez Trio Możdżer Danielsson Fresco nic nie jest oczywiste, Trio ma na koncie 3 studyjne albumy, pierwszy "The Time" z tytułem Diamentowej Płyty, pozostałe dwa albumy "Between us and the light" oraz "Polska" osiągnęły już status Podwójnej Platyny. Tym razem Trio do nagrań kolejnego albumu zaprosiło orkiestrę Holland Baroque z którą Leszek Możdżer nagrał w 2017 roku płytę Earth Particles.
"Leszek Możdżer wespół ze szwedzkim basistą i wiolonczelistą Larsem Danielssonem i perkusistą z Izraela Zoharem Fresco stworzył trio - Dream Team. Skład Możdżera brzmi rzeczywiście jak marzenie – lekko, dynamicznie, czasem refleksyjnie. I jak w dobrej poezji – wyobraźnia nie kłóci się tu z dyscypliną, a wizyjność podaje rękę intelektualizmowi."
Mirosław Pęczak
Bilety wkrótce.
______________________
Kalendarz wydarzeń odbywających się w Bydgoszczy miej zawsze pod ręką dzięki aplikacji mobilnej (Android i iOS).
______________________
Informacje o wydarzeniach przesyłajcie na adres wydarzenia@visitbydgoszcz.pl
______________________
Bydgoskie Centrum Informacji nie ponosi odpowiedzialności za jakiekolwiek zmiany miejsc, godzin i dat wydarzeń.