Pawlicki/Knorps/Górzyński
Gdzie?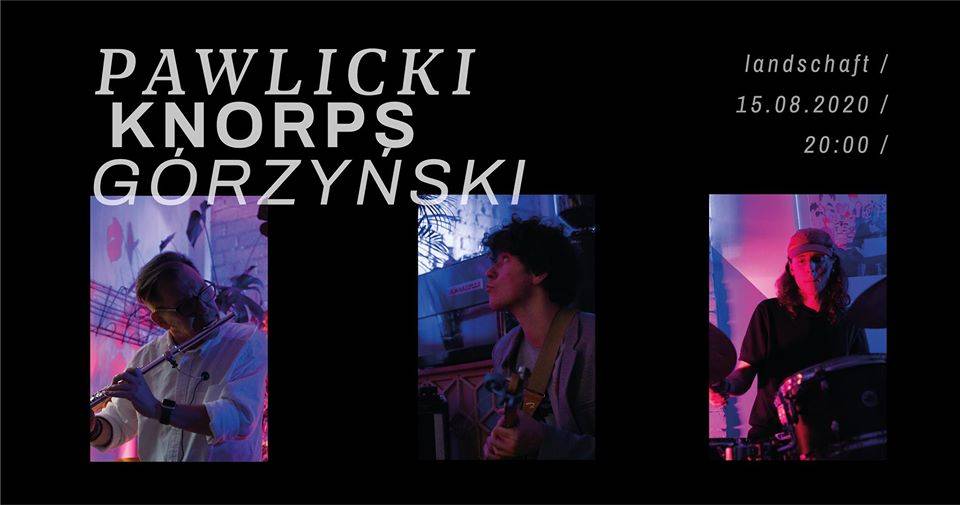 Trio powraca na Gimnazjalną!
Tym razem w ramach 17. Millennium Docs Against Gravity.
Koncert odbędzie się na patio w Landschaftowym ogródku liczymy na to, że tym razem każdy znajdzie dla siebie miejsce! Oprócz free jazzowych odjazdów usłyszycie również kilka kompozycji z zakresu muzyki filmowej.
Pawlicki/Knorps/Górzyński to spontanicznie powołane do życia trio, które zadebiutowało podczas ostatniego Wieczoru Muzyki Improwizowanej w Klubie Mózg. Gra zespołu w dużej mierze oparta jest na próbie odnalezienia wspólnego mianownika podczas muzycznej interakcji. Styl grupy określić można jako free jazz. Z uwagi na improwizowany charakter występu oraz celowy brak wcześniej przygotowanego repertuaru, muzycy za każdym razem wybierają się w podróż w głąb siebie.
Tomasz Pawlicki - Absolwent Akademii Muzycznej im. Feliksa Nowowiejskiego w Bydgoszczy, solista – flecista Orkiestry Opery Nova w Bydgoszczy, z którą współpracuje od 1988 roku.Na polu muzyki klasycznej uczestniczył w wielu projektach związanych z działalnością zespołów orkiestrowych, działających w kraju i za granicą. Współpracował z Capellą Bydgostiensis, Toruńską Orkiestrą Kameralną, Warszawską Orkiestrą Kameralną, Filharmonią Pomorską, Filharmonią Bałtycką, Operą Szczecińską, Operą Wrocławską, Teatrem Polskim w Bydgoszczy i innymi.Jako artysta jest związany z wieloma dziedzinami i rodzajami sztuki, nie tylko w rozumieniu czysto muzycznym. Od 1992 roku należy do środowiska ludzi skupionych wokół bydgoskiego klubu Mózg. Dołączył do efemerycznej formacji Trytony (T. Gwinciński, S. Janicki, J. Buhl), następnie jako flecista i pianista współtworzył grupę Maestro Trytony z Gwincińskim, Rafałem Gorzyckim, Tomkiem "Świętym" Hesse i Renatą Suchodolską. Owocem tej współpracy jest powstanie dwóch albumów – Enoptronia i Heart Of Gold, które prezentowali na wielu festiwalach muzycznych w kraju i za granicą.
Paweł Knorps - Z wykształcenia gitarzysta jazzowy, studiował na Akademii Muzycznej w Bydgoszczy oraz Liszt Ferenc Academy of Music w Budapeszcie.
W ramach pasji zajmuje się również gitarą basową i produkcją muzyki. Jego życie oscyluje między muzyką, programowaniem i kognitywistyką, która stała się przedmiotem dalszej formalnej nauki. Muzycznie interesuje się nowoczesnymi formami wyrazu, technikami improwizacji. Główne inspiracje to Tigran Hamasyan, Julian Lage, Dhafer Yousef.
Kevin Górzyński - Perkusista, amator sztuki i kultury, dyplomant I stopnia Akademii Muzycznej im. Feliksa Nowowiejskiego w Bydgoszczy. Partycypował w kilku odsłonach cyklu Bydgoska Akademia Jazzu, którego organizatorem i kontrabasistą jest Grzegorz Nadolny. Współpracował także z bydgoskim artystą Grzegorzem Pleszyńskim w ramach Antydepresyjnej Akademii Dźwięku. Jej zasadniczym elementem była improwizacja inspirowana obrazami i twórczością artysty. Na swoim koncie ma również udział w festiwalach takich jak Oko Nigdy Nie Śpi i Music Is The Weapon Fest.
______________________
Kalendarz wydarzeń odbywających się w Bydgoszczy miej zawsze pod ręką dzięki aplikacji mobilnej (Android i iOS).
______________________
Informacje o wydarzeniach przesyłajcie na adres wydarzenia@visitbydgoszcz.pl
______________________
Bydgoskie Centrum Informacji nie ponosi odpowiedzialności za jakiekolwiek zmiany miejsc, godzin i dat wydarzeń.