Koncert Apteka Restauracja & Koktajlbar
Gdzie?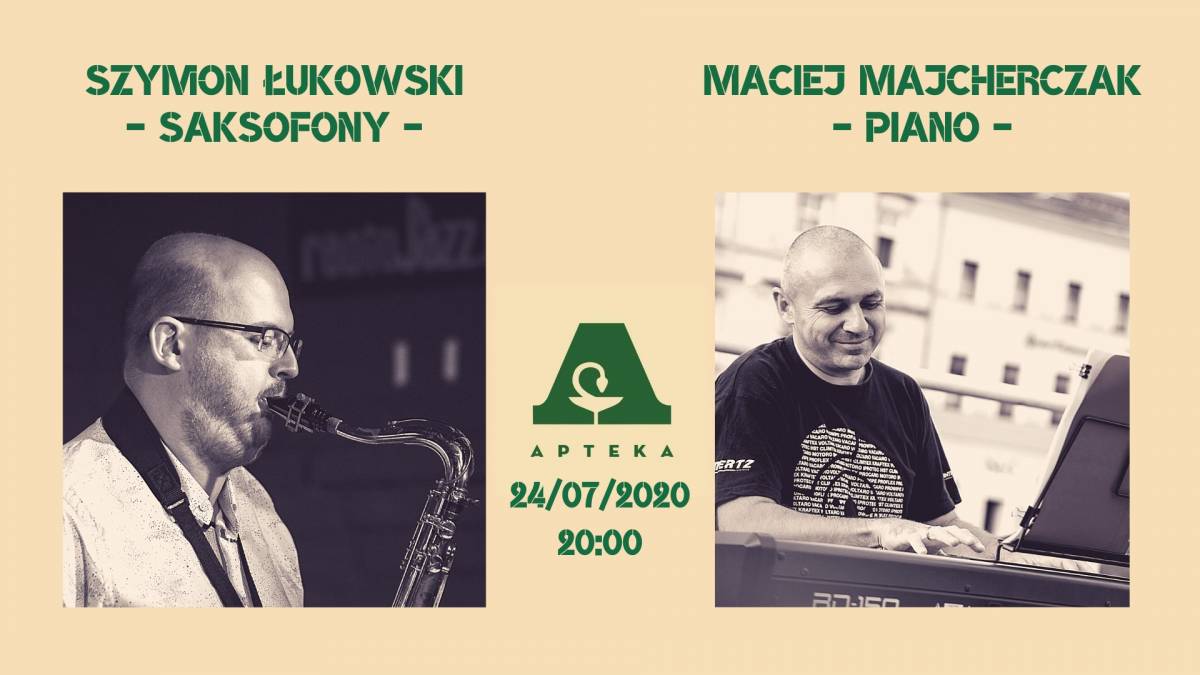 Duet idealny - piano i saksofony!
MACIEJ MAJCHERCZAK i SZYMON ŁUKOWSKIi to muzycy, którzy koncertowali na całym świecie. W ich wykonaniu usłyszymy przeboje muzyki rozrywkowej i jazzowej m. in. "Here, There and Everywhere" zespołu The Beatles czy "Mercy Street" Petera Gabriela.
MACIEJ MAJCHERCZAK - pianista, akordeonista, aranżer.
Ukończył szkołę muzyczną I i II stopnia w Pile, a następnie studiował w Akademii Muzycznej w Bydgoszczy. Koncertował w Polsce i za granicą, m. in. w Niemczech, Belgii, Holandii, USA, Meksyku oraz na Litwie.
Organizator wielu imprez muzycznych zarówno jako wykonawca jak i kierownik muzyczny. Ma na swoim koncie wieloletnią współpracę z MDK nr 4 w Bydgoszczy jako juror podczas różnorodnych przesłuchań oraz konkursów ogólnopolskich, MDK nr 5 w Bydgoszczy jako akompaniator oraz aranżer i współtwórca płyty "Niech kolęda nas zjednoczy głosząc chwałę cichej nocy" wydanej wraz ze Stowarzyszeniem Fordońska Piwnica ARTMUZA 5. Od 1995 roku do dziś współpracuje z Filharmonią Pomorską w Bydgoszczy. W roku 2007 ukończył studia licencjackie na wydziale ekonomii. Poza muzyką jego hobby to szachy, brydż i żeglarstwo.
SZYMON ŁUKOWSKI - saksofonista, klarnecista, flecista kompozytor, aranżer, bandleader urodzony 10.06.1986 roku w Bydgoszczy. Absolwent Akademii Muzycznej im. F. Nowowiejskiego w Bydgoszczy w klasie klarnetu A. Dudzińskiego (2010) i Akademii Muzycznej im. S. Moniuszki w Gdańsku w klasie saksofonu w klasie M. Sikały (2014).
Laureat wielu nagród, m.in.: Grand Priv na konkursie Petersburska Wiosna 2019, I miejsce w kategorii Solista na Blue Note Poznań Competition (2014), Nagroda dla najlepszego instrumentalisty XVI Przeglądu Młodych Zespołów Jazzowych I Bluesowych Gdyńskiego Sax Clubu (2013), dla najlepszego Instrumentalisty XIII Festiwalu Big Bandów w Nowym Tomyślu (2008) oraz II nagrody na Student Jazz Festival w Bydgoszczy z grupą Walking Quartet (2009).
Stypendysta Ministra Kultury i Dziedzictwa Narodowego oraz trzykrotnie Stypendium Artystycznego Marszałka Województwa Kujawsko-Pomorskiego.
Swobodnie porusza się w rozmaitych stylistykach muzycznych, od jazzu, przez muzykę fusion, latin i eksperymentalną, najwięcej uwagi poświęcając współczesnej muzyce jazzowej w różnych odsłonach.
Aktualnie współtworzy grupy: Szymon Łukowski Quintet, Piotr Lemańczyk Quartet, Orange Trane, Michał Gozdek Quartet, Jan Konop Big Band, Eljazz Big Band.
Występował u boku takich wykonawców jak Stanisław Soyka, Kasia Kowalska, Aga Zaryan, Zbigniew i Jacek Namysłowscy oraz wielu innych.
Szymon Łukowski jest także autorem muzyki do kilku spektakli teatralnych, m.in. spektaklu "Zjednoczenie Dwóch Korei" J. Pommerata w reżyserii Łukasza Gajdzisa, skomponowanej wspólnie z Tomaszem Lewandowskim.
____________________
Kalendarz wydarzeń odbywających się w Bydgoszczy miej zawsze pod ręką dzięki aplikacji mobilnej (Android i iOS).
______________________
Informacje o wydarzeniach przesyłajcie na adres wydarzenia@visitbydgoszcz.pl
______________________
Bydgoskie Centrum Informacji nie ponosi odpowiedzialności za jakiekolwiek zmiany miejsc, godzin i dat wydarzeń.