GRZECH PIOTROWSKI "HEART"
Gdzie?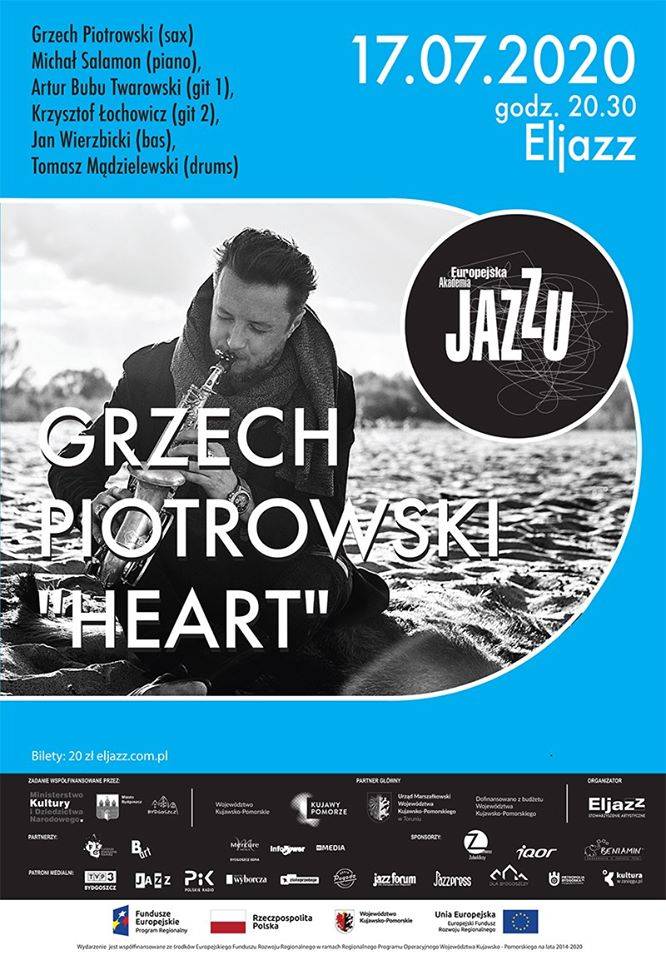 17 lipca br. w Centrum Artystycznym Eljazz odbędzie się koncert w ramach Europejskiej Akademii Jazzu.
"GRZECH PIOTROWSKI "HEART" - to nowy album, którego premiera odbędzie się 25.07 na festiwalu "Wschód Piękna" w Warszawie. Koncert w Bydgoskim Eljazzie będzie zatem przedpremierą.
Bilety w cenie 20 zł do nabycia w Eljazzie po godz. 16.00
Na scenie pojawią się:
Grzech Piotrowski
Michał Salamon (piano),
Artur Bubu Twarowski (git 1),
Krzysztof Łochowicz (git 2), Jan Wierzbicki (bas),
Tomasz Mądzielewski (drums).
Grzech Piotrowski podczas pandemii zorganizował cykl koncertowy "Sztuka w czasach zarazy", w którym zabrzmiały 54 koncerty na przestrzeni zaledwie 10 tygodni. Przed komputerami zgromadziło się ponad 500 tys słuchaczy. Teraz działa aktywnie na rzecz otworzenia branży muzycznej (OTWIERAMY KONCERTY) i organizacji sieci koncertowej, która dostosuje się do nowych realiów muzycznych w post pandemicznej rzeczywistości. Klub Eljazz zgodził się połączyć z tą inicjatywą zainspirowany działalnością klubu "Six Seasons", któremu patronuje World Orchestra."
Grzech Piotrowski to eksplorator. Przemierza świat w poszukiwaniu, artystów, muzyki, korzeni improwizacji, słońca, zdrowego jedzenia, przygody i esencji bycia.
Jego projekty muzyczne wymykają się całkowicie z ram, standardów i wszelkich stereotypów. To kompozytor, saksofonista, producent muzyczny, aranżer. Artysta balansujący na krawędzi muzyki filmowej, klasycznej, jazzu, etno, roots, otwartej improwizacji. Twórca World Orchestry i zespołów: Alchemik, Oxen, Dekonstrukcja Jazzu, Freedom Nation, Head Up.
Ukończył prestiżowy Wydział Jazzu i Muzyki Rozrywkowej w Akademii Muzycznej w Katowicach w klasie saksofonu. Dwukrotnie nominowany do nagrody "Fryderyki". Zdobywca Grand Prix na Hoeilaart Jazz Festivalu w Belgii w 1998 roku, Grand Prix na festiwalu Dwa Teatry w Sopocie za muzykę do spektaklu "Saksofon Basowy" Skvoreckiego, oraz pierwszych miejsc na festiwalach "Jazz Nad Odrą", "Pomorska Jesień Jazzowa", "Jazz Juniors".
____________________
Kalendarz wydarzeń odbywających się w Bydgoszczy miej zawsze pod ręką dzięki aplikacji mobilnej (Android i iOS).
______________________
Informacje o wydarzeniach przesyłajcie na adres wydarzenia@visitbydgoszcz.pl
______________________
Bydgoskie Centrum Informacji nie ponosi odpowiedzialności za jakiekolwiek zmiany miejsc, godzin i dat wydarzeń.