Adam Kośmieja - PIANO & ELECTRONICS - Radio Kultura
Gdzie?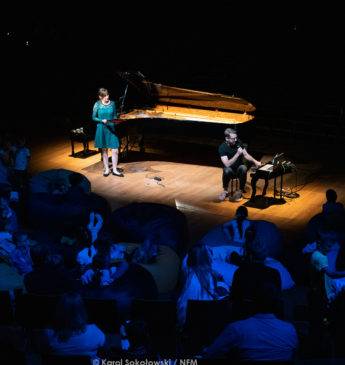 Sięga po utwory współczesnych kompozytorów, którzy do instrumentów i do samej muzyki mają nowatorskie, czasem wręcz rewolucyjne podejście. Adam Kośmieja – jeden z bardziej wyrazistych pianistów młodego pokolenia zagra dla Was koncert, w którym oprócz wirtuozerii zaprezentuje awangardowe i eksperymentalne podejście do muzyki fortepianowej.
Recital fortepianowy Adama Kośmieji będzie drugim (po duecie Bisz/Radex) koncertem na żywo, chociaż on line, przygotowanym dla Was w ramach bydgoskiej Wiosny Wirtuali. To propozycja, wobec której zarówno fani muzyki klasycznej, jak i miłośnicy wykorzystywania technologii w muzyce nie mogą przejść obojętnie. Artysta zagra sześć utworów, z których każdy odsłoni inne możliwości fortepianu.
Na pierwszy ogień pójdzie akustycznie wykonana kompozycja Philipa Glassa pt. "Glassworks: Opening". Zaraz po niej przekonać się będzie można, że gra na fortepianie nie musi wcale być tożsama z uderzaniem w klawisze – w utworze Helmuta Lachenmanna pt. "Guero", Kośmieja zaprezentuje kompletnie inną naturę instrumentu, drapiąc klawisze i szarpiąc struny.
Ciekawą propozycją jest także "The body of your dreams" Jacoba ter Veldhuisa, w którym fortepian imituje i rytmicznie podkłada dźwięki do tego, co słyszymy w nagranym do utworu soundtracku (z towarzyszeniem warstwy video). Podobna technologia wykorzystana zostanie także przy wykonaniu kolejnego utworu programu – "Sol" Víctora Trescolí Sanza. Utwór skomponowany został na tzw. Toypiano, czyli dziecięce pianino – zabawkę, a dźwięki z niego wydobywane są dodatkowo przekształcane elektronicznie przez komputer w czasie rzeczywistym.
Na koniec Kośmieja zaprezentuje "Warkocz Bereniki" znanego polskiego kompozytora, Jerzego Kornowicza, a także kompozycję "Série Blanche" na fortepian i taśmę skomponowane przez charyzmatycznego francuskiego twórcę, jakim jest Pierre Jodlowski.
W nowatorskim recitalu fortepianowym usłyszymy utwory zarówno akustyczne, jak i przetwarzane elektronicznie z towarzyszeniem warstwy audio i video. Recial Piano&Electronics, środa, 29 kwietnia, godz. 20.00, fanpage RADIO KULTURA.
PROGRAM:
Philip Glass – "Opening" from Glassworks (1982)
Helmut Lachenmann – "Guero" (1969)
Jacob ter Veldhuis – "The body of your dreams" (2002) for piano and boombox (soundtracks)
Víctor TrescolíSanz- "Sol" (2013) for Toypiano and electronics
Jerzy Kornowicz -"Warkocz Bereniki"(1994)
Pierre Jodlowski – "Série Blanche" (2007) for piano and stereo soundtrack
______________________
Kalendarz wydarzeń odbywających się w Bydgoszczy miej zawsze pod ręką dzięki aplikacji mobilnej (Android i iOS).
______________________
Informacje o wydarzeniach przesyłajcie na adres wydarzenia@visitbydgoszcz.pl
______________________
Bydgoskie Centrum Informacji nie ponosi odpowiedzialności za jakiekolwiek zmiany miejsc, godzin i dat wydarzeń.