Promocja albumu: Spotkanie z Mariną Abramović
Gdzie?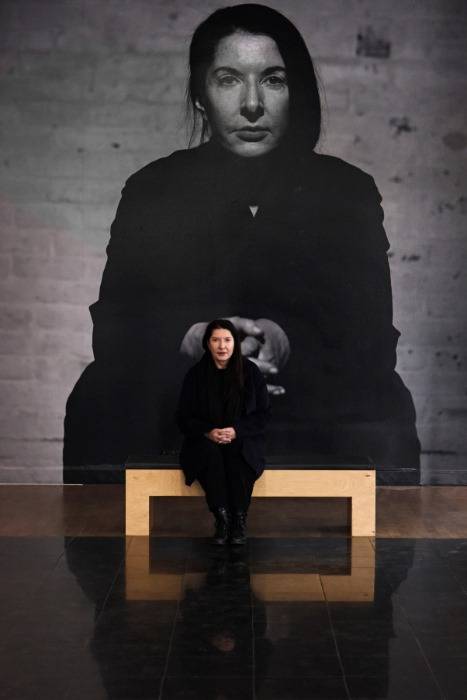 Prezentacja albumu fotografii Wojciecha Woźniaka, który był jedynym fotografem towarzyszącym artystce w Polsce w ramach wystawy "The Cleaner" w 2019 r.
Wstęp do albumu:
"Na początku roku 2019 otrzymałem propozycję dokumentowania wszelkich działań związanych z ogromnym przedsięwzięciem jakim była wystawa Mariny Abramović w CSW "Znaki czasu". To ogromne wyróżnienie i zaufanie dla mnie, tym bardziej, że byłem jedynym fotografem towarzyszącym artystce w Polsce. W marcu 2019 r. w dniach 4-10 po uprzednim spotkaniu i aprobacie artystki dokumentowałem działania związane z przygotowaniem wystawy, rozmowami z kuratorami, oficjalnymi spotkaniami, wernisażami, konferencją prasowa, spotkaniu autorskim w Jordankach oraz podpisywanie katalogów i książek. Cały ten trudny i bardzo napięty tydzień zaowocował ciekawym i niespotykanym materiałem fotograficznym. Zdjęcia te w znacznej większości poza prezentacją na wystawie "The Cleaner" nie były nigdzie publikowane czy też rozpowszechniane, mają swój bardzo subtelny, niepowtarzalny autorski klimat, tym bardziej, że miałem okazję być z artystką sam na sam. Fotografowanie tak charyzmatycznej osoby jaką jest Marina Abramović wymagało ode mnie pewnych założeń, które bardzo starannie przestrzegałem. Przede wszystkim byłem osobą "niewidoczna i nieinwazyjną" przestrzegałem i nie burzyłem skupienia czy przestrzeni intymnej artystki. Wszystkie fotografie poza jedną, o którą prosiłem Marinę są sytuacyjne i niepozowane. To bardzo interesujący dokument artystyczny. Stąd też zrodził się pomysł wydania tych fotografii w formie albumowej. Album ten nie będzie miał charakteru komercyjnego, zostanie wydany tylko w 100 numerowanych egzemplarzach i nie zostanie przewidziany do sprzedaży."
Wojciech Woźniak ur. 5 maja 1964 r. w Bydgoszczy. Fotografik i muzyk. Absolwent kulturoznawstwa na Wydziale Humanistycznym UKW. Członek Związku Polskich Artystów Fotografików. Od 1996 r. fotograf w Muzeum Okręgowym im. Leona Wyczółkowskiego w Bydgoszczy. W latach 1995-2005 współorganizator Przeglądu Fotografii Bydgoskiej (BWA, Bydgoszcz). Autor kilkunastu wystaw indywidualnych, m.in. "Outside-Inside" (Młyny Rothera, Wyspa Młyńska, Bydgoszcz, 2006) oraz uczestnik kilkudziesięciu wystaw zbiorowych w kraju i na świecie. Ważne cykle prac: "Krótka opowieść o miłości i tęsknocie" (2001), "Ogrody wyobraźni (2004), "Droga" (1997-2005), "Pamiątki" (2005), "Przybysz" (2010), "Sentymenty" (2013), "Duży pokój" (2013), "Obecność" (2014), "Codzienne rytuały" (2015), "Still lifes"(2015).
Współzałożyciel i basista zespołów muzycznych: Variete i The Cyclists.
2007 - laureat I nagrody na Międzynarodowym Biennale Fotografii Artystycznej, ASP, Lwów
2008 - uhonorowany odznaką Ministra Kultury i Dziedzictwa Narodowego Rzeczpospolitej Polskiej "Zasłużony dla kultury polskiej"
2016 – II nagroda w konkursie POLYGONUM 4
2017 – nagroda Prezydenta Miasta Bydgoszczy
Wstęp wolny
______________________
Kalendarz wydarzeń odbywających się w Bydgoszczy miej zawsze pod ręką dzięki aplikacji mobilnej (Android i iOS).
______________________
Informacje o wydarzeniach przesyłajcie na adres wydarzenia@visitbydgoszcz.pl
______________________
Bydgoskie Centrum Informacji nie ponosi odpowiedzialności za jakiekolwiek zmiany miejsc, godzin i dat wydarzeń.