7 | SIKSA - Stabat Mater Dolorosa (projekcja filmu) eng sub
Gdzie?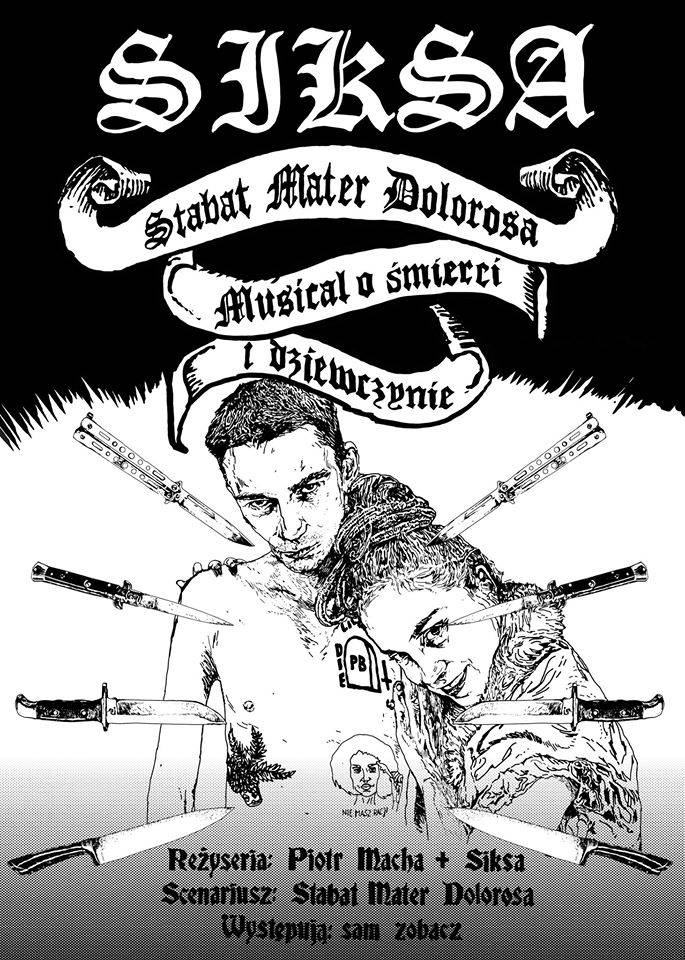 Film na podstawie wydawnictwa z 2018 roku; duetu SIKSA odwiedza wiele miejsc w Polsce i Europie. Chcemy dać jeszcze jedną możliwość, aby zapoznać się z tym współczesnym obrazem. Dla oka i dla ucha.
"SIKSA. Stabat Mater Dolorosa"
Musical o śmierci i dziewczynie
REŻYSERIA: Piotr Macha + SIKSA
SCENARIUSZ: Stabat Mater Dolorosa
WYSTĘPUJĄ: sam zobacz
PRODUKCJA: CINŻKI DIY
Musical oparty o płytę SIKSY "Stabat Mater Dolorosa" to performatywna realizacja marzenia o robieniu kina, gdzie zarówno marzenie jak i kino jest żuciem gumy balonowej od dawna pozbawionej smaku. Nostalgiczne zaproszenie do roztańczonej opowieści o dziewczynie, która wraca do czasów dzieciństwa, kiedy to przebierała się za różne kobiety używając do tego szafy swojej mamy i wchodziła w role po to, by zadowolić samą siebie. Ten film to narzędzie do rekonstrukcji scen szczenięcych, a także barokowe pożegnanie z brokatem i jednorożcami. Stabat Mater Dolorosa wchodzi jak bagnet w posturę współczesności i całym swoim ciałem serwuje mikro-performanse wykonywane na własną odpowiedzialność. Muzyka SIKSY jest scenariuszem, który postaci odrzucają, odgrywają, mielą, wypluwają, negują, potęgują, a kamera Piotra Machy jest jednym z narzędzi zbrodni, którym SIKSA chciałaby osobiście rozjebać współczesność. Jest to język sztuki jakim SIKSA posługuje się od 2014 roku niemalże niezauważenie. Pistolet, dziewczyna i śmierć – to jest właśnie współczesność.
to właśnie jest współczesność
wejście free
***
" SIKSA Stabat Mater Dolorosa "
Musical about death and girl
DIRECTOR: Piotr Macha + SIKSA
SCENARIO: Stabat Mater Dolorosa
PRESENT: see for yourself
PRODUCTION: HARD DIY
The musical based on the album SIKSA "Stabat Mater Dolorosa" is a performative realization of the dream of making a cinema, where both the dream and the cinema are chewing bubble gum that has long been tasteless. A nostalgic invitation to a dancing tale of a girl who returns to her childhood, when she dressed up as different women using her mother's wardrobe and entered the roles to please herself. This film is a tool for the reconstruction of puppy scenes, as well as a baroque farewell to glitter and unicorns. Stabat Mater Dolorosa enters like a bayonet into the posture of modern times and serves micro-performances performed at your own risk with all your body. SIKSA's music is a script that the characters reject, play, grind, spit out, negate, intensify, and the camera of Piotr Macha is one of the tools of crime that SIKSA would like to personally explode with modernity. This is the language of art that SIKSA has been using almost unnoticed since 2014. Gun, girl and death - this is the present day.
this is modernity
free entry
______________________
Kalendarz wydarzeń odbywających się w Bydgoszczy miej zawsze pod ręką dzięki aplikacji mobilnej (Android i iOS).
______________________
Informacje o wydarzeniach przesyłajcie na adres wydarzenia@visitbydgoszcz.pl
______________________
Bydgoskie Centrum Informacji nie ponosi odpowiedzialności za jakiekolwiek zmiany miejsc, godzin i dat wydarzeń.