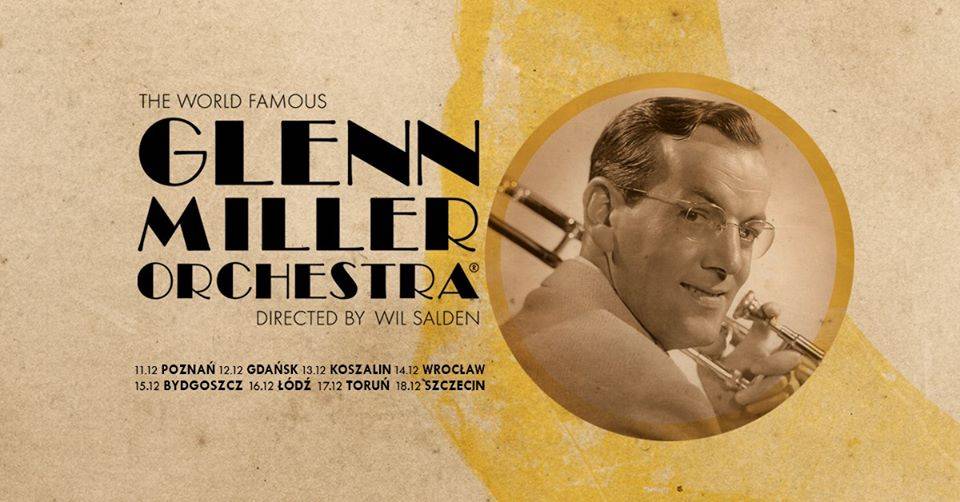 Najbardziej pożądana BIG-BANDowa kapela na świecie pod koniec roku wystąpi aż w 8 miastach, w Polsce. Grupa zaprezentuje swoje największe HITy! Zespół, który właśnie obchodził jubileusz 80-lecia istnienia zasłynął m.in. ze wspólnych występów z takimi gwiazdami jak: Frank Sinatra, Johnny Desmond czy Erik Delaney. Ich prestiżowe występy to błyskotliwe i precyzyjne brzmienie sekcji instrumentów, zupełnie jak na początku ubiegłego wieku. Orkiestra Glenna Millera miała już zaszczyt zagrać dla milionów widzów na całym świecie. W tym roku, w grudniu zespół wystąpi również dla widzów w Poznaniu, Gdańsku, Koszalinie, Wrocławiu, Bydgoszczy, Łodzi, Toruniu oraz Szczecinie. Składająca się z najlepszych na świecie instrumentalistów grupa pod dyrekcją słynnego Wila Saldena, zaprezentuje publiczności swoje najnowsze show. W oryginalnym programie scena zamienia się w kolebkę muzyki z początku ubiegłego wieku. Usłyszymy najbardziej znane utwory z twórczości Glenna Millera, oraz najnowszego albumu grupy - Jukebox Saturday Night. Będą to m.in hity takie jak: Jukebox Saturday Night, Blue Moon, Everybody Loves My Baby, What a Wonderful World, In the Mood, Moonlight Serenade, Chattanooga Choo Choo, Pennsylvania 6-5000, czy A String of Pearls.
Każdy muzyk lub kompozytor marzy o stworzeniu absolutnie wyrazistego brzmienia, które natychmiast będzie rozpoznawalne zaledwie po kilku pierwszych taktach - słowa założyciela orkiestry, Glenna Millera, stały się ogromną inspiracją dla Wila Saldena. Został on mianowany na stanowisko głównego dyrygenta Orkiestry za swoją wieloletnią pracę i zaangażowanie. Jako perfekcjonista, zawsze wymagał takiej postawy również od każdego członka grupy. To właśnie jego podejście do pracy sprawiło, że otrzymał od publiczności najcenniejszą nagrodę – podziw i zachwyt.
Wizytówką muzycznego świata orkiestry są niewątpliwie sentymentalne ballady takie jak: Moonlight Serenade, nutka w nutkę jak Glenn Miller przykazał. Eleganccy muzycy kochają swój emocjonalny jazz, widać że niezwykle cieszą się swym graniem. Historię grupy tworzy już 80-letnia działalność koncertowa oraz osiągnięcia budzące zachwyt artystycznego świata. Nawet The Beatles czy Elvis Presley nie mogą poszczycić się taką liczbą hitów królujących na pierwszych miejscach list przebojów. Tylko ten zespół odbył dziesiątki światowych tras koncertowych, na które bilety zostały wyprzedane w ciągu jednego dnia! Jest jedyną orkiestrą, która występuje przez większość dni w roku, dając blisko 300 koncertów rocznie, odwiedzając nawet najodleglejsze zakątki świata. Glenn Miller Orchestra występowała w całych Stanach Zjednoczonych, Europie, Australii, Nowej Zelandii, Ameryce Południowej, Japonii i na Filipinach. Już w grudniu polscy fani swingu i jazzu będą mieli wyjątkową okazję wybrać się w muzyczną podróż z Orkiestrą Glenna Millera!
Bilety do nabycia (od 26 kwietnia) na www.makroconcert.pl, www.ebilet.pl, www.eventim.pl oraz w salonach EMPIK.
______________________
Kalendarz wydarzeń odbywających się w Bydgoszczy miej zawsze pod ręką dzięki aplikacji mobilnej (Android i iOS).
______________________
Informacje o wydarzeniach przesyłajcie na adres wydarzenia@visitbydgoszcz.pl
______________________
Bydgoskie Centrum Informacji nie ponosi odpowiedzialności za jakiekolwiek zmiany miejsc, godzin i dat wydarzeń.