Moscow City Ballet - Jezioro Łabędzie
Gdzie?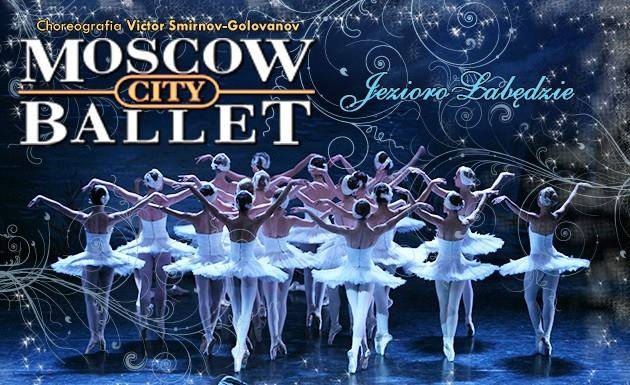 Legendarny i najsłynniejszy rosyjski BALET SMIRNOVA, poza granicami Rosji bardziej znany jako MOSCOW CITY BALLET już niebawem wystąpi ponownie w Polsce!
Występy Moscow City Ballet charakteryzują olśniewające kostiumy, imponująca choreografia, magia świateł i urzekająca scenografia. Zdaniem krytyków, czarowi tej grupy nie można się oprzeć, ani o niej zapomnieć: Tworzą tak wielką sztukę, że jest ona przeżyciem nawet dla tych, co tańca nie lubią. Wzruszeń i emocji wzbudzanych przez Moscow City Ballet nie da się opisać – trzeba ich doświadczyć! W ostatnich latach przedstawienia w Polsce obejrzało ponad 300 tys. osób! Publiczność wychodzi ze spektakli zachwycając się magicznym klimatem przedstawień. Ogromne wrażenie wywołuje talent artystyczny tancerzy i profesjonalizm, który został wypracowany przez lata ciężkich treningów. Godna podziwu wyrazistość ruchów artystów w połączeniu z fantastyczną choreografią, pokazują nam jak bardzo Rosjanie kochają balet. Założyciel Moscow City Ballet, Victor Smirnov – Golovanov powiedział kiedyś: "To we mnie mieszkają wszyscy bohaterowie baletów; to ja jestem Klarą, Księciem, Królem Myszy... To wszystko żyje we mnie..." Być może to jest tajemnica ich ogromnego, międzynarodowego sukcesu.
JEZIORO ŁABĘDZIE to przedstawienie uwielbiane przez polską publiczność. Jest to opowieść mówiąca o walce dobra ze złem, o potędze miłości i uczuciu przekraczającym granice życia i śmierci. Sukces tego spektaklu opiera się na wspaniałej choreografii i muzyce. Prostota wątku dramatycznego i wzruszająca interpretacja miłości Odetty i Zygfryda jako symbolu potęgi uczucia, są ilustrowane niezwykle emocjonalnymi układami tanecznymi. Obrazują one przeżycia duchowe bohaterów. Czarujące walce, dumne rytmy poloneza, ognisty taniec hiszpański i pełen temperamentu czardasz hipnotyzują i wprowadzają w niezwykły nastrój. Niewątpliwym walorem jest muzyka, która urzeka pięknem i subtelnością melodyki. Od pierwszego do ostatniego taktu wiąże temat w jednolitą treść. Dziewczęta zaklęte w Łabędzie, Zły Duch i uczucia przekraczające granicę życia i śmierci niezmiennie wzruszają widzów na całym świecie.
Spektakle rosyjskich tancerzy przeniosły widzów w świat jak z dziecięcych marzeń: kolorowy, bajkowy, pełen magii i czarów, w którym wszystko zawsze dobrze się kończy.
Bilety dostępne na www.makroconcert.pl, www.eventim.pl, www.ebilet.pl oraz w salonach Empik.
______________________
Kalendarz wydarzeń odbywających się w Bydgoszczy miej zawsze pod ręką dzięki aplikacji mobilnej (Android i iOS).
______________________
Informacje o wydarzeniach przesyłajcie na adres wydarzenia@visitbydgoszcz.pl
______________________
Bydgoskie Centrum Informacji nie ponosi odpowiedzialności za jakiekolwiek zmiany miejsc, godzin i dat wydarzeń.