THE SIXPOUNDER Killer King Tour 2019
Gdzie?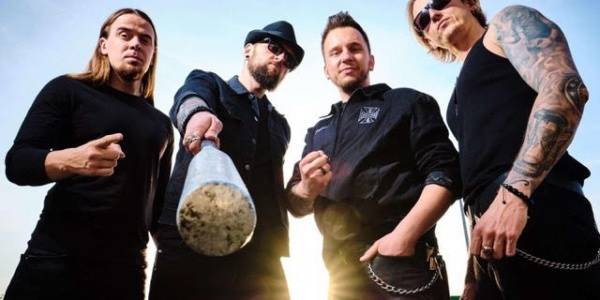 Wrocław, 3 czerwca 2019 – czołowy przedstawiciel polskiej sceny groove i melodic metalu – zespół THE SIXPOUNDER ogłasza obszerną jesienno-zimową trasę koncertową pod kryptonimem 'Killer King 2019 Tour'. Formacja zapowiada wykonanie na żywo premierowego materiału z nadchodzącego wydawnictwa 'Killer King Volume 1" wzbogaconego o wybór najmocniejszych muzycznych petard z dotychczasowego dorobku wrocławskiej grupy!
Komentuje zespół:
To będzie nasza pierwsza po długiej przerwie tak obszerna trasa w roli headlinera, przez co dołożymy wszelkich starań aby była ona szczególnie wyjątkowa i bezkompromisowa. Zagramy Wam najlepsze i najpopularniejsze kawałki z dotychczasowych wydawnictw oraz całkowicie premierowy materiał o roboczym tytule 'Killer King Volume 1', którego szczegóły ujawnimy już niebawem!
Począwszy od roku 2008 roku THE SIXPOUNDER dorobił się miana jednej z najciężej pracujących i oddanych scenie metalowej formacji w Polsce Pomimo stosunkowo krótkiego stażu zespół ma za sobą trzy pełnometrażowe wydawnictwa w klimatach groove, new metal, melodic death i thrash, udział w prestiżowych festiwalach pokroju "Wacken Open Air" czy "Przystanek Woodstock" oraz kilka obszernych tras koncertowych u boku takich formacji jak Decapitated, Acid Drinkers czy Vader.
Potencjał THE SIXPOUNDER oraz ich trudną do jednoznacznego zaszufladkowania mieszankę ciężkich odmian rocka od groove poprzez thrash do melodyjnego death metalu docenił również wybitny producent Daniel Bergstrand, znany ze współpracy z takimi zespołami jak: Dimmu Borgir, Behemoth, In Flames, Meshuggah, Decapitated czy Soilwork.
Zespół jest również twórcą trzech oryginalnych utworów do kinowego hitu "Gotowi na wszystko: Exterminator", w reżyserii Michała Rogalskiego, którego premiera odbyła się w styczniu 2018 roku. Utwór "Time To Kill" jest przewodnim motywem muzycznym filmu, czyli swoistym hitem filmowego Exterminatora. Dwa dodatkowe utwory - "Time To Kill" oraz "Figure It Out" zamykają ścieżkę dźwiękową obrazu a w filmie wykorzystano ponadto fragmenty utworu i teldysku "Burn" z albumu "The Sixpounder".
Bilety na większość koncertów trasy 'Killer King Tour' trafiły już do sprzedaży za pośrednictwem systemu sprzedaży internetowej Ticketclub.pl. Drukowane bilety kolekcjonerskie w limitowanej ilości będą do nabycia w poszczególnych klubach do wyczerpania puli.
Koncert otworzą zespoły My Own Abyss oraz Infliction
MY OWN ABYSS to metalcore'owa formacja z Krakowa założona w 2016 roku, będąca m.in. finalistą festiwalu "Rock in Mińsk 2018" oraz zwycięzcą Ogólnopolskiego Przeglądu Zespołów Rockowych "Error 2018" w Barczewie. Grupa ma na koncie promowany singlem 'Break This Chains" debiutancki 'Abyss Ep" z grudnia 2018 roku.
Muzycy od samego początku swojej działalności z wielką determinacją są nastawieni na granie koncertów, podczas których przekazują solidną porcję metalcore'owej energii z dodatkiem elektronicznej świeżości.
INFLICTION powstał w 2011 roku w Bydgoszczy a jego skład tworzy czterech muzyków, którym największą radość sprawia tworzenie muzyki spod szyldu groove metal. Formacja ma na koncie demo "Low Distance Boom", mini-album "Blame The Sun" z 2013 roku oraz pełnometrażowe wydawnictwo "Revolution Machine" (2018) zarejestrowane w Invent-Sound Studio we współpracy z Jackiem Miłaszewskim (m.in. Acid Drinkers, Hunter).
Krążek ten, nasycony potężnym brzmieniem i indywidualnym charakterem zbiera wszędzie doskonałe recenzje, a WY o sile INFLICTION przekonacie się już wkrótce podczas dziesięciu wspólnych koncertów trasy 'Killer King Tour 2019".
Bilety w przedsprzedaży - 25zł, w dzień koncertu - 35 zł
______________________
Kalendarz wydarzeń odbywających się w Bydgoszczy miej zawsze pod ręką dzięki aplikacji mobilnej (Android i iOS).
______________________
Informacje o wydarzeniach przesyłajcie na adres wydarzenia@visitbydgoszcz.pl
______________________
Bydgoskie Centrum Informacji nie ponosi odpowiedzialności za jakiekolwiek zmiany miejsc, godzin i dat wydarzeń.