Listopadowa lekcja muzyki III
Gdzie?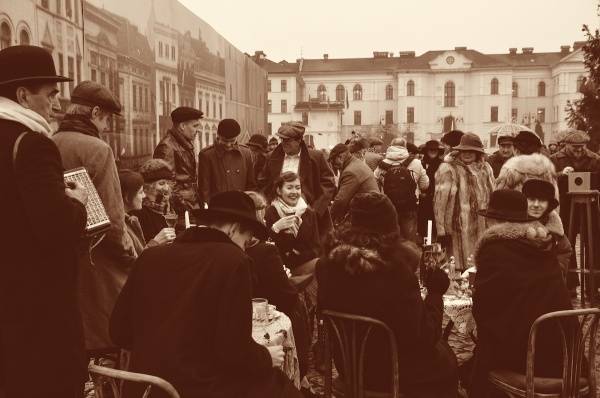 Jest to kontynuacją ubiegłorocznego projektu artystycznego, którego głównym celem jest wspólne świętowanie odzyskania przez Polskę niepodległości w atmosferze polskiej tradycji i historii. Wyjątkową ideą wydarzenia jest forma koncertu, który posiadać będzie wydźwięk edukacyjny skierowany do odbiorców w każdym wieku. Scenariusz tegorocznej lekcji zabierze publiczność do artystycznej przestrzeni, w której stykać się będą dwa światy: pierwszy, zakorzeniony w polskiej tradycji ludowej, drugi zaś przeniesie widzów w gwar warszawskiej kawiarenki okresu międzywojnia. Połączenie obu światów przedstawione zostanie na gruncie historii miłosnej młodej dziewczyny, której serce powędrowało w dłonie mężczyzny wychowującego się wyłącznie w miejskiej rzeczywistości. Na koncercie usłyszymy brzmiącą polską muzykę ludową oraz przykłady wyjątkowych znanych piosenek retro w autorskich aranżacjach. Wszystko to zostanie okraszone niezwykła choreografią taneczną w wykonaniu nietuzinkowych, licznie nagradzanych grup tanecznych.
Widowisko, które przedstawione zostanie publiczności powstało przy współpracy takich artystów jak: Zespół Pieśni i Tańca "Płomienie" działający przy MDK4 w Bydgoszczy, Zespół Tańca Współczesnego BRAX IV działający przy Pałacu Młodzieży w Bydgoszczy oraz Zespołu Kontrabus.
Projekt finansowany ze środków Urzędu Miasta Bydgoszczy
Organizator: Fundacja Inicjatyw Kulturalnych Play Art.
Partnerzy: Miejskie Centrum Kultury w Bydgoszczy, Młodzieżowy Dom Kultury nr 4 w Bydgoszczy, Pałac Młodzieży w Bydgoszczy
Wykonawcy:
Zespół Pieśni i Tańca "Płomienie"
Kierownik artystyczny zespołu: Izabela Grochowska przygotowanie wokalne: Zuzanna Szary, Michał Stropa technika tańca: Beata Rewolińska kapela: Paulina Krakowian - skrzypce, Krzysztof Biernacki - klarnet, Michał Stropa - akordeon, Jacek Kwaśniak - instrumenty perkusyjne
Zespół Tańca Współczesnego BRAX IV choreograf: Beata Rewolińska
Zespół Kontrabus skład: Adrian Zasada - wokal/gitara, Jędrzej Rochecki - skrzypce, Maciej Drapiński - akordeon, Szymon Wiciński - kontrabas, Tomasz Stanny - perkusja
Wstęp wolny. Wejściówki do odbioru w kasie MCK od 28.10.2019
______________________
Kalendarz wydarzeń odbywających się w Bydgoszczy miej zawsze pod ręką dzięki aplikacji mobilnej (Android i iOS).
______________________
Informacje o wydarzeniach przesyłajcie na adres wydarzenia@visitbydgoszcz.pl
______________________
Bydgoskie Centrum Informacji nie ponosi odpowiedzialności za jakiekolwiek zmiany miejsc, godzin i dat wydarzeń.