KULT FILM - przedpremierowy pokaz i spotkanie z twórcami BRAK MIEJSC
Gdzie?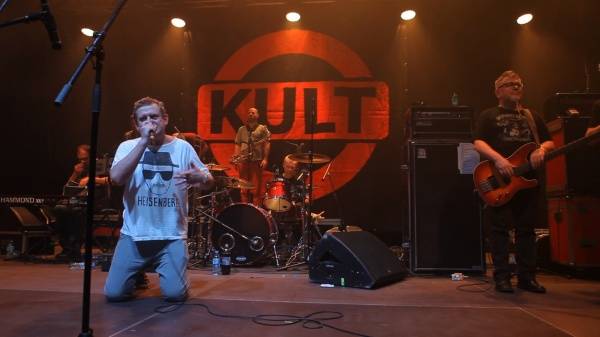 "Kult. Film" - dokument o legendarnej grupie swoją światową premierę będzie miał podczas Warszawskiego Festiwalu Filmowego. Do kin w całej Polsce trafi 22 listopada.
"Kult. Film" to film, na jaki od lat czekają nie tylko fani grupy, ale wszyscy zainteresowani tym fenomenem polskiej muzyki. Dokument zawiera wyjątkowe i nigdzie niepublikowane materiały zakulisowe z życia legendarnego zespołu KULT oraz samego Kazika Staszewskiego. Prawdziwy, emocjonujący i wyczekiwany film o ludziach, bez których polska scena muzyczna nie mogłaby istnieć. Kamera towarzyszyła muzykom podczas trasy koncertowej oraz w życiu codziennym, pokazując fenomen grupy i jej niespotykanej nigdzie indziej więzi z fanami.
Zdjęcia do filmu były realizowane w latach 2013-2019. Zostały uzupełnione o materiały archiwalne, również te należące do członków zespołu.
- To z założenia film o ludziach z krwi i kości, o wspaniałej męskiej przyjaźni. Skupiłam swoją uwagę na szeroko pojętej prozie życia, wziętej w ramy trasy koncertowej, czyli naturalnego i swobodnego środowiska muzyków. Kilkuletnia obserwacja wymagała pokory i uczciwości, nie chodziło o to żeby kreować fakty, skandale, konflikty. Ostatecznie chodziło o to, żeby widz poczuł się uprzywilejowany, jakby był częścią zespołu, był naprawdę blisko, śmiał się i wzruszał, dostał….cytując jednego z filmowych bohaterów "prawdziwą prawdę" – podkreśla Olga Bieniek, reżyserka filmu.
Olga Bieniek
Absolwentka wydziału produkcji filmowej i telewizyjnej Państwowej Wyższej Szkoły Filmowej Telewizyjnej i Teatralnej w Łodzi. Od 1995 roku współpracowała z Telewizją Polską (kierownik produkcji, producent). Przygodę z filmem fabularnym rozpoczęła w 2009 roku od pełnienia funkcji kierownika produkcji w filmie "Czarny Czwartek. Janek Wiśniewski padł" w reż. Antoniego Krauze.
Od 2010 roku współwłaścicielka (obok Mirosława Piepki) i producentka w firmie FILMICON. Wyprodukowała oraz nadzorowała jako kierownik produkcji takie tytuły jak: film fabularny "Układ zamknięty" w reż. Ryszarda Bugajskiego, film dokumentalny "Czarna skrzynka" w reż. Krzysztofa Kowalskiego oraz ostatnio "Kamerdyner" w reż. Filipa Bajona.
"KULT. FILM" został dofinansowany z prowadzonego przez MCK programu Bydgoska Tożsamość Filmowa.
Wszystkie wejściówki na pokaz zostały już rozdane!!!
Po seansie zapraszamy na spotkanie z reżyserką filmu - Olgą Bieniek.
______________________
Kalendarz wydarzeń odbywających się w Bydgoszczy miej zawsze pod ręką dzięki aplikacji mobilnej (Android i iOS).
______________________
Informacje o wydarzeniach przesyłajcie na adres wydarzenia@visitbydgoszcz.pl
______________________
Bydgoskie Centrum Informacji nie ponosi odpowiedzialności za jakiekolwiek zmiany miejsc, godzin i dat wydarzeń.