Bydgoszcz JUG - meetup #30
Gdzie?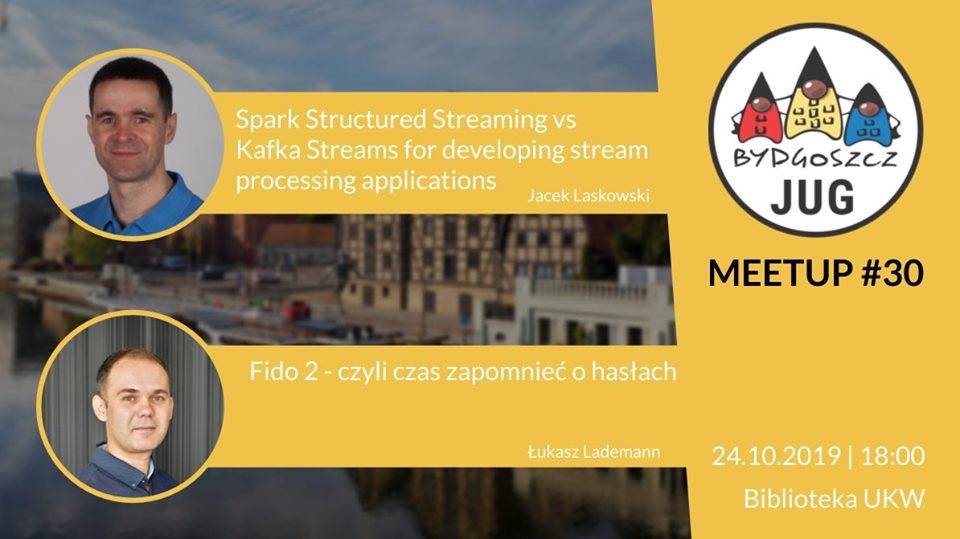 Informacje od Organizatora:
Zapraszamy na jubileuszowe #30 spotkanie Bydgoszcz JUG, które odbędzie się w czwartek, 24.10 o godzinie 18:00 jak zawsze w Bibliotece UKW.
"Najstarsi jugowcy" pamiętają że trzy lata temu pierwszą prelekcje na pierwszym spotkaniu bydgoskiego JUGa wygłosił Jacek Laskowski.
Miło mi ogłosić iż czwarty sezon również otworzy Jacek (kto się spodziewał że będzie czwarty sezon?). Na scenie gościć będziemy również Łukasza Lademanna.
Prelegenci opowiedzą nam o następujących tematach:
Jacek Laskowski - "Spark Structured Streaming vs Kafka Streams for Developing Stream Processing Applications"
Let's develop stream processing applications using Spark Structured Streaming and Kafka Streams (and Scala). The aim of this talk is to quickly and painlessly introduce you to two modern stream processing engines and give you the pros and cons of each depending on project requirements (use cases). The language for the demos is Scala. No experience required. Lots of questions and vibrant conversation expected and welcome.
Bio:
Jacek is a freelance IT consultant, software engineer and technical instructor specializing in Apache Spark, Apache Kafka and Kafka Streams (with Scala and sbt). offer software development and consultancy services with hands-on in-depth workshops and mentoring.
Founder and a former leader of Warszawa Java User Group (Warszawa JUG). Last but not least - Java Champion and owner of "apache-spark" gold badge on StackOverflow.
Łukasz Lademann - "Fido 2 - czyli czas zapomnieć o hasłach"
Czym jest FIDO2 i dlaczego warto się nim zainteresować? Jakie wyzwania można rozwiązać z jego wykorzystaniem? Tego wszystkiego (a nawet trochę więcej) dowiecie się podczas naszego październikowego spotkania. Wspólnie przeanalizujemy scenariusze rejestracji użytkownika oraz logowania i zastanowimy się, czego wymagają od deweloperów.
Bio:
Programista .NET z 11-letnim stażem. Współzałożyciel Bydgoskiej Grupy .NET. Pasjonat wzorców architektonicznych oraz bezpieczeństwa aplikacji webowych, obecnie skupia się na zgłębianiu tajników DDD. Pracuje jako Senior Software Engineer w Cognifide, polsko-brytyjskiej firmie, tworzącej aplikacje webowe dla globalnych klientów.
Wstęp na spotkanie jest wolny. Rejestracja odbywa się przez portal Meetup. Po spotkaniu zapraszamy na after-party do pubu Kraftodajnia, na którym będziemy mogli się poznać i podyskutować w luźnej atmosferze. Pub znajduje się pod adresem: Plac Kościeleckich 5 (https://goo.gl/tGdA7m). Widzimy się tam od godziny 21:00.
Wstęp będzie możliwy już od 17:30.
____________________
Kalendarz wydarzeń odbywających się w Bydgoszczy miej zawsze pod ręką dzięki aplikacji mobilnej (Android i iOS).
______________________
Informacje o wydarzeniach przesyłajcie na adres wydarzenia@visitbydgoszcz.pl
______________________
Bydgoskie Centrum Informacji nie ponosi odpowiedzialności za jakiekolwiek zmiany miejsc, godzin i dat wydarzeń.