Improwizowane Obiady Czwartkowe: Kości Zostały Rzucone
Gdzie?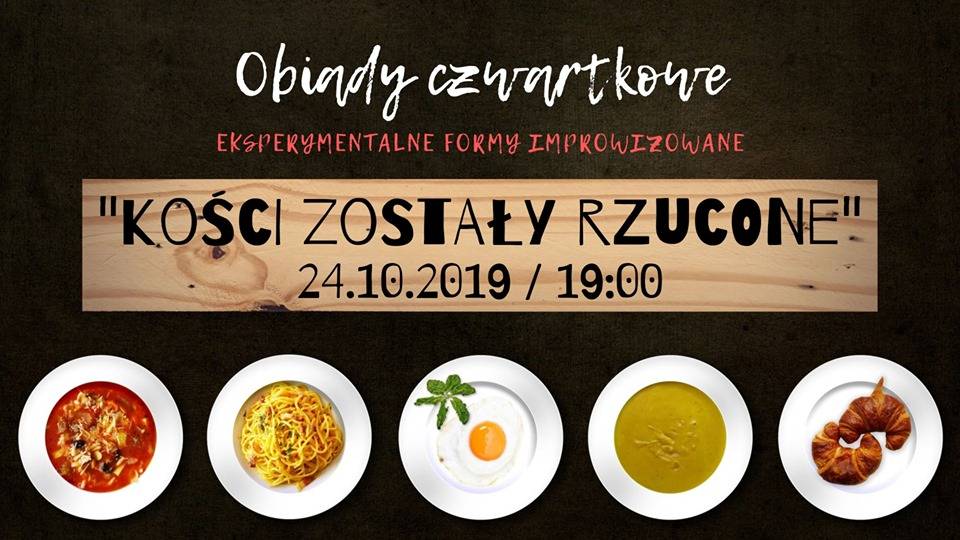 Obiady Czwartkowe.
Eksperymentalne formy improwizowane.
----------
Będzie ostro, kwaśno, słodko i gorąco!
A tak nieco poważniej... lub mniej...
Obiady Czwartkowe to cykl spotkań, podczas których zamieszamy w formach i strukturach impro. Każdego dnia w głowach improwizatorów kłębią się niepowstrzymane potrzeby karkołomnych doświadczeń i przekrzywień rzeczywistości scenicznej. I to jest właśnie miejsce na ich realizację.
To miejsce na testy wytrzymałości struktury ich własnych umysłów, mierzonej szaleństwem realizowanego pomysłu.
To miejsce dzielenia i łączenia w nowe koniugacje strumieni myśli. To miejsce na eksperymenty i niezwykłe fuzje z ryzykownych składników.
----------
"KOŚCI ZOSTAŁY RZUCONE"
Tego wieczoru nie będzie jeńców!
Kości zostaną rzucone, rzucone w wir tworzącej się historii, splecionej niczym warkocz oblubienicy pędzącej ku ukochanemu, przez rozsiane rosą pola.
Nikt nie będzie w stanie powstrzymać zachodzących w fabule zmian, wypiętrzających się rumowisk skalnych myśli i błękitnych wodospadów słów.
Oto przed Państwem kolejny eksperyment.
Historia współgrająca bezgranicznie z kośćmi gry, której zasady wyjdą poza granice zasad.
BILET 15 zł (dostępne w Klubie 30 minut przed spektaklem)
______________________
Kalendarz wydarzeń odbywających się w Bydgoszczy miej zawsze pod ręką dzięki aplikacji mobilnej (Android i iOS).
______________________
Informacje o wydarzeniach przesyłajcie na adres wydarzenia@visitbydgoszcz.pl
______________________
Bydgoskie Centrum Informacji nie ponosi odpowiedzialności za jakiekolwiek zmiany miejsc, godzin i dat wydarzeń.