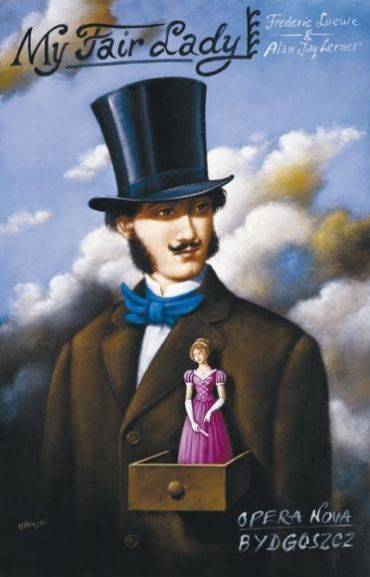 Libretto do "My Fair Lady" powstało na podstawie komedii George'a Bernarda Shawa – irlandzkiego prozaika, dramaturga i publicysty, obdarzonego niebywałym poczuciem humoru: "Pigmalion .Przygoda romantyczna w 5.aktach" ( 1912). Tytuł ten odwołuje się go greckiego mitu o cypryjskim królu-rzeźbiarzu Pigmalionie, który stworzył tak piękny posąg kobiecy, iż się w nim zakochał. Bogini Afrodyta zamieniła rzeźbę w żywą kobietę. Motyw Pigmaliona i stworzonej przez niego Galatei pojawiał się często w poezji ,muzyce, malarstwie.Głównym wątkiem komedii jest uczucie, jakie połączy profesora fonetyki , prawdziwego dżentelmena - Higginsa , z krzykliwą londyńską kwiaciarką -Elizą, z której ( na mocy zakładu) profesor uczyni damę z najlepszego towarzystwa.
Oparty na dramacie Shawa musical "My Fair Lady" jest jednym z największych światowych sukcesów tego gatunku. Święcąc triumfy i rekordy popularności od swego powstania w 1956 r. , musical Loewego i Lernera dotarł na sceny teatrów całego świata. Dodatkowo spopularyzowała go wersja filmowa z 1964 r., nagrodzona ośmioma Oscarami , z Audrey Hepburn i Rexem Harrisonem w rolach głównych.
"Jeden mały szczęścia łut","Przetańczyć całą noc", "Tę ulicę znam":wszystkie piosenki z "My Fair Lady" to przeboje , które niezmiennie zachwycają .Musical "My Fair Lady" jest jednym z największych światowych sukcesów tego gatunku. Pogodna i wartko tocząca się historia, doskonałe dialogi czerpiące z dobrego dramatu, i najlepsza z wszystkiego: świetna muzyka, która wytrzymała próbę czasu (prapremiera nowojorska w 1956 r.) , czynią z "My Fair Lady" utwór zdolny usatysfakcjonować zarówno wytrawnego melomana jak i początkującego bywalca teatru muzycznego. Sześć lat w repertuarze Opery Nova i już ponad sześćdziesiąt przedstawień : dobrzy śpiewacy i jednocześni dobrzy aktorzy, wspaniałe kostiumy (patrz wyścigi w Ascot), dynamiczne układy choreograficzne … Artyści kochają to grać a publiczność oglądać.
______________________
Kalendarz wydarzeń odbywających się w Bydgoszczy miej zawsze pod ręką dzięki aplikacji mobilnej (Android i iOS).
______________________
Informacje o wydarzeniach przesyłajcie na adres wydarzenia@visitbydgoszcz.pl
______________________
Bydgoskie Centrum Informacji nie ponosi odpowiedzialności za jakiekolwiek zmiany miejsc, godzin i dat wydarzeń.