Otwarcie wystawy prac grupy plastycznej Kujawskiego Uniwersytetu III Wieku
Gdzie?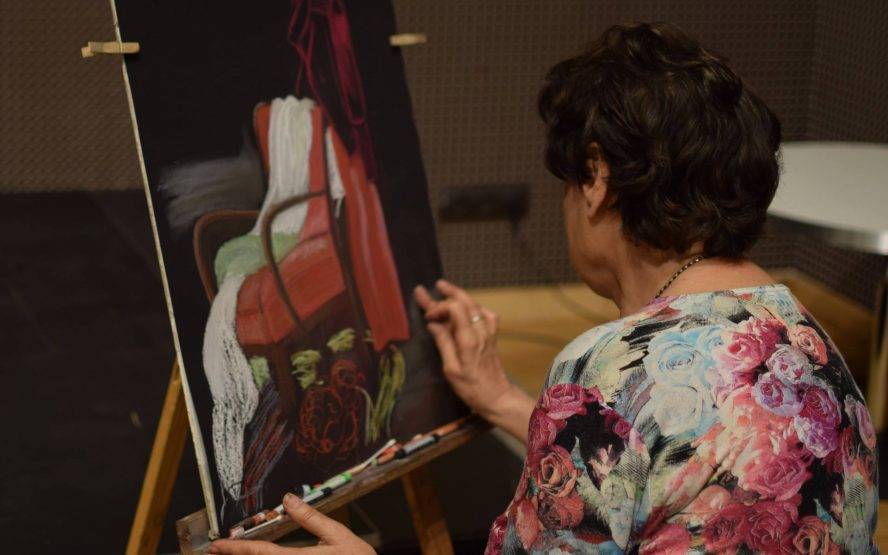 Minął kolejny rok twórczej pracy na warsztatach plastycznych w Salonie Hoffman KPCK. Prawie trzydziestoosobowa grupa seniorów spotyka się raz w tygodniu by kilka godzin spędzić przy sztaludze. Bardzo różne osobowości, każda z innym bagażem życiowych doświadczeń, różnymi możliwościami warsztatowymi, ale wszystkie łączy pasja tworzenia. Dla części z nich to jedna z wielu aktywności, ale dla niektórych prawie obsesja, mają za sobą udział w indywidualnych i zbiorowych wystawach, niejedne konkursowe laury. Tworzą razem wspaniałą grupę, a na zajęciach niepowtarzalną atmosferę z odrobiną rywalizacji, która wzbogaca i sublimuje osobiste twórcze wypowiedzi.
Wystawa jest przeglądem najciekawszych prac powstałych w roku akademickim 2018-2019 oraz na plenerze w Lubostroniu. Gospodarze Pałacu gościli już niejednokrotnie seniorów z Kujawsko-Pomorskiego Centrum Kultury w Bydgoszczy. Za nieustającą życzliwość gorąco dziękujemy, a wszystkich Państwa zapraszamy w to magiczne miejsce i na spotkanie ze sztuką ludzi, którzy są tak blisko nas.
Otwarcie wystawy odbędzie się 6 października 2019 o godz. 16.00 w oranżerii Pałacu Lubostroń. Na wernisażu wystąpi, z krótkim recitalem zespół wokalny "Niespodzianka" z klubu seniora "Złota Jesień" przy Kujawsko-Pomorskim Centrum Kultury, pod kierownictwem Marty Wierzbiańskiej. Wystawa czynna do 27 października 2019. Wstęp wolny.
______________________
Kalendarz wydarzeń odbywających się w Bydgoszczy miej zawsze pod ręką dzięki aplikacji mobilnej (Android i iOS).
______________________
Informacje o wydarzeniach przesyłajcie na adres wydarzenia@visitbydgoszcz.pl
______________________
Bydgoskie Centrum Informacji nie ponosi odpowiedzialności za jakiekolwiek zmiany miejsc, godzin i dat wydarzeń.