Mariusz Białecki. Stratygrafie z cyklu Eksploracja miejsca - świadki
Gdzie?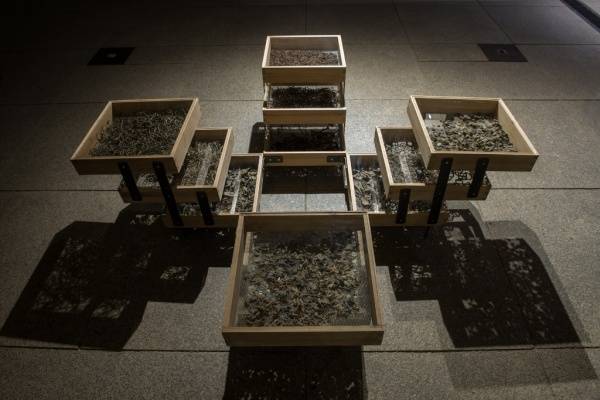 Dla wielu Bydgoszczan, Mariusz Białecki to przede wszystkim autor konnego pomnika króla Kazimierza Wielkiego. Rzeźba, którą zaprezentuje w Galerii Wspólnej jest również ściśle związana z historią, a konkretnie z archeologią. Jak sam deklaruje: Przeszłość dotykana przez archeologów w jej materialnych pozostałościach fascynuje go i pobudza wyobraźnię. W tej przeszłości poszukuje odpowiedzi na wiele pytań dotyczących początków religii, sztuki, więzów społecznych i jej form.
Mariusz Białecki
Urodził się 14.10.1966 roku w Sztumie. Studiował na Wydziale Rzeźby Państwowej Wyższej Szkoły Sztuk Plastycznych w Gdańsku, dyplom na Wydziale Rzeźby w pracowni prof. Stanisława Radwańskiego w 1991 roku. Od końca studiów zawodowo związany z macierzystą uczelnią. Obecnie posiada stopień profesora, prowadzi Pracownię Rzeźby i pełni funkcję Kierownika Katedry Rzeźby na Wydziale Rzeźby w ASP w Gdańsku. Współtwórca i prezes Stowarzyszenia Rozwoju Wsi Rodowo, organizator i prowadzący Międzynarodowy Plener rzeźbiarsko malarski "Pole Sztuk" w Rodowie (w tym roku XXIX edycja). Jest twórcą licznych realizacji rzeźbiarskich w tym pomnikowych. Brał udział w wielu wystawach, sympozjach w kraju i zagranicą.
Fragment opisu twórczości artysty:
"Jestem typem zbieracza, kolekcjonera. Nieustannie gromadzę wokół siebie. Zbiory wypełniają coraz to nowe i większe przestrzenie, które dla nich pozyskuję. Uwalniam je dopiero tworząc rzeźby bezpośrednio nimi zainspirowane. Tak naprawdę to przedłużam ich życie. Wprowadzam je w nową rzeczywistość, w teraźniejszość. Zgromadziłem dziesiątki skrzyń skorup, tony złomu i kamieni, szuflady skamieniałości, kości czaszek, zębów, wszelakich kikutów. Szczególnie ważna i inspirująca jest dla mnie kolekcja starych numizmatów. Bizantyjskie monety "miseczkowe" były inspiracją projektu pomnika św. Wojciecha w Gdańsku, a idea interaktywnych działań Czas to pieniądz pozwoliła mi na działalność wręcz menniczą. Nie pokazuję obiektów zastanych, gotowych. Nadaję im autokomentarz, deformuję ideę danego przedmiotu. Poszukuję jego desygnatu. Pierwsze artefakty były przedłużeniem naszych dłoni, redukując lukę powstałą między nami a światem przyrody. Wydobywam z ziemi te depozyty przeszłości, magazynuję je. Wśród wielu eksponatów, które odkrywam, są takie, które po jakimś czasie stają się zaczynem kolekcji. Tym sposobem stwarzam otwartą kolekcję artefaktów, wykorzystując metody archiwizacji oraz para-muzealną ekspozycję. Nadaję im nowy kontekst. Ułatwia on antropomorfizację martwego przedmiotu. Duża część moich rzeźb pozornie upodabnia się do tworów natury czy obiektów archeologiczno-muzealnych."
Mariusz Białecki
______________________
Kalendarz wydarzeń odbywających się w Bydgoszczy miej zawsze pod ręką dzięki aplikacji mobilnej (Android i iOS).
______________________
Informacje o wydarzeniach przesyłajcie na adres wydarzenia@visitbydgoszcz.pl
______________________
Bydgoskie Centrum Informacji nie ponosi odpowiedzialności za jakiekolwiek zmiany miejsc, godzin i dat wydarzeń.