Bądź Bądź (2019) - premiera
Gdzie?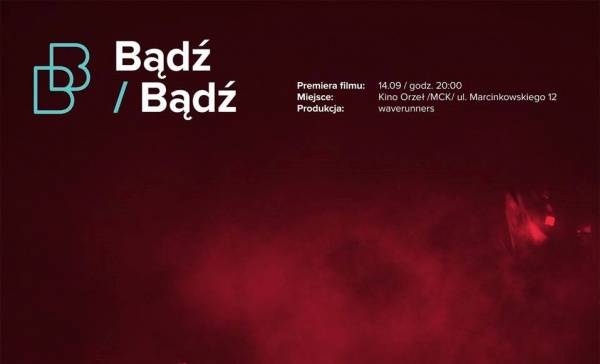 Przez ostatnie trzy miesiące powstawał w Bydgoszczy nietuzinkowy film dokumentalny. Film pt. "Bądź Bądź" przedstawia szerszemu gronu bydgoskich artystów, rzemieślników oraz bydgoskie inicjatywy. Przybliża nam środowisko, w którym dążenie do aspiracji i rozwoju to stałe czynniki napędzane przez pasje, z których ekspresyjność i innowacyjność są świętem sztuki. Ten film to muzyka, teatr, śpiew, taniec, pasja do parzenia kawy czy organizowania nietuzinkowych wydarzeń artystycznych. Produkcja powstała w ramach projektu "Poznajmy się lepiej" współfinansowanego przez Miasto Bydgoszcz.
"Bądź Bądź" to alternatywna definicja sztuki, gdzie sztuka jest odtwarzaniem rzeczy, bądź konstruowaniem form, bądź wyrażaniem przeżyć – jeśli wytwór tego odtwarzania, konstruowania, wyrażania jest zdolny zachwycać, bądź wzruszać, bądź wstrząsać.
Bohaterami filmu są:
Adela Konop - wokalistka, pedagog, autorka tekstów i muzyki. Absolwentka Akademii Muzycznej w Bydgoszczy, laureatka Grand Prix Ladies' Jazz Festival 2018.
Magdalena 'Lena' Przepierska - założycielka bydgoskiej szkoły tańca "5 Element", dyplomowany nauczyciel tańca (form ulicznych i jazzowych), pedagog, choreograf Rafał 'Oer' Skiba - producent muzyczny, performer. Laureat wielu konkursów muzycznych i producenckich w kraju i zagranicą kolektyw artystyczny WSTRZĄS czyli Łukasz 'SnowBPM' Śniegowski – organizator, promotor, dj oraz jeden z założycieli kolektywu, Tomek 'JahBwaiSki' Jabłoński – współtwórca Wstrząsu, vj wizjoner oraz Łukasz 'Buhhaj' Brzozowski – dj, promotor. Kolektyw WSTRZĄS organizuje nietypowe widowiska muzyczne z elementami teatru.
Mateusz Karczewski - barista od 10 lat, stojący na straży kawy speciality w Bydgoszczy. Właściciel firmy kawowej Post Coffice oraz kawiarni PO CO.
Audun Sorbotten – roaster, mistrz świata w paleniu ziaren kawy, właściciel bydgoskiej palarni Audun Coffee.
Premiera filmu dokumentalnego: "Bądź Bądź" oraz spotkanie z twórcami czyli ekipą filmową WAVERUNNERS.
______________________
Kalendarz wydarzeń odbywających się w Bydgoszczy miej zawsze pod ręką dzięki aplikacji mobilnej (Android i iOS).
______________________
Informacje o wydarzeniach przesyłajcie na adres wydarzenia@visitbydgoszcz.pl
______________________
Bydgoskie Centrum Informacji nie ponosi odpowiedzialności za jakiekolwiek zmiany miejsc, godzin i dat wydarzeń.