Jacek Buhl & Piotr Dąbrowski
Gdzie?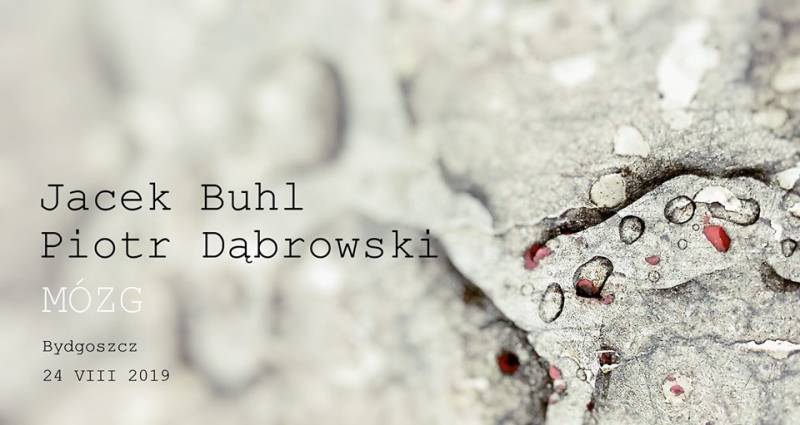 Jacek Buhl to urodzony w 1965 roku perkusista związany z bydgoskim klubem Mózg. Współtworzy takie składy, jak: Alameda 5, Kwartet z Piotrem Mełechem (klarnety) , Jarosławem Majewskim (kontrabas) i Jakubem Królikowskim (piano), trio z Łukaszem Jędrzejczakiem (elektronika) i Rafałem Iwańskim (perkusjonalia) oraz duet Rdza z Jarosławem Majewskim (kontrabas).
Jacek Buhl grę na bębnach rozpoczynał w zespole Variete, a następnie grał w kilku zespołach ważnych dla tzw. sceny jassowej i postjassowej - Trytony, Syfon, Spejs, The Cyclist.
Głównie z trębaczem Wojtkiem Jachną, ale też z Marcinem Dymiterem, Pawłem Nowickim, Jakubem Ziołkiem, Anną Zielińską, Rafałem Iwańskim, Piotrem Kiktą i Nicolasem de la Vegą, tworzył muzykę do filmów fabularnych, dokumentalnych i animowanych.
Piotr Dąbrowski to perkusjonista, plastyk, intuicjonista, autor tekstów poetyckich.Od prawie dwudziestu lat związany z warszawską sceną muzyki improwizowanej. Znajduje w Muzyce, grze na perkusji, w sobie i otoczeniu coś co nazywa Strumieniem. Zachwyca się Światem, Dźwiękiem, Obrazem, Zapachem. Muzyka tworzona przez niego koresponduje ze współczesną muzyką perkusyjną, minimalną, improwizowaną, noise'ową, niemniej w warstwie duchowej najbliżej mu do spirytualnych intuicji J. Coltrane'a, czy intuitywności K. Stockhausena. Podobnie jak w swej twórczości plastycznej stawia na prostotę i surowość formy. W jego graniu instrumenty zyskują nowy wymiar, tracą swój konwencjonalny obraz – stają się narzędziami dźwiękowymi, służą do tworzenia osobliwych faktur, ujawnia się ich wewnętrzna energia. Korzysta także z przedmiotów, które rzadko kojarzą się z muzyką a którym dał drugie życie, oraz kamieni czy wody. Często używa smyczka. Występuje z programem solowym "Medytacje dźwiękowe na perkusję solo". Prowadzi cykl koncertów "Strumień". Obecne zespoły to Warsaw Improvisers Orchestra, NEBA (z Mamadou "Góo" Ba i Pawłem Postaremczakiem), duet Postaremczak/Dąbrowski, Ochra (z Radosławem Hermanem), Spiritual Acoustic Noise (trio z Andrzejem Rejmanem i Martyną Kabulską), Casting Lots (z Gosią Zagajewską, Rayem Dickaty i Johnem Cornellem). Współpracował i współpracuje z wieloma znamienitymi muzykami. Autor muzyki do spektaklu w reż. Romana Woźniaka "Tłumaczenie z języka", spektaklu tanecznego "Niepoważnie kobiece", współtwórca muzyki do spektaklu "Tyki-dusze-nar-Europa" w reż. Redy Haddad, z Rayem Dickaty współtworzył muzykę do spektaklu "To jest Europa?" w reż. Alicji Borkowskiej. Regularnie tworzy na polu sztuk plastycznych i prowadzi zajęcia edukacyjne, plastyczne, dźwiękowe i filozoficzne dla dzieci małych i dużych. W 2016 roku wydał własnym sumptem materiał na perkusję solo pt: "Makrlofid".
______________________
Kalendarz wydarzeń odbywających się w Bydgoszczy miej zawsze pod ręką dzięki aplikacji mobilnej (Android i iOS).
______________________
Informacje o wydarzeniach przesyłajcie na adres wydarzenia@visitbydgoszcz.pl
______________________
Bydgoskie Centrum Informacji nie ponosi odpowiedzialności za jakiekolwiek zmiany miejsc, godzin i dat wydarzeń.