Koncert nad Balatonem: Bisz & B.O.K oraz W Mieście Wychowani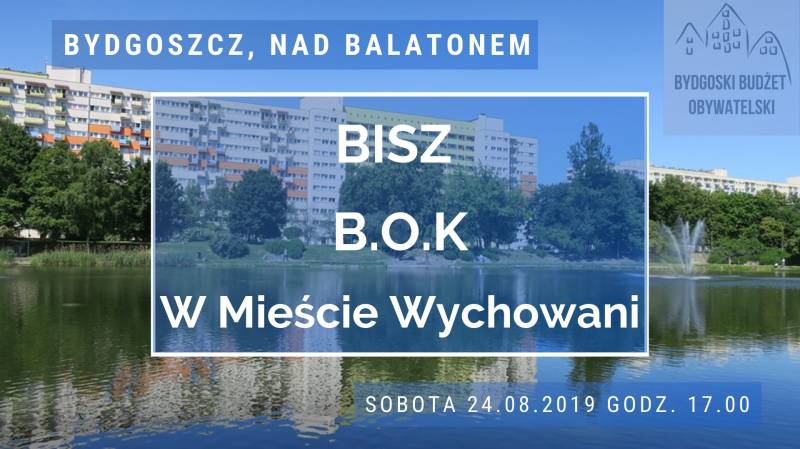 W sobotę, 24 sierpnia nad Balatonem koncert bydgoskich artystów - wystąpią dla Nas: Bisz, B.O.K oraz W Mieście Wychowani. Początek koncertu o godzinie 17. Wstęp wolny!
W zeszłym roku mieszkańcy osiedla Bartodzieje wybrali w głosowaniu w Bydgoskim Budżecie Obywatelskim organizację plenerowych koncertów nad Balatonem.
Bisz (B.O.K)
Raper, poeta, kulturoznawca oraz autor słuchowisk radiowych. Od początku swojej twórczości doceniany z przemyślane teksty, dobór tematów, zabawy słowem oraz łączenie różnych muzycznych gatunków. Zdobywca złotej płyty za album "Wilk chodnikowy", artysta roku 2012 magazynu Aktivist. Płyta "Labirynt Babel", która została nagrana razem z macierzystym zespołem B.O.K zadebiutowała na pierwszym miejscu listy sprzedaży OLIS oraz doczekała się wielu bardzo pozytywnych recenzji. Jego ostatnia płyta "Wilczy Humor" nagrana z Liderem zespołu Pustki, Radkiem Łukasiewiczem została nominowana do tegorocznej nagrody muzycznej Fryderyki.
B.O.K
To ośmioosobowa grupa muzyków, indywidualności, artystów, instrumentalistów, poruszających się w szeroko rozumianych ramach muzyki hip-hop. To możliwie najkrótsza charakterystyka zespołu, którego jednak nie da się tak łatwo zaszufladkować lub przypisać do konkretnego nurtu muzycznego. Dziś B.O.K to jedyna grupa na polskiej scenie hiphopowej, która na stałe pracuje i koncertuje w tak szerokim instrumentalnym składzie. Koncerty B.O.K to muzyczna uczta w wykonaniu liczącego siedem osób live bandu, który ma za sobą świetne przyjęcie na ważnych festiwalach m.in. Off Festiwal, Coke Live Festiwal, Hip-Hop Kemp, Slot Art Festiwal czy Męskie Granie, a także setkach koncertów w całym kraju i zagranicą. Wizytówką B.O.K jest sprawne poruszanie się po całym gatunkowym spektrum - od muzyki bitowej do ciężkich gitarowych brzmień, od klasycznych skrzypcowych motywów do jazzowych improwizacji.
WMW - W Mieście Wychowani
Bydgoski zespół hip-hopowy założony w 2012 roku przez Vinsa i Festera reprezentujący klasyczny styl rymowania na bitach. W 2013 roku wydali wspólnie płytę "Back to the old school ", która została zamieszona na kanale poznańskiej wytwórni RPS Enterteyment. W 2016 roku do ekipy dołączył bydgoski producent Werni, co poskutkowało nową kooperacją Vins/ Werni i wydaniem krążka " Naturalnie". Wszystkie teksty napisał i nagrał Vins, natomiast za produkcję odpowiada Werni. W 2019 ekipa wydała płytę pt. "Negatyw", na której gościnnie pojawili się m.in. : Peja, Rafi, Dj Soina, czy Oer. W skład ekipy koncertowej wchodzą: Vins, Werni, Jendrzej, Fester.
______________________
Kalendarz wydarzeń odbywających się w Bydgoszczy miej zawsze pod ręką dzięki aplikacji mobilnej (Android i iOS).
______________________
Informacje o wydarzeniach przesyłajcie na adres wydarzenia@visitbydgoszcz.pl
______________________
Bydgoskie Centrum Informacji nie ponosi odpowiedzialności za jakiekolwiek zmiany miejsc, godzin i dat wydarzeń.