Dzień z akordeonem - wystawa i koncert
Gdzie?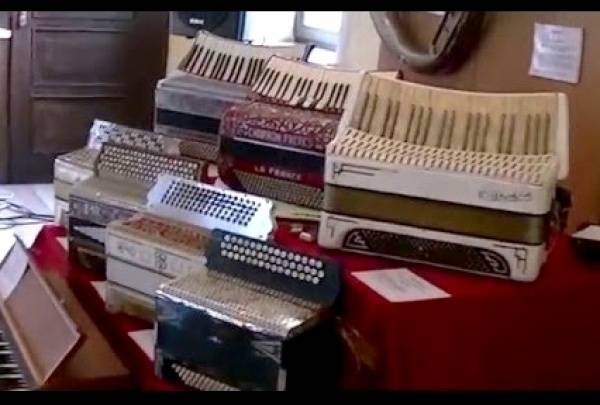 Roman Kryst i Grażyna Łoś- Kryst – to dwoje niepozornych ludzi, których połączyła pasja do akordeonu. Jest on obecny w ich życiu właściwie wszędzie: w obrączkach na palcu, w formie kolczyków w uszach Grażyny, wisiorka na szyi u obojga, jako brelok do kluczyków. Największą pasją tych dwojga ludzi z Częstochowy jest ratowanie starych instrumentów. To właśnie temu dziełu poświecili ostatnie kilkanaście lat życia. Zgromadzili w swojej kolekcji ponad 300 eksponatów i każdy jest inny.
Romana Krysta obecnie jest kierownikiem i liderem założonej przez siebie w 2002 roku Częstochowskiej Kapeli Biesiadnej "Grupa Romana". Uprawia muzykę inną niż słyszymy na przeglądach akordeonowych, tak zwany "folklor miejski" (własne teksty i muzyka ). Kapela jest laureatem wielu festiwali i przeglądów w Polsce, zdobywcą Certyfikatu "Najlepsze w Polsce/The Best in Polan". Jest również instruktorem i choreografem zespołów folklorystycznych, oraz instruktorem w przedszkolu. Roman to również kapelmistrz Orkiestry Dętej, ceniony juror na różnych festiwalach i przeglądach. Inicjator i koordynator wielu imprez kulturalnych między innymi "Zjazdu Świata Akordeonu" czy też "Festiwalu Kapel folkloru Miejskiego" Za działalność na rzecz rozwoju kultury wielokrotnie nagrodzony : "Mecenas Kultury 2014" , "Człowiek Roku Częstochowy i Powiatu Częstochowskiego 2014", honorową odznaką "Zasłużony dla Kultury" nadana przez Ministra Kultury i Dziedzictwa Narodowego, srebrna i następnie złotą odznaką "Za Zasługi dla Województwa Śląskiego" przyznaną przez Sejmik Województwa Śląskiego, oraz "Złotym Krzyżem Zasługi" przyznanym przez Prezydenta Rzeczypospolitej Polskiej , wyróżnienie w konkursie "Jurajski Produkt Roku" jako osoba zasłużona dla rozwoju i promocji regionu.
Na początku w zbiorach Romana Krysta i Grażynay Łoś- Kryst miały być tylko: harmonie, akordeony, bandeneony, koncertyny, fisharmonie (jest ich około 250), ale Roman nie mógł przejść obojętnie wobec żadnego instrumentu, który znajdował się "tam gdzie nie powinien" na bazarze, wśród "przysłowiowych śrubek". Stąd w kolekcji znajdują się instrumenty dęte, szarpane, ludowe a nawet egzotyczne.
Wystawa tych unikatowych instrumentów gościła już w wielu miastach naszego kraju w Domach Kultury, Muzeach, Szkołach, Operach czy też w Filharmoniach. Wszędzie przyjmowana z zainteresowaniem i zdumieniem ze względu przede wszystkim na ilość i różnorodność Polskich instrumentów. Przecież Polska była potęgą w budowie harmonii – nie mówimy tutaj o seryjnej produkcji, bo taka również istniała w działającej od 1949 do 1973 Bydgoskiej Fabryce Akordeonów , gdzie produkowano takie instrumenty jak: 32 basy – Echo, 45 basów – Orlik, 60 basów – Kujawiak, 80 basów – Victoria, Flis, Polonez, Muza, 96 basów – Muza Tonika, 120 basów – Mazur, Carmen, Menuet (wszystkie można zobaczyć w kolekcji), ale mówimy o okresie I Wojny Światowej, Okresie Międzywojennym i o Polskich Harmoniach Dwurzędowych, Trzyrzędowych, Pedałowych, Sekundowych, mówimy o instrumentach mistrzowskich – budowanych w całości przez jedną osobę lub względnie w fazie początkowej przez uczniów i czeladników pod okiem mistrza. Odznaczały się one nie tylko jednolitym, starannym wykonaniem i wykończeniem, ale również odpowiednim doborem surowca, uwzględniającym nawet układ słoi użytego do budowy drewna. Nie myślano o tym, by z kawałka surowca zrobić jak najwięcej części, oszczędnie, tanio, nie myślano o "cięciu kosztów", tylko o tym by zrobić jak najlepiej, by część służyła przez setkę lat (takie instrumenty można zobaczyć w kolekcji liczące 100 lat).
Budowa harmonii trwała więc długo, była bardzo kosztowna, ale każda z nich to było "arcydzieło" (doceniane zresztą na wszystkich wystawach przemysłu- o czym świadczą wzmianki w źródłach historycznych). Piękną cechą Polskich harmonii było bogate zdobnictwo (co można zauważyć na pierwszy rzut oka patrząc na instrumenty z kolekcji), bardzo precyzyjne intarsje, przepiękne inkrustacje.
wstęp wolny
______________________
Kalendarz wydarzeń odbywających się w Bydgoszczy miej zawsze pod ręką dzięki aplikacji mobilnej (Android i iOS).
______________________
Informacje o wydarzeniach przesyłajcie na adres wydarzenia@visitbydgoszcz.pl
______________________
Bydgoskie Centrum Informacji nie ponosi odpowiedzialności za jakiekolwiek zmiany miejsc, godzin i dat wydarzeń.